Google holds ceremonial groundbreaking for Henderson data center
Updated July 1, 2019 - 5:27 pm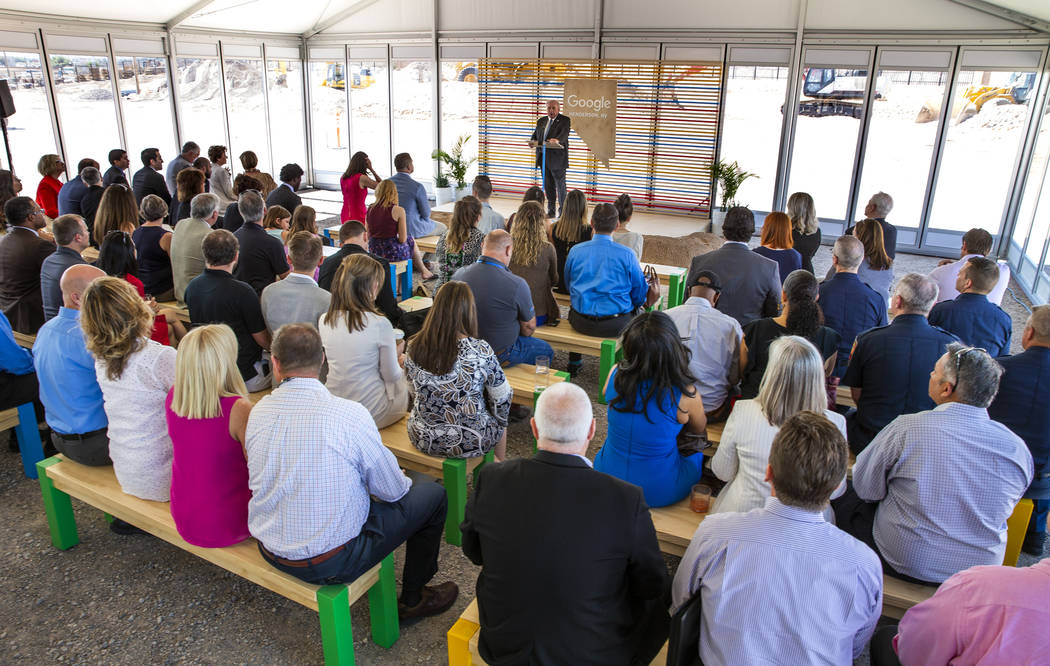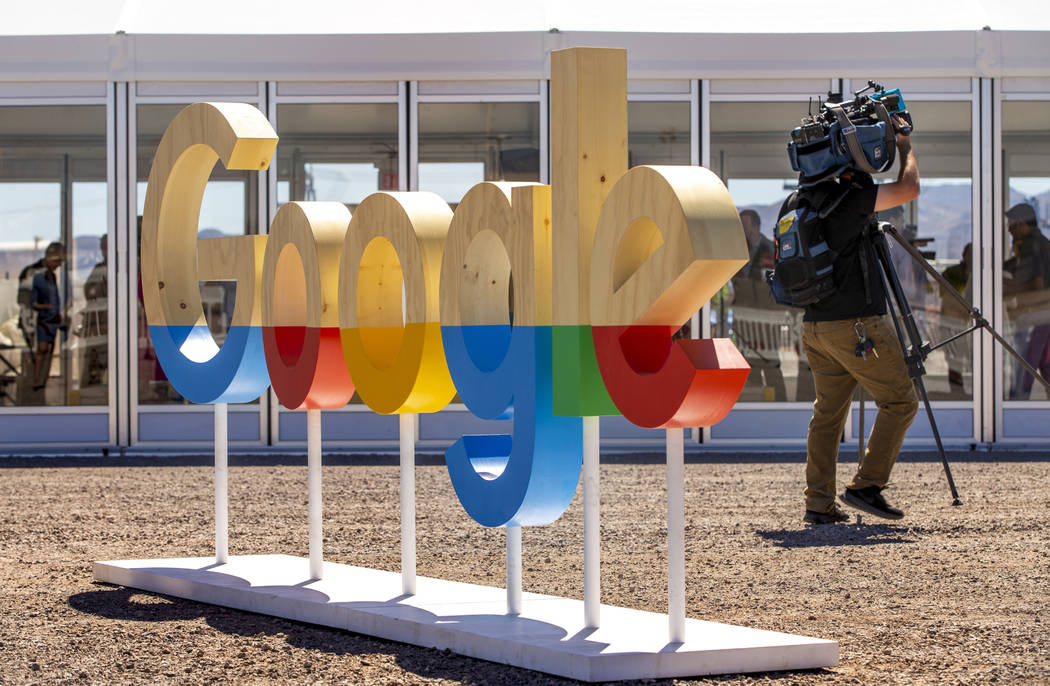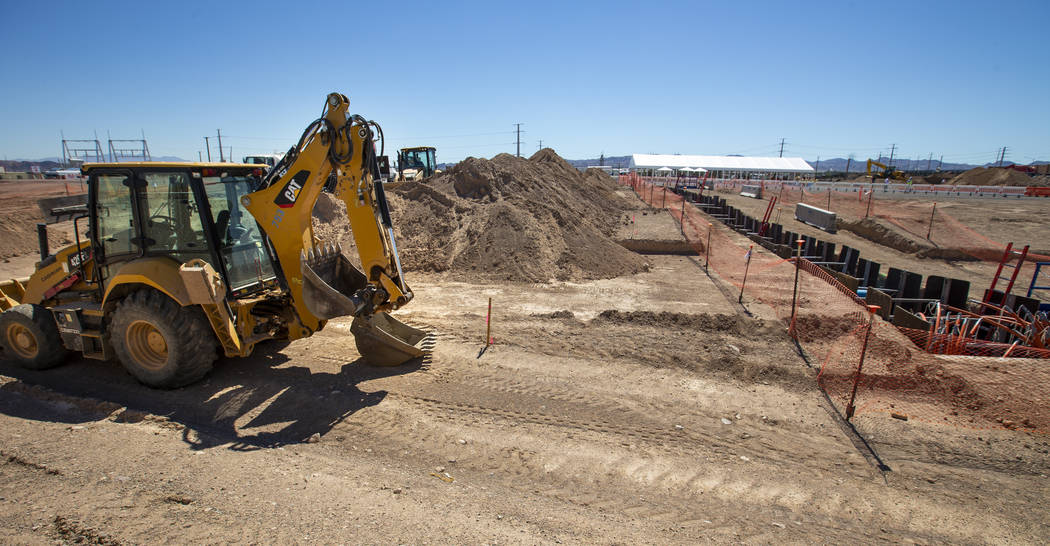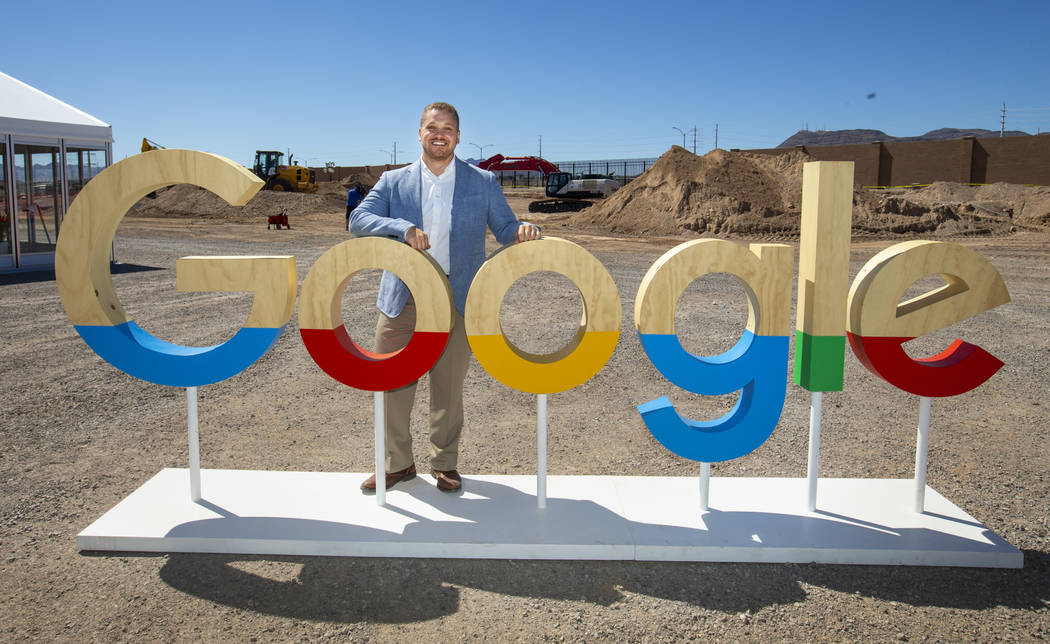 Google held a ceremonial groundbreaking Monday for its Henderson data center and defended the secretive way it bought the site and pursued project plans.
The Silicon Valley internet-search giant was joined by politicians and others to celebrate the $600 million venture on Warm Springs Road west of Boulder Highway.
The project, which has been under construction for months and is backed by more than $25 million in state tax incentives, is expected to open next year.
It will service billions of users around the world, said Andrew Silvestri, Google's head of data center public policy and community development for the Americas.
According to Google's tax-incentive application, the facility will employ at least 50 people, who would earn an estimated average salary of $65,000 per year.
Gov. Steve Sisolak told the crowd the project will produce good jobs and make Henderson "one of the greatest engines of the internet."
"When you think about Google, I think you really reach your pinnacle when your name becomes a verb," he said.
Google acquired the 64-acre site in January 2018 for $19 million and drew up plans for a data center project that would span more than 750,000 square feet, records show.
But the deal was shrouded in secrecy.
As of October, the developer's identity was still hidden behind an obscure Delaware-registered entity, Jasmine Development LLC. Jasmine's paper trail of project plans, property records and business-entity registrations did not show which company was behind it, and at the time, Henderson spokeswoman Kathleen Richards did not name the developer, citing "confidentiality reasons."
She said the city had signed a nondisclosure agreement, adding that state law allows for such secrecy when "attracting businesses to jurisdictions."
However, rumors swirled the facility was for Google. Its involvement was later confirmed through the Governor's Office of Economic Development, which approved $25.2 million in tax incentives for the data center in November.
Google by no means needed the help. Its parent company, Alphabet Inc., based in Mountain View, California, booked $30.7 billion in profit last year and boasted a stock market value of about $763 billion as of Monday.
Former Republican Gov. Brian Sandoval's administration approved the tax breaks. Sisolak, a Democrat who was sworn in as governor in January, told the Las Vegas Review-Journal at Monday's event that he was "not going to question" the decision.
He declined to say what position he would have taken if he had been governor when the application came before GOED, saying that is a "hypothetical" scenario and he appreciates the jobs Google is bringing to Henderson.
Google's Silvestri told reporters the company expects to "significantly" expand the data center's headcount over the next few years, and the facility is slated to be operational sometime next year.
Asked during an interview with the Review-Journal why Google bought the site and filed project plans under a shroud of secrecy, Silvestri said he disagreed with that premise.
The company adheres to all city, county and state laws and works with elected officials and city planners, he said.
"We operate with the best practices of this industry and economic development practices, and these are standard practices," Silvestri said. "We eventually disclose our identity, we go through a public hearing process just like anybody else."
Asked how he and the company would respond to critics who might say tax incentives for a company as big as Google are a form of corporate welfare, Google spokeswoman Charlotte Smith, who was standing near Silvestri during the interview, said: "We won't. … I'm gonna decline to comment on that one."
Contact Eli Segall at esegall@reviewjournal.com or 702-383-0342. Follow @eli_segall on Twitter.