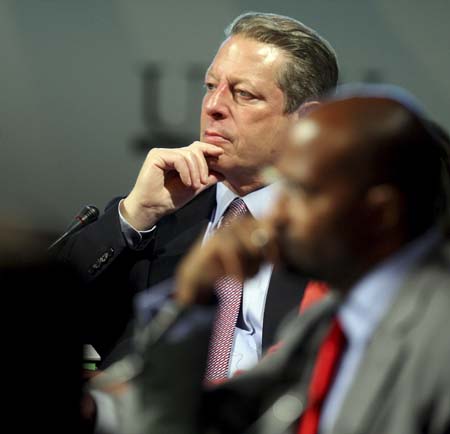 An all-day Monday powwow featuring some of the country's best-known policymakers yielded an array of suggestions for boosting the nation's green-energy economy.
The suggestions from more than 25 panelists and speakers at the National Clean Energy Summit 2.0 could substantially help shape proposed federal legislation in the next year. If Monday's discussions offer any indication, Americans can expect a coming congressional emphasis on home and office weatherization, a focus on finding dollars for alternative-energy power plants, carbon cap-and-trade regulations and creation of a national renewable energy portfolio mandate for electric utilities.
But first, former Vice President Al Gore, a longtime advocate of green economic measures, made the case for advancing alternative energy and conservation.
It sounds "shrill" to say global warming threatens human civilization, but the alarmist nature of the message is no reason to discount it, Gore told a sold-out crowd of 900 inside Cox Pavilion at the University of Nevada, Las Vegas.
A week-old study on the world's oil supply found the planet's petroleum reserves dwindling faster than previously thought, Gore said. That means more roller-coaster rides in oil prices, and future energy shocks for consumers.
Humans also dump 70 million tons of planet-warming pollution into the atmosphere every 24 hours, Gore said.
"This is madness," Gore said. "We owe it to ourselves, our children and our grandchildren. Who are we to make the decision to keep on being so wasteful and destructive in the teeth of warnings from every single prestigious science organization on this planet? Our kids will ask, 'Didn't you know? Didn't you care? Didn't you notice the thousand-year-droughts and the 500-year floods? What were you all doing, watching 'American Idol'?'"
UNLV professor Keith Schwer also addressed the crowd, noting that Clark County's unemployment rate is 12.3 percent, and the region could use the economic boost that would come with a greener economy.
Schwer said Las Vegas and Nevada ranked as the country's fastest-growing state in the last several years of the 20th century because of its entrepreneurial spirit and its citizens' ability to find advantages other states didn't have.
Southern Nevada should now turn that entrepreneurial spirit toward green energy, Schwer said. Focusing on renewables such as solar power and wind energy would make the Silver State an exporter of energy, similar to Texas and Oklahoma.
There will be job upheaval for older sectors of the economy, Schwer said, but that was the case for makers of buggy whips when the automobile emerged as an economic and industrial force.
"We shouldn't be afraid of that," Schwer said. "We should continue to make transformations to drive the economy and make sure we have economic prosperity for our grandchildren."
John Podesta, a former White House chief of staff and current chief executive officer of the Center for American Progress Action Fund, emphasized the boost weatherization efforts would provide the nation's economy. Retrofitting 50 million homes and small commercial buildings would create 625,000 jobs in construction and manufacturing, and would save consumers up to $64 billion a year.
Senate Majority Harry Reid, D-Nev., and the event's host, noted that Monday was the anniversary of the day in 1776 that word of the American colonies' Declaration of Independence reached London.
"We're firing the first shots of a new revolution to regain prosperity and restore American leadership," Reid said. "It's a clean-energy revolution to create millions of jobs nationwide and thousands of jobs in Nevada — good, new jobs in construction, manufacturing and engineering."
Plus, those jobs couldn't be outsourced.
Reid also said in postsummit press conference that developing a nationwide "smart" power grid would be a top legislative priority. Such a grid would make it possible to transmit renewable energies of all types to markets nationwide.
Energy Secretary Steven Chu said no clean-energy plan would be complete without a system to tax carbon emissions.
"Yes, we're going to have a cap on carbon, and we're going to ratchet it down as we build up the system," Chu said.
Chu also said it's "wishful thinking" to believe global warming isn't happening.
"The cost of inaction is horrendous," he said.
Several panelists called for a national renewable-energy portfolio standard like the one Nevada has. Nevada law requires that 25 percent of the state's power come from alternative sources by 2025.
Danny Thompson, head of the Nevada chapter of the AFL-CIO, noted that Nevada's portfolio standard, instituted about a decade ago, gave the state's utilities incentive to push construction of the nation's largest photovoltaic array, a 72,000-panel, 14-megawatt solar plant that supplies the Nellis Air Force Base with more than 25 percent of its power. Thompson also pointed to several solar plants in the Eldorado Valley, south of Boulder City.
"These plants happened because we set a standard," Thompson said.
Michael Yackira, chief executive officer of NV Energy, said the company's $300 million investment in developing a smart grid to transmit green power will create 200 jobs, including positions to change out old meters.
The local power utility is also funding classes in renewable-energy engineering at UNLV and the University of Nevada, Reno.
The conference is important because policy prescriptions in past summits have made their way into federal law.
Last year's summit, also at UNLV, produced talk of tax breaks for renewable-energy companies that create jobs and billions of dollars for a national smart grid to transmit alternative power. Funds for both were in February's stimulus bill. In the last year, federal lawmakers have appropriated more than $60 billion for clean-energy projects.
Also appearing at Monday's event were Labor Secretary Hilda Solis, Los Angeles Mayor Antonio Villaraigosa, oilman T. Boone Pickens, and Nevada Senate Majority Leader Steven Horsford, D-Las Vegas.
Gov. Jim Gibbons wasn't invited to the event, and he said that the snub suggested the gathering was more about partisan politics than solving energy problems.
"Reid invited California's governor and did not invite Nevada's governor. That can only suggest that Reid is interested in helping renewable energy projects in California and not Nevada," Gibbons spokesman Dan Burns said by e-mail.
Contact reporter Jennifer Robison at jrobison@reviewjournal.com or 702-380-4512. Review-Journal writer Benjamin Spillman contributed to this report.