Governor shows zeal for being first Nevada Hyperloop passenger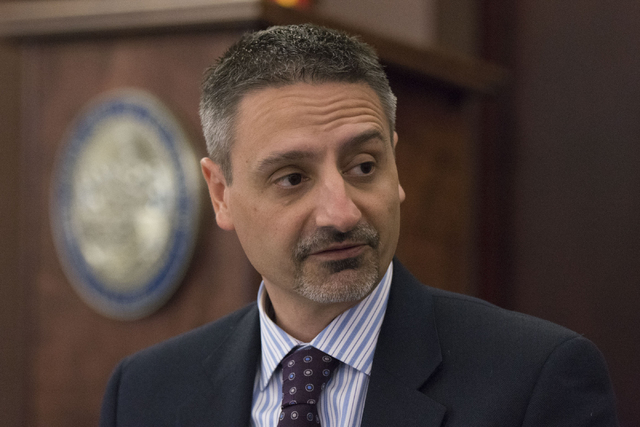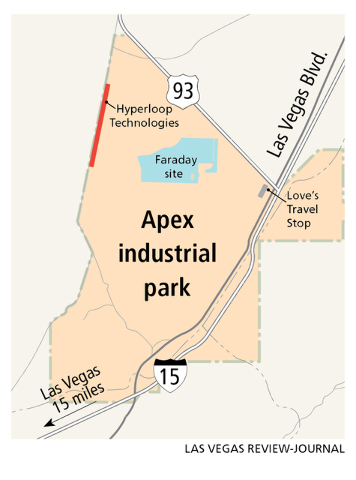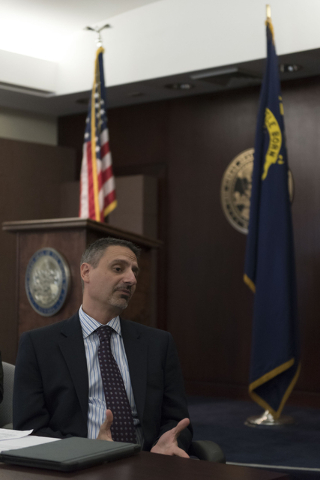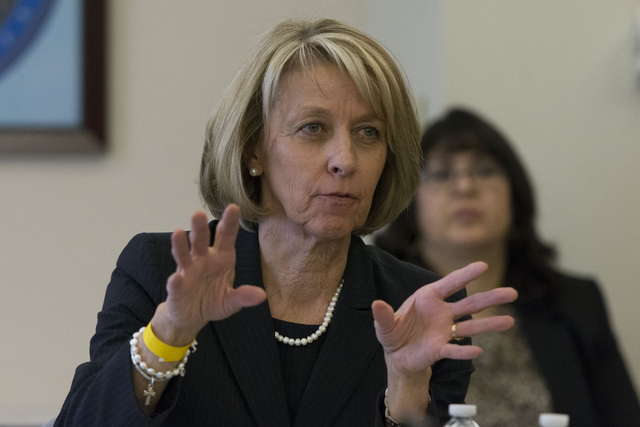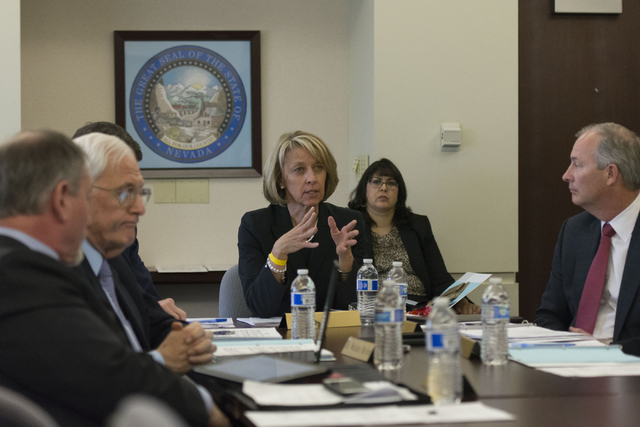 Gov. Brian Sandoval said he can't wait to experience "the Kitty Hawk moment" for Hyperloop Technologies Inc. in North Las Vegas.
That moment could occur as early as next fall based on the ambitious development schedule outlined by the Los Angeles-based high-tech transportation company.
Sandoval was referring to the first test run of a full-scale Hyperloop pod within a tube. The Wright brothers made their first controlled and sustained flight in an aircraft on Dec. 17, 1903, near Kitty Hawk, North Carolina.
Sandoval's enthusiasm was based on Friday's unanimous approval of almost $10 million in incentives for Hyperloop, which is planning to build a 3-kilometer test track at the Apex industrial park near the intersection of Interstate 15 and U.S. Highway 93.
Brian Gaumer, director of test and development engineering for Hyperloop, told the Governor's Office of Economic Development board that the North Las Vegas location is on the company's short list of prospective sites for the test facility. He didn't disclose what other sites are competing for the facility. While the site approval isn't a done deal, the company already has transported equipment to Apex to get started.
Company representatives said they would have no further comment about the project, which initially was conceived by entrepreneur Elon Musk, developer of Tesla and SpaceX.
Gaumer said there were a few closing agreements and easement issues that had to be cleared before making a final decision, which he said would occur within weeks. The company already has negotiated with NV Energy for power to the site and the Southern Nevada Water District for utilities.
He added that the Apex environment offers conditions that should be helpful in testing the components of the system.
The company expects to complete construction of the test facility by September with testing to begin by November. The test facility would operate seven days a week for up to 24 hours a day. Markets in Europe, Asia and the United States are under consideration for the first working transport system.
Sandoval, who chairs the 11-member board, volunteered to take the first ride in the system.
"I want Nevada to be on the ground floor for some of these next big things," Sandoval told Gaumer. "When you perfect it, I want to be the first to go for a ride."
It would be a short trip.
Gaumer explained that the company would first test the system with a 1-kilometer tube, then extend it for further testing. The company is eyeing a long and narrow series of parcels along the northwestern boundary of the Apex complex. It also would build a 20,000-square-foot building on the site.
Gaumer said the company already has 125 full-time employees working from a 3-acre campus in downtown Los Angeles who have engineered and developed model versions of the tubes and pods envisioned for the full-scale system.
The company's next step was to develop an open-air track at Apex to test the propulsion system outside a tube.
The next phase, the one for which the company is seeking tax incentives, is for the Hyperloop Safety, Test and Development Loop, called the "Nevada DevLoop" by company executives.
Gaumer explained that the propulsion system uses existing electromagnetic technology that would levitate pods. The tubes enclose a low-pressure environment to minimize friction and resistance.
Company officials say Hyperloop is an environmentally friendly transport system that could be built above, below or at ground level and tubes could also be built underwater, operating off the grid or with sustainable energy systems. The Hyperloop is designed so that a pod could potentially be launched every 10 seconds assuring high-volume transport. In theory, the system could transport goods and passengers at 700 mph, but Gaumer cautioned that part of the testing would involve a passenger's tolerance to high speeds and acceleration.
The deal the board signed off on assures that the company would deliver higher job creation, average wages and equipment capital expense investment beyond what's required by state statute.
The company promises initially to hire 89 people at an average wage of $29.19 an hour and invest $121.6 million in facilities and equipment.
In return, the company would get a sales tax abatement to 2 percent, worth an estimated $7.4 million, a modified business tax abatement of 50 percent over four years, worth $154,100, and a personal property tax abatement of 50 percent over 10 years, worth $1.7 million. The company also would be eligible for a $750,000 catalyst fund tax credit.
Hyperloop's application to the state estimates that over 10 years the project would support 214 jobs and $113.5 million in payroll. It also would add 22 construction jobs paying out $1.4 million over that timeframe.
The state estimates that direct and indirect employee presence would generate $11.7 million in new state and local tax revenue over 10 years, meaning that the company's presence would result in $31 in economic impact and $1.27 in new taxes for every abated dollar.
Sandoval credited several agencies for their assistance in convincing Hyperloop to set up in Nevada. He applauded Clark County and the city of North Las Vegas, the Bureau of Land Management and the Las Vegas Global Economic Alliance, which guided the company through the incentive process.
Contact Richard N. Velotta at rvelotta@reviewjournal.com or 702-477-3893. Find him on Twitter: @RickVelotta.
Hyperloop Technologies expected to win $9.2M in economic incentives
Hyperloop company files plans for full-scale test site at Apex