Group targets area at Sahara-Decatur for major upgrade
September 18, 2015 - 8:22 am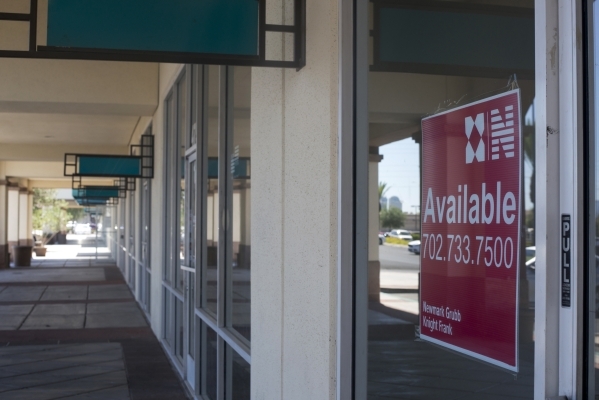 The intersection at Sahara Avenue and Decatur Boulevard has gone from Main and Main to pain and pain.
Once the city's busiest concentration of national retailers and upscale restaurants, the area struggles today with high retail vacancies.
Come this weekend, though, a consortium of real estate groups and public agencies will talk change at Better Blocks Live, a community event to invite public input on the intersection's future.
The goal, said long-time local architect and co-organizer Bob Fielden, is to update the intersection's retail cluster with an "urban village" of higher-density housing, parks and cultural centers. Residents could walk or bike to jobs and stores. Streetcars would replace buses.
To make it happen, the neighborhood's population would need to increase 40 percent, Fielden said.
That population began shifting in the late 1990s, as affluent residents left the urban core for suburban master plans. The population base of ZIP code 89102 dropped 4.9 percent, to 35,759, from 2000 to 2010, according to the U.S. Census Bureau. The median income of $34,411 from 2008 to 2012 fell well below a citywide average of $52,601 in the same period.
The 215 Beltway's buildout in the late '90s and early 2000s hastened the decline, said Paul Chaffee, a partner in real estate brokerage NAI Vegas. The highway siphoned off through-traffic that supported inner-city retail.
Some retailers — Vons, Jo-Ann Etc., Chili's — left for greener pastures. Others, including Borders Books and Circuit City, went out of business altogether. By the time the recession hit in 2008, blight had set in.
It continues today: The second-quarter retail vacancy rate in the west-central district that includes the intersection was 11.4 percent, compared with 9.7 percent marketwide, according to real estate brokerage Colliers International. But some shopping centers around the intersection have vacancy rates of 40 percent or more. There are also two long-shuttered car dealerships.
"In domino fashion, everything started declining," Fielden said. "It was the cool place, and that shows you how fast things can go south."
Better Blocks Live is designed to raise awareness of that plight, get insight through surveys of residents and have a dialog on how to stop the slide, "because if nothing is done, it certainly will decline further," Fielden said.
Chaffee called Better Blocks Live "a great approach" to discussing redevelopment.
"With the shift in demographics and traffic patterns, it's possible the area is incorrectly retailed," he said. "It is definitely in need of revamping."
Brian Gordon, a principal in local research firm Applied Analysis, agreed the intersection needs help.
"It has undergone significant transition over the better part of two decades, and what may have been suitable 20 years ago may not meet the needs of residents and supporting businesses in the area today," he said.
From 8:30 a.m. to 5 p.m. Saturday, and 10 a.m. to 4 p.m. Sunday, Better Blocks Live's organizers hope for a deeper understanding of those needs.
Partners include the Urban Land Institute; Hope Home Foundation; the Greater Las Vegas Association of Realtors' Commercial Alliance; the National Association of Realtors; Clark County; and the city of Las Vegas. A grant from the Commercial Alliance and the National Association of Realtors is helping fund the event.
Better Blocks Live will include a Saturday pancake breakfast hosted by Spicy Camel Trading Co., and a bike parade sponsored by the Regional Transportation Commission. Hot dog giveaways are scheduled from 11:30 a.m. to 2 p.m. Saturday and Sunday. There'll be cultural performances and magic and music shows, and Hope Home Foundation will have details on mortgage down-payment assistance and affordable housing.
The partners' next step will be to work with local planning agencies and state lawmakers on development guidelines and qualifying criteria for redevelopment funds.
None of it will be easy, Gordon said.
"Anytime you talk about redevelopment, it's a lengthy process," he said. "We've seen positive results in other areas of Southern Nevada, including downtown Las Vegas and downtown Henderson. This area could be suitable for that type of transition, but it is a time-consuming process that requires significant capital investment."
Fielden said it could take 20 years to realize the partners' vision, but it won't take that long to bring Better Blocks Live to other neighborhoods.
As soon as redevelopment at Sahara and Decatur is under way in the next six to eight months, the consortium plans to host Better Blocks Live near Lake Mead Boulevard and Interstate 15.
"We want to create a model that local jurisdictions can follow in turning around older, inner-city neigbhorhoods before they completely decline to the point of total disrepair," Fielden said.
Contact Jennifer Robison at jrobison@reviewjournal.com. Find @_JRobison on Twitter.