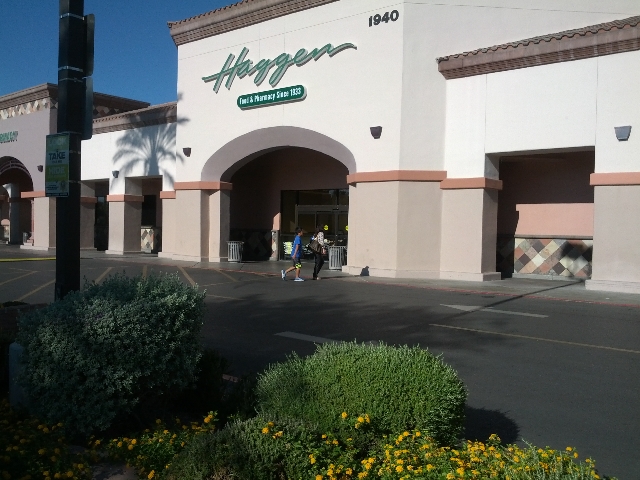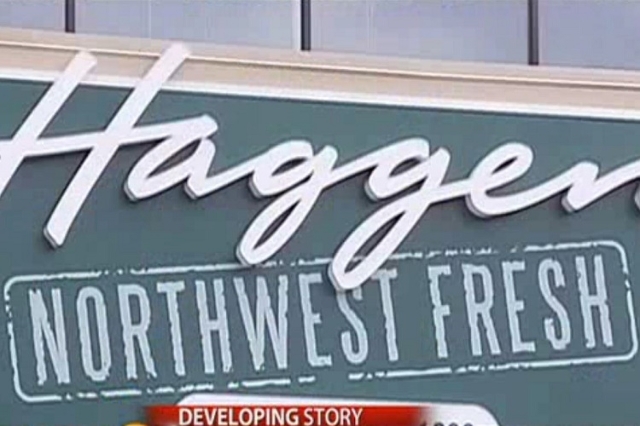 Grocer Haggen, which opened its seven Las Vegas stores in June, plans to shutter them by Thanksgiving Day at the latest while it accepts offers from operators to take over the leases.
Haggen says it's in the process of liquidating goods at the seven stores, and a company spokeswoman said they will close on Nov. 26, Thanksgiving Day, or sooner.
One of the Las Vegas stores, the Haggen at 1940 Village Center Circle in Summerlin, has received a bid to be acquired by Smart & Final. Any approval is subject to the bankruptcy court and other bidders submitting an offer, officials said.
It's not immediately known how many other Las Vegas properties of Haggen will get formal bids but more offers are likely, company officials and market analysts say. The seven stores were previously operated by either Vons or Albertsons.
"A number of the Haggen stores are in residential neighborhood areas that will potentially be sought out by suitors such as Smith's or Walmart Neighborhood Markets," said Brian Gordon, principal at Applied Analysis, which tracks the retail market in Las Vegas. "Haggen was able to move and expand into the locations relatively quickly and that suggests other operators will be able to follow suit once they exit."
Other area Haggen stores are at 1031 Nevada Highway in Boulder City; 2910 Bicentennial Parkway; 190 N. Boulder Highway; 575 College Drive; 7530 W. Lake Mead Blvd.; and 820 S. Rampart Blvd.
Gordon said he's not surprised Smart & Final was quick to make an offer on the Summerlin site. Overall, the retail vacancy rate in Las Vegas was 8.9 percent at the end of the third quarter, down from 9.3 percent a year ago as the industry continues to rebound from the Great Recession.
"The demographics in that area are at or near the top of the spectrum in terms of income and population when you compare it to other areas around the Las Vegas valley," Gordon said of the Summerlin store. "It's a key area that many retailers would seek out if the opportunity presented it."
California-based Smart & Final officials did not return phone calls for comment, but the company provided a statement detailing its overall strategy. It announced plans to acquire 28 store leases for $56 million. That includes 27 Haggen stores in Southern and Central California and one in Las Vegas.
Smart & Final, a warehouse-style supermarket chain has seven existing stores in the valley, with the closest to the proposed new store at 8485 W. Sahara Ave. It operates 270 stores under the Smart & Final and Cash & Carry store banners.
Smart & Final said if it's approved as the successful bidder, it will close the deal by the end of the second quarter in 2016. The company plans to convert the Haggen stores to its Smart & Final Extra store format. The Extra stores are a specialty concept emphasizing fresh meat and produce, including organic produce.
In a statement, Haggen said it has hired the national financial advisory firm Sagent Advisors to market interest for the stores in Las Vegas and other states. Employees of the Las Vegas stores were given 60-day notice of the pending store closures. Haggen said it's working with Albertsons and the Federal Trade Commission to waive the restriction in an FTC order regarding the hiring of Haggen employees.
In January, the Federal Trade Commission announced that Albertsons and Safeway had agreed to sell 146 stores in Arizona, California, Nevada, Oregon and Washington to Haggen as part of a $300 million deal to win U.S. antitrust approval for a merger.
After opening the stores in June, Haggen filed a lawsuit over the deal on Sept. 1. The company's $1 billion lawsuit alleged Albertsons "launched its plan to gain market power" by hamstringing Haggen's ability to operate the stores successfully after taking ownership.
"In order to convince Haggen to purchase 146 stores, Albertsons made false representations to both Haggen and the FTC about Albertsons' commitment to a seamless transformation of the stores into viable competitors under the Haggen banner," the Haggen lawsuit alleged.
Weeks later, Haggen filed for Chapter 11 bankruptcy protection. Later, Haggen announced its plan to sell stores in the Las Vegas, California, Arizona as part of a Chapter 11 bankruptcy.
"The company previously operated as a modest size firm out of the Northwest and appears to have expanded at a rapid pace and given the current financial difficulties, it would suggest it was unable to sustain the level of growth it was experiencing," Gordon said.