Health care reform sparks wave of office consolidation
December 2, 2013 - 12:31 pm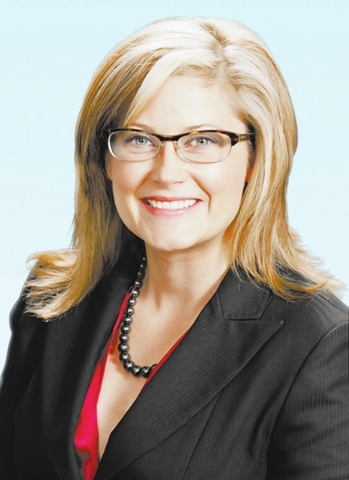 Health-insurance reform's tentacles are reaching into Southern Nevada's commercial real estate market.
The Affordable Care Act, or Obamacare, has been phasing in for the better part of three years, and as it continues to take effect in coming months, it's affecting the office market in particular.
The trend is important enough that Colliers International convened a Las Vegas Healthcare Real Estate Summit on Nov. 14 to discuss it. To be sure, other factors are influencing medical buildings, but Obamacare is an especially important force these days.
That's because solo docs and other smaller medical practices are consolidating, said Stacy Scheer, a senior associate with Colliers' Healthcare Properties Group. To better handle the effects of reform, including more patients and new insurance regulations, doctors are banding together in larger practices. That lets them cut duplicate spaces such as waiting rooms and restrooms. They're also making spaces more efficient: Exam rooms are still separate, of course, but doctors are likelier to share offices in single, large "bullpen" these days, rather than keep a private suite, Scheer said. Technological innovations such as electronic medical records and telemedicine also mean less need for space.
Other doctors are closing their offices to join hospital-based practices, or retiring from the field, Scheer said.
And then there are the medical groups looking for nontraditional spaces. Clinics are abandoning hospital campuses and moving into shopping centers near residential neighborhoods to be closer to patients.
Put it all together, and you have an oversupply of space: Colliers' third-quarter market report showed a medical-office vacancy rate of 22.6 percent, the highest since 2004. That's contributing in a big way to overall office vacancy of 22.3 percent.
Scheer said the market will eventually absorb the space, but the city has four years of inventory on the market, and that's not factoring in new users who build custom space rather than taking up existing suites.
Health care isn't completely dragging down the market, though. Summit panelists also said trade-group initiatives to boost medical and wellness tourism could inject new life into the market. That's because efforts to attract patients to Las Vegas from across the globe will encourage new schools, training facilities and centers of excellence in medical research, training and preventive care, Scheer said.
Those centers, in turn, will absorb larger industrial or flex spaces. Consider the agreement between Roseman University of Health Sciences and the Nevada Cancer Institute to reopen the institute's shuttered, 184,000-square-foot building in Summerlin as a medical school by 2017.
"I would say the submarket is not quite stable, though I don't think we're getting any worse as far as vacancy and rental rates," Scheer said. "But I do think it's on its way to stabilizing."
■ The medical-space market may be struggling, but that didn't stop Gatski Commercial brokers from closing a big deal.
Rob Lujan and Jason Simon represented landlord Comm 2006-C8 Office 7455 LLC in a $7 million lease on 32,508 square feet inside Longford Medical Center at 7455 W. Washington Ave. Nevada Orthopedic &Spine Center LLC will rent the space for 168 months. Taber Thill, SIOR, of Colliers International represented the tenant.
■ A lease to one of America's biggest online retailers is among the deals Colliers International associates helped broker.
Dan Doherty, SIOR, Chris Lane and Jerry Doty represented landlord PAR Industrial LLC in its $4.9 million, 60-month lease to Amazon.com. Amazon's 283,920-square-foot space is at 3837 Bay Lake Trail, inside Las Vegas Corporate Center.
Doherty, Lane, Doty and Spencer Pinter also represented Sofidel America Corp. in its $342,516, 26-month lease of 39,100 square feet of industrial space at 140 Cassia Way.
Dean Willmore, SIOR, and Eric Molfetta represented Aloha Shoyu in its $1.7 million purchase of a 28,325-square-foot building at 4080 N. Pecos Road, inside Silverado Industrial Park. Mark Anthony Rua of Realty Executives represented seller Grand Jen Realty Las Vegas LLC.
Patti Dillon, Ryan Martin, CCIM, SIOR, Tom Stilley and Lizz Stilley represented ConAm Management Corp. in its lease of 4,348 square feet of office space at 376 E. Warm Springs Road, inside Airport Corporate Center. Amy Lance of CB Richard Ellis represented landlord Warm Springs LP in the $434,731 deal.
■ Sun Commercial brokers closed on several sales and leases.
Jeff Berg and Mica Berg helped Rainey Legal Group PLLC buy a 10,638-square-foot office building at 9340 Martin Ave. The law firm bought the building for $740,000 from TJJC LLC.
C. Roger Jeffries represented BMR Global Corp. in its $650,000 purchase of a 12,900-square-foot industrial property at 4460 E. Cheyenne Ave. Mark Anthony Rua of Realty Executives represented the seller, 5 Stars Auto Shop LLC.
Cathy Jones, Paul Miachika, Jessica Beall and Roy Fritz represented O'Hagin LLC in its 39-month lease of 24,079 square feet at 880 Wigwam Parkway. Harsch Investment Corp. is the landlord in the $341,653 deal.
Jones, Miachika, Beall and Fritz also represented landlord LBUBS 2002-C4 RETAIL 8000 LLC in its lease of 5,000 square feet at 8000 W. Sahara Ave. to MDC Restaurants LLC. The lease value was $301,221.
And the team brokered a 39-month lease for Style Event Design at 6630 Arroyo Springs St. The 13,671-square-foot space leased for $268,227. EJM Arroyo North I Property LLC is the landlord.
■ The Greater Las Vegas Association of Realtors recently took time out to honor its own.
At its Nov. 16 installation dinner at the Four Seasons, it named David Boyer of Prudential Americana Group its Realtor of the Year, for his service as a leader in the profession and the community.
The association also gave its Gene Nebeker Memorial Award for professionalism and service to the association and the community to Ronnie Schwartz of Coldwell Banker Premier Realty. Mark Miscevic of the Meadows Group Realty won the Ronn Reiss Award for educational excellence and leadership. Lee Barrett of Barrett and Co. received the Frank Sala Award for commitment to grass-roots political action and property-rights protection.
The association's Hall of Fame inductees included Robert Hamrick and Neil Schwartz of Coldwell Banker Premier, and Elizabeth Nebeker of Las Vegas Realty.
Contact reporter Jennifer Robison at jrobison@reviewjournal.com. Follow @J_Robison1 on Twitter.