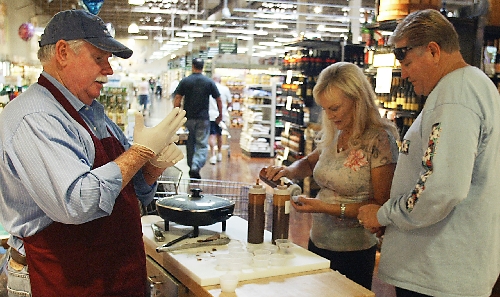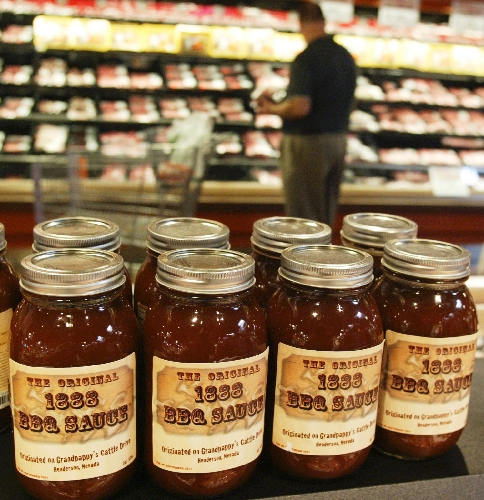 With a century-old barbecue sauce recipe and a little gumption, Bob Hutchings is trying to create a solid foundation for his new business venture.
Hutchings, a Henderson resident, worked as a foreman in the carpentry trade until he was laid off in 2007. He traveled to nearby states taking work when he could, but the jobs weren't enough to sustain him financially. With encouragement from his wife, Hutchings decided to brand a family barbecue sauce recipe as 1888 BBQ Sauce and sell it to a local grocery store.
Glazier's Food Marketplace at 8525 W. Warm Springs Road picked up the sauce and made it available to the public.
Midway down aisle 10, 1888 BBQ Sauce is displayed on a grocery shelf between Sweet Baby Ray's Honey Barbecue Sauce on the left and Tony Roma's Carolina Honeys on the right. The 32-ounce jars each wear a beige label with the phrase "Originated in Grandpappy's Cattle Drive."
Hutchings brews three different blends of his sauce — original, sweet and spicy with a kick — in a friend's commercial kitchen.
"It's very, very good," said Flora Massey, front-end manager at Glazier's. "It has a lot of flavor."
Sauce ingredients include ketchup, Worcestershire sauce, smoke flavor, sugar and chili powder.
"You can taste the spices in it," Massey said.
Hutchings' great-grandfather, who was a cattle-drive cook in the 1880s, created the recipe. Although Hutchings didn't know the details of the recipe's origins, the legend he could relate went like this:
His great-grandfather cooked meats, including chicken and beef, while on a cattle drive. He then placed the grub in his barbecue sauce, which was made with lemon juice. The pH levels in the juice helped preserve the meats, so the sauce became a staple in the group's meals.
Eventually, the recipe was handed down from one man in the family to another. Hutchings' father died in 1990, and Hutchings inherited the recipe.
After receiving the secret to the sauce, Hutchings began working the barbecue circuit in Oregon and Washington; he also cooked at rodeos in the area. In 1996 he gained the attention of major grocery chain Albertsons. Hutchings said the retailer offered to buy 232 cases of his product, but Hutchings backed out of the deal because he was in the midst of a divorce.
"I made a mistake," he said. "I should have just let my ex-wife have half."
Hutchings now offers samples of his sauce almost every Saturday and Sunday at Glazier's. Massey said people who sample 1888 usually respond positively.
"We've never had a return," Massey said. "They seem to really like it."
Hutchings' 1888 BBQ Sauce retails for $5.96 per jar. The business is a one-man operation — Hutchings cooks, bottles, delivers and markets the product himself.
"I don't make any money to pay anybody," he said. "I do everything."
Hutchings, 60, is three months into his new business adventure and said he is overwhelmed. He said another major grocery store chain approached him recently to sell his sauce. He wants to expand but wasn't approved for the business loan needed to do so. He said he needs about $250,000 to make the 40,000 bottles of barbecue sauce each month that could put him on the shelves of most of the major grocery chains.
Although he can't expand until he can acquire more financing, Hutchings is planning for that day.
He will continue to brew his sauce and market it at Glazier's to build a name for himself. He purchased a Web domain, 1888bbqenterprise.com, although no content has been created for it. When the time is right, Hutchings will send care packages filled with samples of his three barbecue sauces to major grocery stores in the hopes they will pick up his product.
He has no doubt they will.
"This is the way barbecue sauce should be," Hutchings said.
Contact reporter Laura Emerson
at lemerson@lvbusinesspress.com or 702-380-4588.