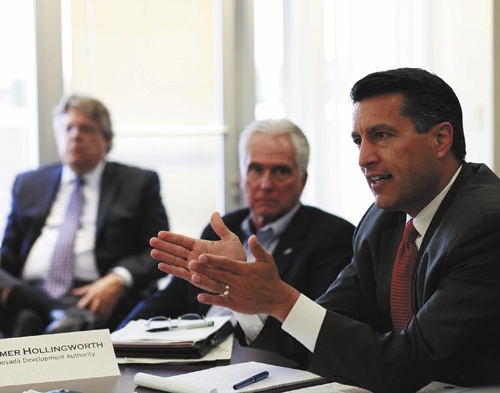 Just over a year after the last push to diversify Nevada's economy got under way, state leaders formally launched another effort — this time dampening expectations for a gusher of new jobs in the near future.
Monday's board meeting of the Nevada Commission on Economic Development focused on setting up what will become the state's new Office of Economic Development in the next few months, as spelled out in legislation that passed in June.
Gov. Brian Sandoval, who campaigned last year on being able to steer the state away from its heavy reliance on the gaming, tourism and construction, counseled patience.
"I want to be able to manage expectations here," he said. Later, he added, "It's no secret we need help (now). At the same time, we need to plan for 20 years from now."
For more than five decades Nevada leaders have been talking and studying economic diversity, with the results largely relegated to library shelves. The New Nevada Task Force, convened by Lt. Gov. Brian Krolicki on July 12, 2010, concluded the following March with a final report that recommended more studies of industries such as technology, medical tourism and movie and television production, as well as closer co-operation between agencies and with the private sector.
If that sounds familiar, consider this:
"(We) should market the state as a whole, identify our strengths and weaknesses and, most important of all, bring together the public and private sectors," former Lt. Gov. Lorraine Hunt Bono said in addressing diversification in 2000.
Sandoval acknowledged the legacy of talk with little to show for it.
"That is a valid criticism in regard to, 'Here we go again,' " Sandoval said.
But this time Nevada is in the most severe economic downturn since the 1930s, he said, and this has galvanized local and state leaders to act.
A preliminary analysis for the meeting prepared by the consulting firm SRI used graphics with bubbles and boxes to once again show that Nevada has a lopsided economy, based on discretionary spending. When that contracts, as it has in recent years, everything suffers.
By November, SRI is supposed to suggest what new industries can be realistically pursued, a particular focus for Sandoval.
The new legislation, Assembly Bill 449, allocates $10 million to the new agency through next June 30, with more funding to come after that. In addition, both the University of Nevada, Las Vegas and Reno are to set aside $3 million a year to help commercialize their research, with an additional $2 million at the joint Desert Research Institute.
That's not much, compared to what other states are spending, Sandoval acknowledged.
Last year Ohio voters approved a $700 million fund to promote economic development, on top of a prior commitment of $1.4 billion.
"We're in a tough spot," said Sandoval. "Other states have a head start."
Contact reporter Tim O'Reiley at toreiley@reviewjournal.com or 702-387-5290.