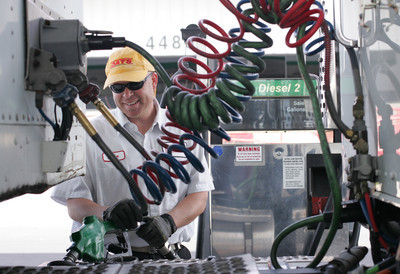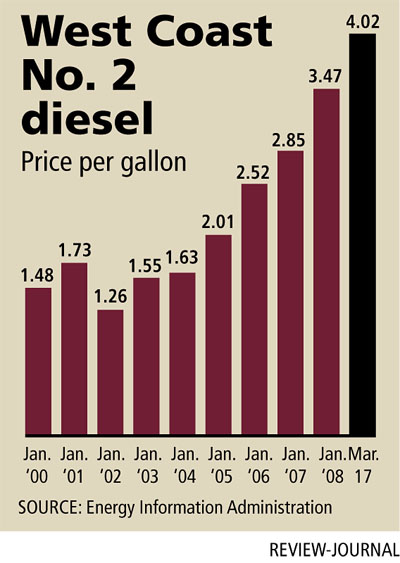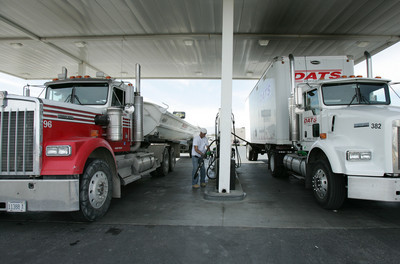 Rick Rash, 52, a married father of two adult children and an independent trucker since 1980, can't remember when it was harder to make ends meet.
"This is probably as tough as it's ever been," Rash said.
Shipping rates for trucking, with the exception of fuel surcharges that cover part of the increased cost of diesel, haven't changed much since he bought his first rig but other prices continue to ratchet up, Rash said.
The trucking industry is suffering from a double whammy — slack demand for shipping, which depresses prices, and spikes in the price of diesel.
Demand for shipments by truck has slumped along with the economy, particularly for construction materials used in building new homes. Analysts see trucking as a leading indicator of economic trends, and some economists think the nation is rapidly slipping into a recession or is already in one.
Yet the price that truckers pay for fuel has been skyrocketing.
Diesel, which sold for an average of $1.48 a gallon on the West Coast in January 2000, reached $2.85 in January last year, according to the U.S. Energy Information Administration.
The latest government survey on Monday calculated an average of $4.02 per gallon of diesel.
Nevada has some of the nation's highest prices for diesel with the exception of the West Coast and Hawaii, said Paul Enos, chief executive officer of the Nevada Motor Transport Association.
Fuel costs have "almost doubled for us over a four-year period," said Paul Truman, president of family-owned trucking company Truline Corp. of Las Vegas.
Danny Ipson, president of the Nevada trade group and vice president of DATS Trucking, blames the recent price spike on the surging price of crude oil. The company sells diesel to truckers and service stations through its Overland Petroleum subsidiary.
Profit margins often run 1 percent or 2 percent in trucking, Enos said.
"This is an industry where pennies do make a difference," Enos said. "Unfortunately, I think you're going to see a lot of smaller companies go out of business."
Some large trucking companies may fail, too, Ipson said.
"They are going to have to cut costs somewhere to compete," Ipson said.
Eventually the rates for trucking will increase and result in higher prices for goods, analysts said. But truckers are caught in a bind between rising diesel prices and low shipping rates for now.
Norita Taylor, a spokeswoman of the Owner-Operator Independent Drivers Association, gets a good overview of what's happening with independent truck drivers: "Some people are selling their trucks. Some people simply park and refuse to turn a wheel until they get a rate worth driving for."
Others continue to roar down the highways, she said.
Independent driver Rash said he is cutting costs every way he can. He does some of his own truck repairs and tries to minimize telephone bills and even cable television expenses.
While independent, Rash works almost entirely for Truline Corp., a family-owned interstate trucking company with 175 trucks of its own and 240 employees.
Customers pick up part of the fuel expense through a surcharge, Truman said, but truckers don't get a surcharge for the miles they drive empty. Truline often sends empty trucks out of Las Vegas to retrieve shipments from places like Los Angeles.
Truline carries a variety of products, ranging from steel and lumber for the construction industry to food, beverages and retail products for large retail stores.
The housing market collapse has slashed demand for construction materials, but Truline continues to ship materials for commercial projects.
"We started to see a slowdown in about July 2006," Truman said.
In recent weeks, Truman has seen an uptick in demand for shipping, but he doesn't know whether it's a sign that trucking is picking up or just a momentary blip.
Ipson doesn't share Truman's cautious optimism. The trucking business is "looking flat to down right now," Ipson said.
Longer term, the country faces a shortage in truck drivers as older drivers retire and young workers shun trucking for other careers, Enos said.
"It's a hard life, driving a truck, being away from home," Enos said. "There's a high turnover rate (of drivers)."
Rash agreed: "The truckers do the hardest work for the country, and they are least appreciated."
Contact reporter John G. Edwards at jedwards@reviewjournal.com or (702) 383-0420.