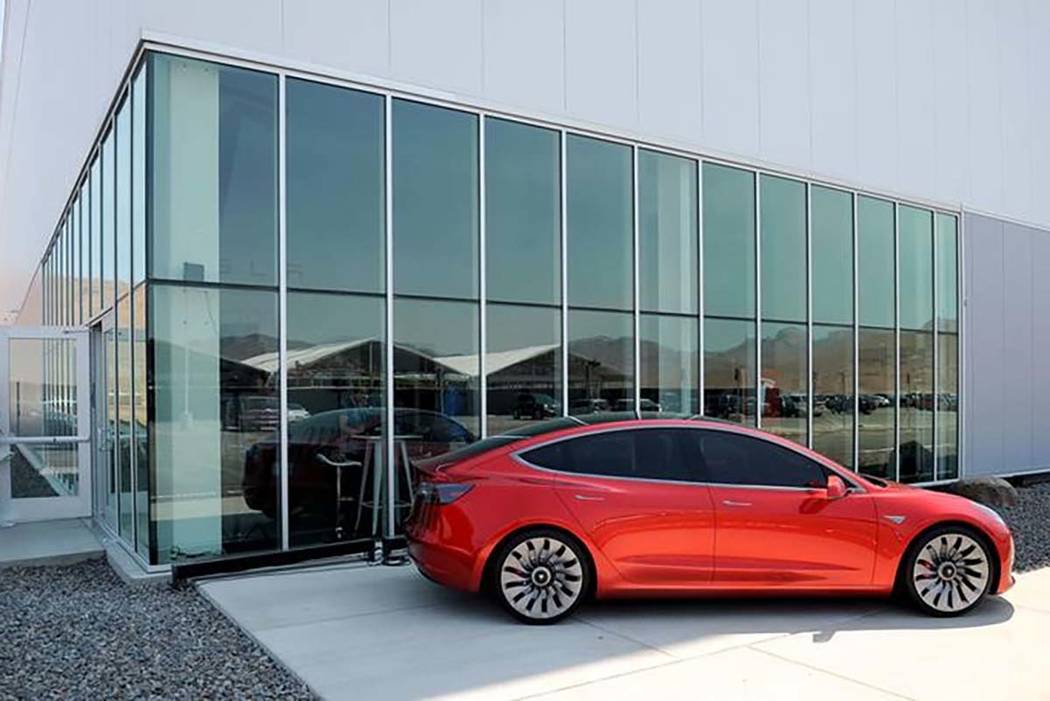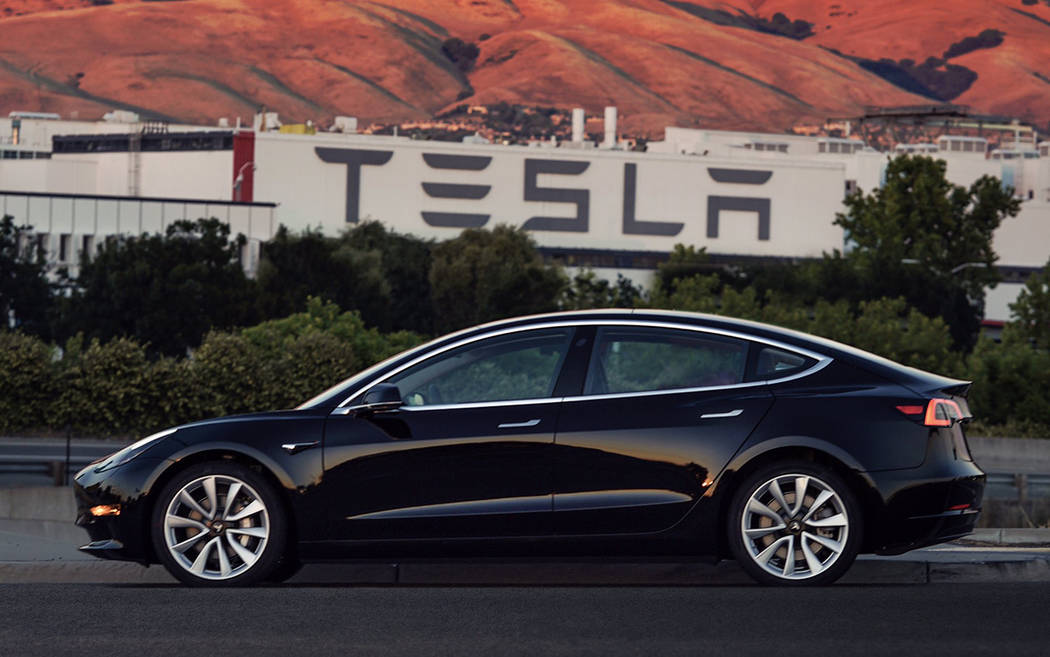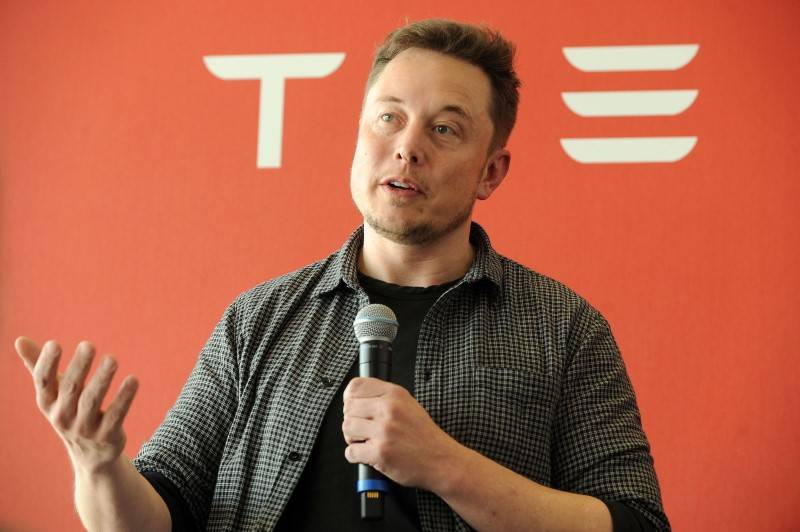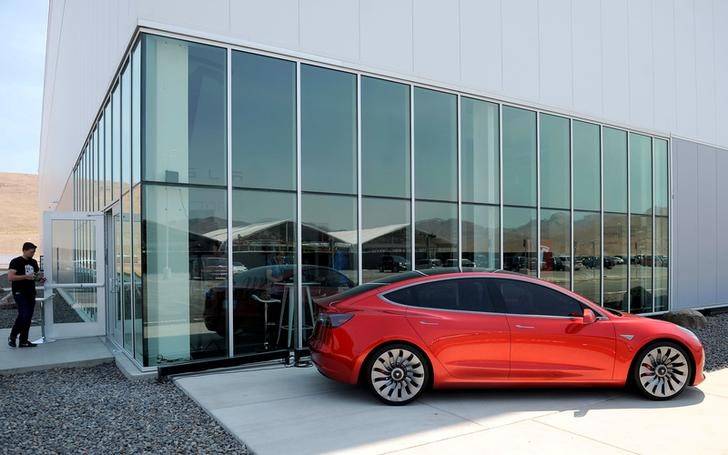 Electric car maker Tesla will not reach its goal of producing 5,000 Model 3 cars per week in 2017, citing hiccups at the gigafactory at the Tahoe Reno Industrial Center in Northern Nevada.
In a company shareholder letter published Wednesday, Chairman and CEO Elon Musk said "our primary production constraint has been in the battery module assembly line" at the Nevada plant, where cells are packaged into modules.
"The combined complexity of module design and its automated manufacturing process has taken this line longer to ramp than expected. … We have redirected our best engineering talent to fine-tune the automated processes and related robotic programming."
Musk said in an earnings call Wednesday that a supplier is at fault for the hitch in the module design.
"Unfortunately it does take some amount of time — (though) this is like lightning compared to what is normal in the automotive industry —…to fix something that we thought was in good shape. We were told by our supplier it was in good shape but was really not, so this has now been tackled by Tesla's internal automation group."
Cutting corners?
Sam Abuelsamid, a senior research analyst at a market research and consulting firm Navigant, said that can only mean one of three things.
"Either Tesla gave the wrong specifications or vendors didn't meet those specifications or Tesla dropped the ball somewhere along the line. … Because generally the automaker is going to sign off on all of this (equipment) stuff before it gets shipped (to the factory)," Abuelsamid said.
Tesla had to design its vehicle, and then have manufacturing engineers work with product level engineers and designers to make sure that what they're developing can actually be built, he said. Then, they had to select a vendor to work with them to design the equipment specifically for their application.
Abuelsamid said it appears that Tesla did not adequately follow the usual testing process.
"We've heard from various sources that Tesla was having their vendors send them their equipment without testing it first, and then try to debug it on the floor of their factory," he said.
It becomes a lot more difficult and time consuming and expensive to fix those problems on the back end, he said.
Tesla spokesperson Dave Arnold did not immediately respond to a request for comment Thursday regarding Tesla's process for testing equipment.
Musk said in the call that "it's very obvious what we need to do, it's just a matter of the work to get there," to fix the issues with the battery module assembly line.
Missed deadlines
The company reported Oct. 2 that Tesla produced just 220 lower-cost Model 3s in the third quarter, far lower than the 1,500 that Musk had previously promised.
During a May financial call, Musk said he hoped for "5,000 vehicles per week at some point in 2017, and… 10,000 vehicles per week at some point in 2018."
Musk said in the shareholder letter that the company currently expects to produce around 5,000 Model 3 vehicles per week within the first quarter of 2018.
The "lightning" speed of production that Musk is working to achieve is likely a contributing factor to Tesla's delays, Abuelsamid said.
"The only way you're going to achieved that (schedule) is that you're going to skip steps along the way," he said.
Musk had a line for skeptics Wednesday.
"I'd like to ask them (skeptics), 'Which one of you predicted that Tesla would go from 2,500 units delivered (in 2012) to 250,000 units delivered now?' I would suspect the answer is zero."
The standard Model 3 is slated to cost $35,000 with an estimated range of 220 miles.
Contact Nicole Raz at nraz@reviewjournal.com or 702-380-4512. Follow @JournalistNikki on Twitter.
The gigafactory
Tesla's $5 billion gigafactory in Storey County east of Reno is a joint project of the electric vehicle maker and the Panasonic Corp.
Tesla plans to expand the gigafactory in modular units as demand grows for the lithium ion batteries that will be produced at the plant. Up completion, the gigafactory will be 10 million square feet.
Tesla estimates about 6,500 workers will be working there by by 2020.