Holiday season invites charity scams in Las Vegas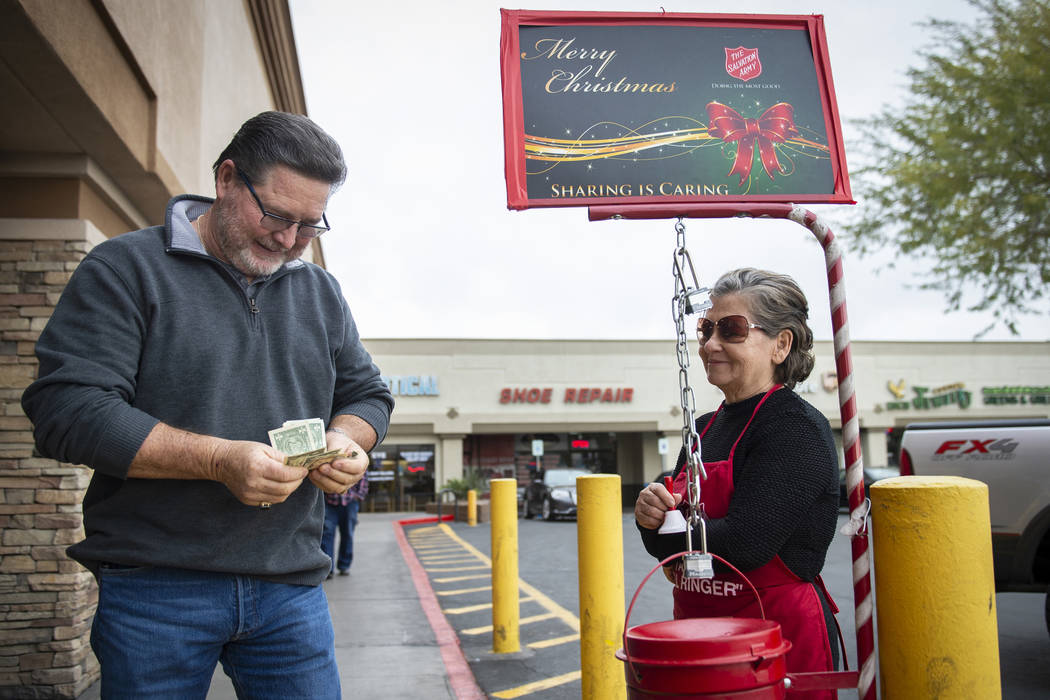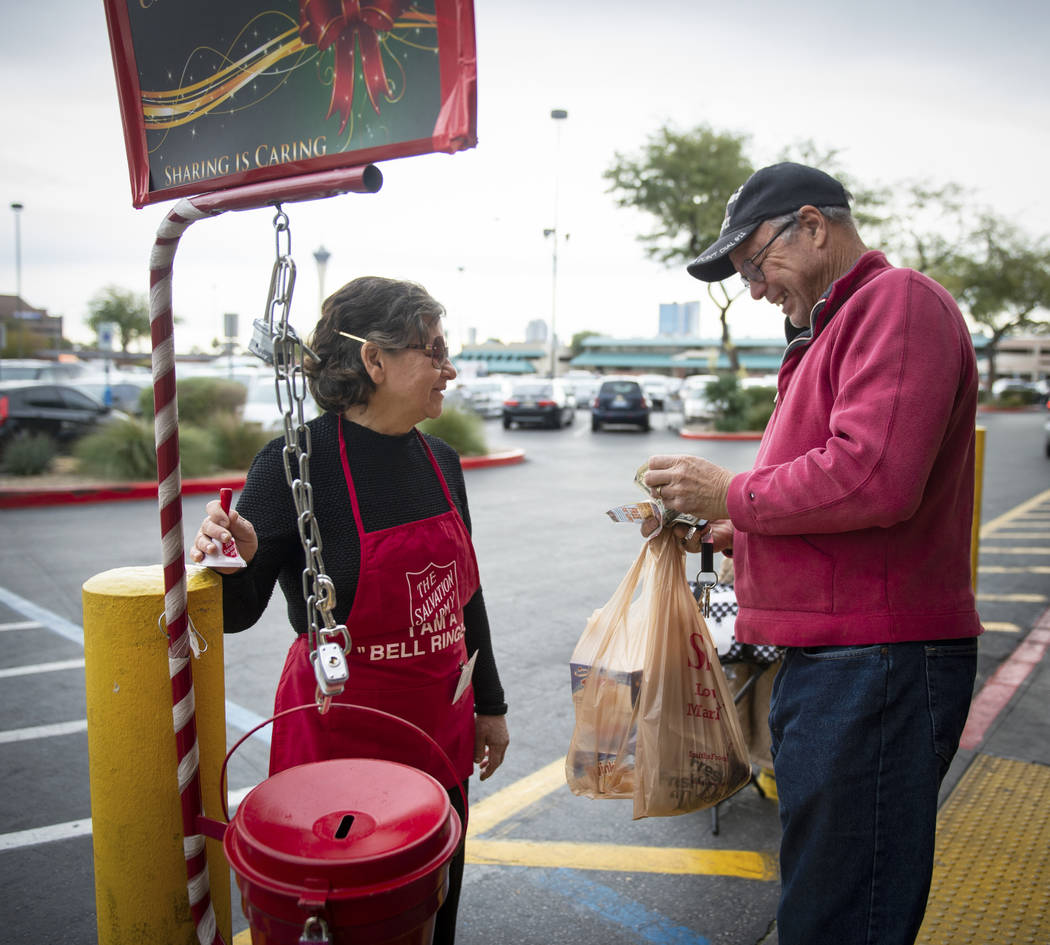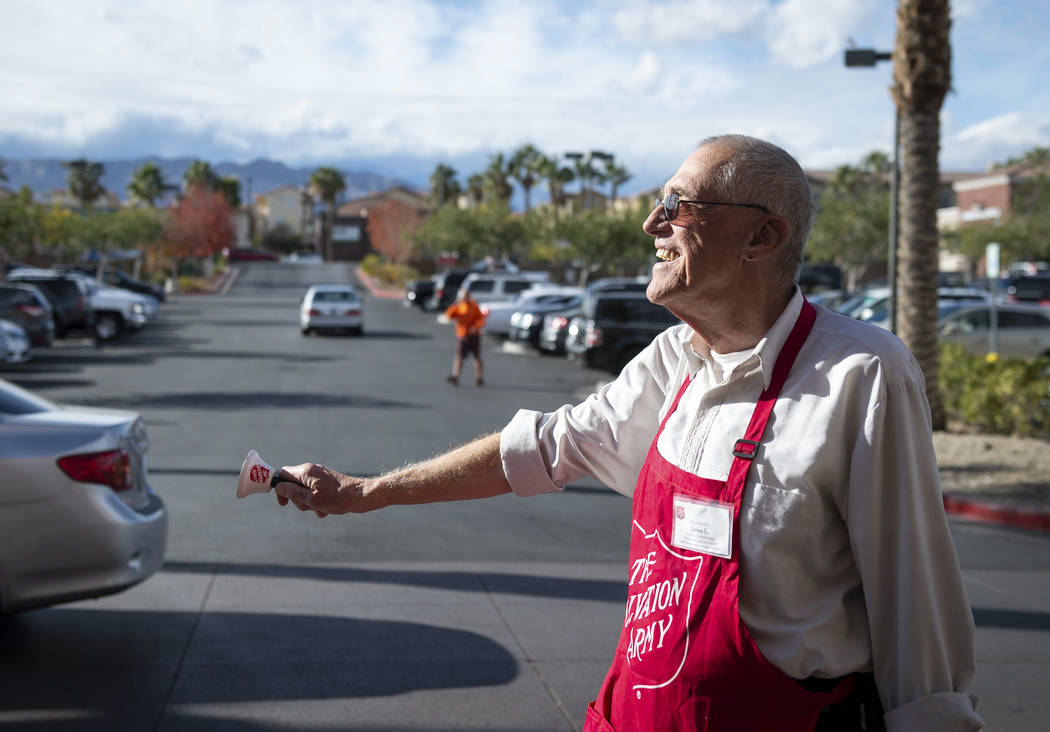 Outside the Smith's on Durango Drive and Elkhorn Road, bell ringer James Liebmann — with a cup of coffee and a white Salvation Army bell in hand — gives a wave and a smile to all who pass.
Liebmann, 73, has been a fixture of the grocery store during the holiday season for seven years and does what he can to put people in a charitable mood: telling jokes, complimenting kids on their light-up sneakers, directing traffic when the parking lot is congested and helping customers carry their groceries.
"The Salvation Army has helped me so much," Liebmann said. The former Teamsters Local 631 union member received culinary workforce training from the nonprofit after workforce opportunities with local conventions tapered off following 9/11.
He usually collects more than $10,000 in donations while working for the organization between Black Friday and Christmas Eve each year, but he hopes to beat his 2006 record of $12,600. All kettle donations will go to local causes such as the charity's after-school program, homeless campus and veteran services, according to Salvation Army's website.
But not all organizations collecting donations are so transparent. With a majority of donations given at the end of the year, nonprofit experts say donors should make sure they're giving to legitimate causes this holiday season.
Scam season
Las Vegas resident Ferenc Beres said he constantly gets scam calls asking for donations.
"We probably get maybe 15, 20 during the holiday season," he said after donating to the Salvation Army kettle Thursday. "We got (a call) two days ago."
Beres has become more skeptical of callers and now researches online before donating to see how high administrative costs are and where the money goes.
There is no data available on the number of fraudulent nonprofit organizations at work, but they're likely to increase their activity around this time of the year, said Rick Cohen, chief communications officer for the Washington D.C.-based National Council of Nonprofits.
"There's a giving spirit around the holiday season," he said.
According to software company Network for Good, 29 percent of all donations in 2015 were given in December, with 11 percent occurring in the last three days of the year.
"A majority of giving happens in the last few months of the year, so I would assume a majority of scams would as well," said Alexandra Acker-Lyons, president and founder of California-based philanthropic consulting firm AL Advising.
With more than 7,250 nonprofit organizations in Nevada — according to a 2016 report from D.C.-based coalition Independent Sector — it can be difficult to sort the good from the bad.
"In all my years of being in Las Vegas … I can't picture a holiday season when there wasn't a scam going on," said Julie Murray, CEO and principal of Las Vegas-based philanthropy advising company Moonridge Group. "When you have that many, it's hard to determine the ones that are effective."
Adverse effects
These sort of scams have an adverse effect on legitimate nonprofits, Murray said.
"The nonprofits are already working so hard to do their services, and the scammers make it more difficult," she said.
Fifty-seven percent of nonprofits already can't meet rising demand for services, according to 2018 data from Nonprofit Finance Fund's State of the Nonprofit Sector Survey. That percentage is likely to increase with fewer people donating every year; 24 percent of taxpayers reported making a charitable gift in 2015, down from 30 percent just a decade earlier, according to Internal Revenue Service data.
Cohen said scams could be making consumers more wary to donate.
Scams make "everybody else that much more hesitant when a legitimate organization reaches out," he said. "That's really harmful to the legitimate organizations out there that are making a difference every day."
Ty Baze, associate corps officer at the Salvation Army Southern Nevada, said he believes there's a good chance these sort of scams make people less likely to donate to nonprofits such as the Salvation Army. Leslee Rogers, the public relations director at the charity, said donors should be cautious when donating to unfamiliar causes.
"I'm wary myself," Rogers said. "If I don't know you, you don't get anything from me."
Red flags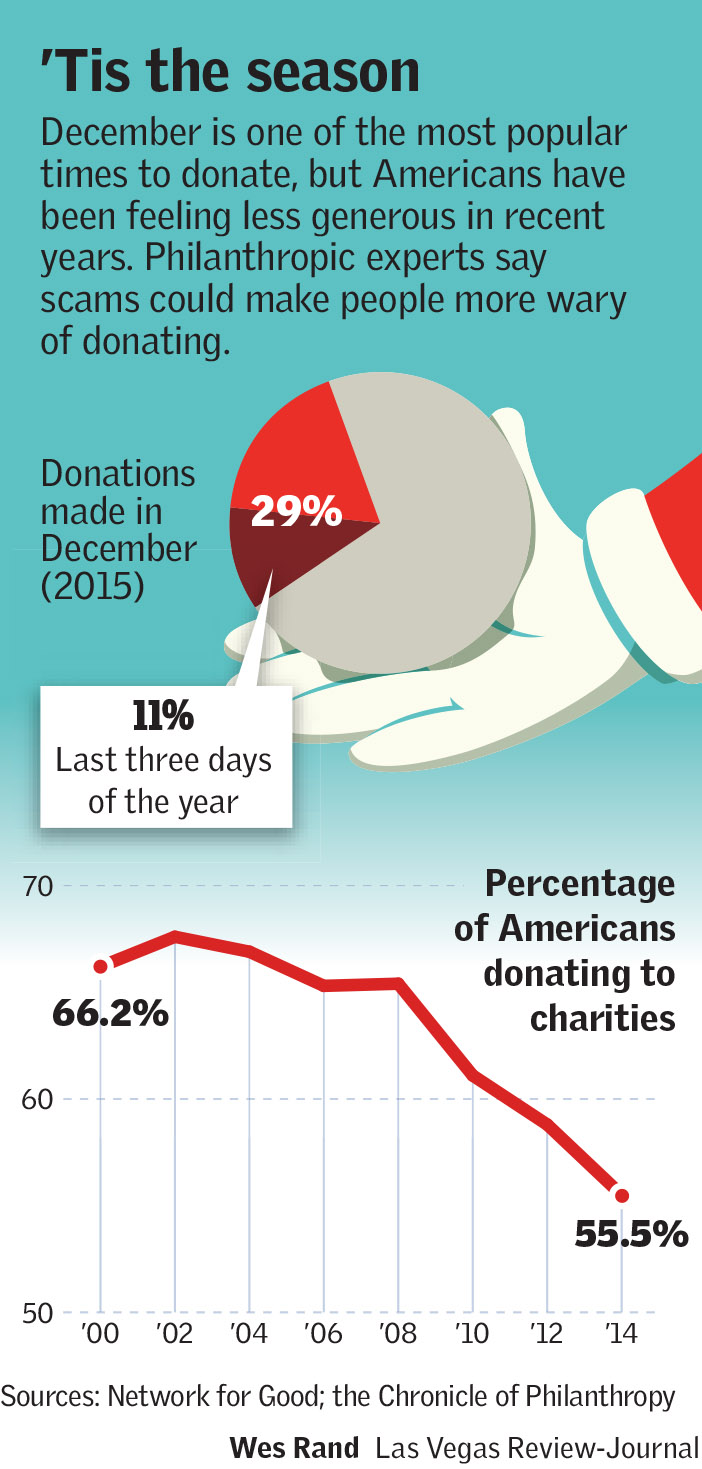 Murray said donors should watch out for red flags.
Companies that refuse to give information such as phone numbers, names of staff members or website can be suspicious, Murray said. Legitimate nonprofits also should be able to share their tax identification number if asked.
Scams come in many forms — from emails and letters to in-person requests — but Cohen said most come by phone. Be wary of companies that cold call out of the blue, especially if it's a charity or cause unfamiliar to the recipient, he said.
"It's always OK to say no," Cohen said. "You should never feel pressured into helping others."
It's also important to double-check the name of the organization. Some fraudulent companies use names similar to legitimate operations.
"They'll use a name like the National Cancer Society instead of the American Cancer Society. … Things that sound official and sort of familiar," Cohen said. "It makes a person doubt themselves."
The best way to weed out the frauds is simply by searching the internet. Cohen said the IRS's "Tax Exempt Organization Search" is the best place to for an initial check; entering the name or identification number of an organization will show whether it's eligible to receive tax-deductible charitable contributions.
Other helpful websites include Charity Navigator, GuideStar and CharityCheck101, but Cohen said the IRS's website is the only site that includes all registered nonprofits.
"People, especially in this season, want to feel like they're doing good and giving back," Acker-Lyons said. But "don't feel guilted into it. … Well-intentioned people can obviously be misled."
Contact Bailey Schulz at bschulz@reviewjournal.com or 702-383-0233. Follow @bailey_schulz on Twitter.