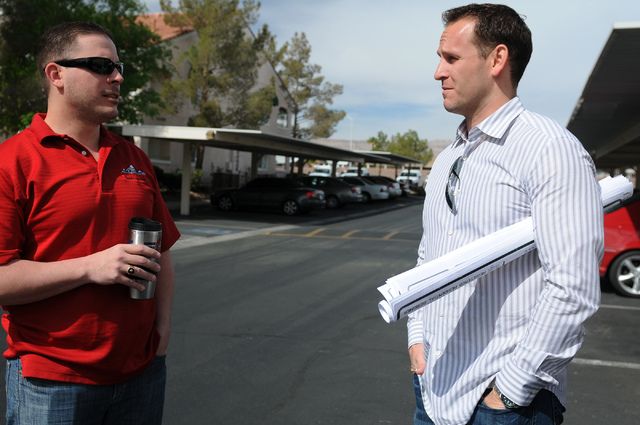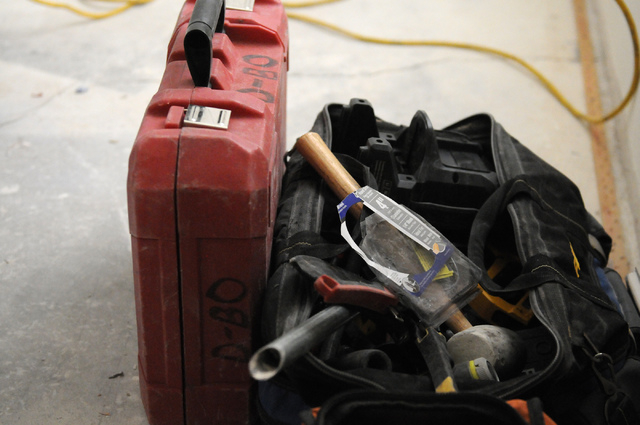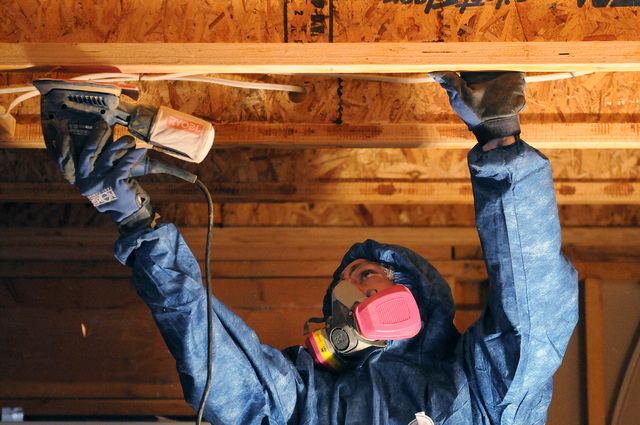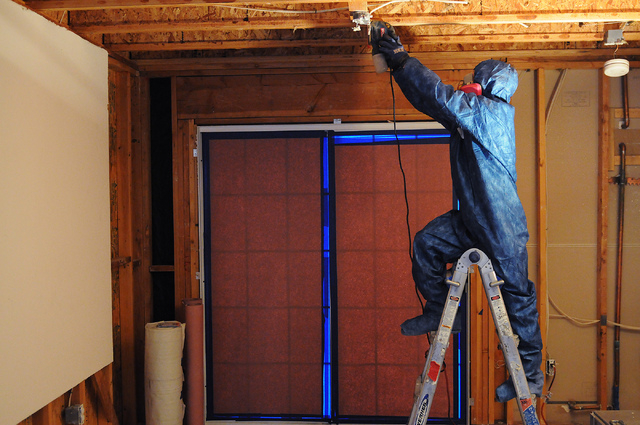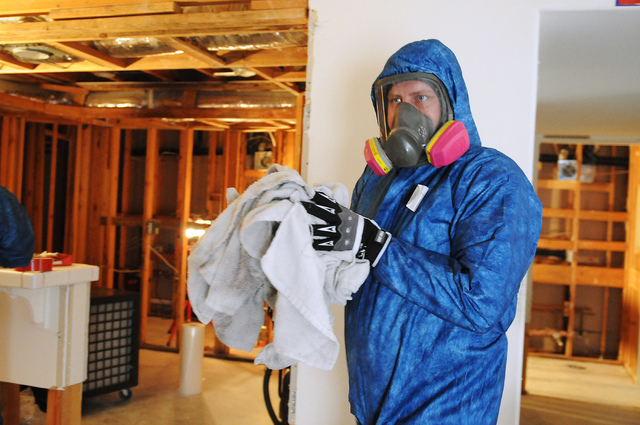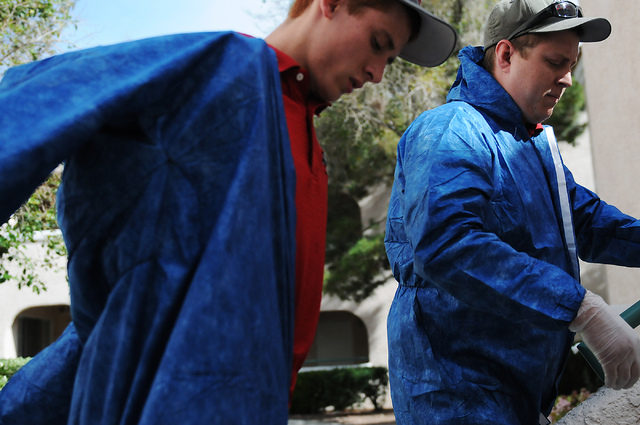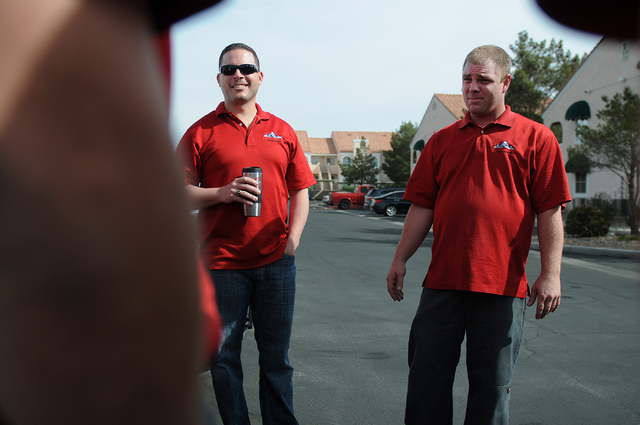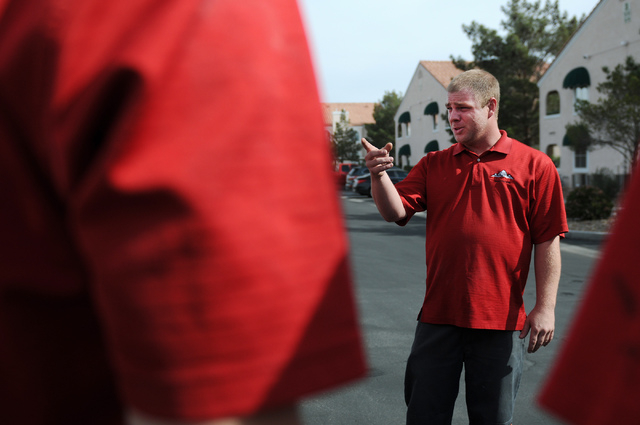 Just a few days before Thanksgiving, David opened the garage door of his rented home in Ascot Park at Peccole Ranch. He was in for a nasty surprise.
His hot water heater had burst, flooding his living room. About three-quarters of an inch of water remained as a souvenir. He called his landlady. Next came water extraction and the pulling back of baseboards.
Old mold lurked beneath the baseboards — not something that had developed in a day. According to David, it extended throughout the living room, near the air conditioning unit. It had invaded the laundry area. And, it was ensconced in a kitchen wall.
That's when the "parade of people started," said David, who asked that his last name not be used. After the initial emergency visit, other companies dashed in and out. A well-known damage and restoration company arrived on the scene, cutting drywall along the way — without completing the job. Then came a carpet-cleaning company.
"The guy came in and said, 'I'm not equipped to do this kind of work,' " he recalled. "It was pretty bizarre."
Two guys in a pickup truck arrived, with no business license, David said. They simply replaced the drywall.
"All the mold is still in the (heating ventilation and air-conditioning) unit," he said. "Every time the air conditioning would come on, it was circulating mold throughout that house."
Mold presents special challenges for tenants, who often don't lack the money necessary to prosecute a claim against negligent landlords or insurance companies that try to avoid paying out what is covered under a renter's insurance policy, said Judd Balmer, an attorney specializing in mold contamination, construction defects, and insurance bad faith claims.
Losses can include personal injury caused by mold exposure; personal property damage and replacement, which helps avoid cross-contamination of a new home; out-of-pocket moving expenses; security deposits on a new home; additional living expenses when someone is left homeless; and storage.
There's also the cost of testing by mold experts at a home to support a claim.
Balmer said he often takes promising cases on a contingency fee, helping to level the playing field.
"Landlords take full advantage of the fact that many tenants aren't in a position, either because of finances or just general knowledge and experience, to know what their rights are and to know how to exercise their rights," he noted.
One bullying tactic landlords use: filing eviction notices to frighten tenants into paying rent despite their moldy habitat or get out in five days.
Balmer estimates that 25 to 35 percent of his cases deal with rentals — numbers that he said have grown steadily over the past two years.
Jim Berchtold, an attorney with Legal Aid Center of Southern Nevada and directing attorney of the Civil Law Self-Help Center, said people visit the center regularly seeking legal information about handling mold issues. Visitors are trying to represent themselves in the Clark County court system.
"Most of the people we see are usually trying to fight some kind of eviction, raising mold as a defense," he said. " 'I'm not paying my rent because there's mold in my home.' "
MOLD NO DEFENSE FOR NONPAYMENT
But having mold isn't a defense for withholding rent, Berchtold said, unless a tenant has given written notice to a landlord, raising mold as an issue. While most tenants might argue that mold is a health issue, the assumption that mold is dangerous can be fuzzy, unless backed by documents, such as a doctor's note and/or a report from a mold expert who has visited the home. The landlord then has 14 days to fix the issue or make a good faith effort.
"If the landlord hasn't repaired the issue, then the tenant has a couple of options," Berchtold said. "Under the law, they can start withholding their rent. You do not have the right to withhold your rent unless you give written notice." Tenants also can terminate their lease and leave or sue their landlord.
If the tenant withholds rent, Berchtold said, the landlord will fix the issue — ensuring that the tenant pays — or opt for eviction, giving the five-day notice. The tenant has five days to come to court and file an opposition to the eviction, landing the fight eventually in front of a judge.
Balmer said Chapter 118A, Nevada's Residential Landlord and Tenant Act, provides some protections for tenants who have given notice orally.
"If a tenant has not given the written notice of a condition, that doesn't mean that the tenant doesn't have the right to make a claim," he said. "It means that the landlord has one more defense."
The Southern Nevada Health District considers mold a "nonessential complaint" and an issue over which it has no authority, according to public information manager Jennifer Sizemore said. She added, though, that tenants can file a complaint with the building code department in their municipality. The health district also refers tenants to Nevada Legal Services, she said. David said that he and his wife sent an anonymous letter to Code Enforcement, but they have no idea about whether there would be consequences.
The "happy ending" to his story, he said, was his family's escape from the lease and the house, after much legal wrangling that depleted his finances. The family exodus took place over Christmas Eve, Christmas Day, and New Year's Eve.
His wife, he said, summed it up: "If anybody wants to know how long it takes two adults and a disgruntled 15-year-old to move a 2,000 square foot house on their own, it takes eight days."
HEALTH ISSUES IMPROVE
After the move, the family dog stopped wheezing. David, his wife and son stopped having headaches. Looking back, he said, the headaches had begun the year before, when the family first moved in.
He said he recently noticed a "For Sale" sign in a window of the house.
Indoor environmental professional Todd Osmundson, owner-operator of Earth Resource Group, said mold sensitivity seems to vary: some people he's met are sensitive to different types of mold; others aren't sensitive at all.
His company does inspection and mold testing for homeowners, insurance companies, property management companies and building owners who suspect a problem.
"If you've got a mold problem, it can compromise immune systems," he explained. "For anybody with severe asthma and health issues, you want to make sure it's taken care of."
Mold can remain long hidden, he said, perhaps in a plumbing leak in a wall behind a kitchen cabinet, which might not become visible for years.
Michael Becker, a contractor and president of PJ Becker &Sons Construction LLC, attributes some of the valley's mold to the building craze of 10 years ago, when "not everybody was necessarily looking with an eye toward quality. They were looking more with an eye toward getting more done and making money."
Mold often can be caused by oversized air conditioning units sweating during Las Vegas' stormy, high-condensation summers and autumns, Becker said. Faulty construction can cause the condensation to dump into the roof.
Whether landlords address mold's consequences responsibly, "It's the flip of a coin," said Will Dellaechaie, president of Summit Restoration, which works with insurance carriers and landlords to remediate mold.
Dellaechaie said he has worked with some landlords who "absolutely want the property fixed the correct way. It's an investment." But, he added, "there are definitely landlords out there who don't see it that way. They're extremely hard to work with. I would say we probably run into one or two of those a month."
His company no longer works on apartments, which management companies often handle in-house. Management hasn't always agreed with Dellaechaie's company on how best to handle mold, especially when multiple common walls complicate the job.
Ultimately, the valley's mold nightmares might result both from tenants' ignorance of options and landlords' ignorance of consequences.
"Some of these landlords don't realize that it's probably not going to cost as much as they think," Dellaechaie said. "If they would take the time to turn in the claim and have an insurance adjuster come out to look at the property, and know what some of their options are, and they were a little more educated on what their policy is going to do for them, they might go a different road."