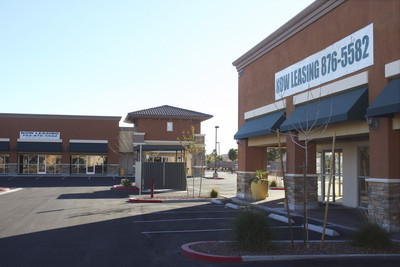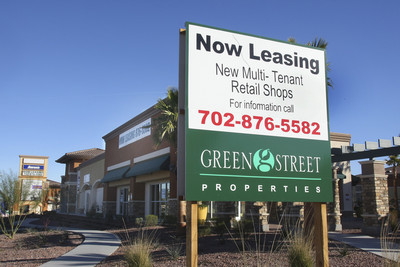 Las Vegas homeowners aren't alone in their struggle to stay above water.
Owners of Casa Royale apartments on Flamingo Road have fallen behind on a $6 million loan from U.S. Bank National Association. Cate Franco Enterprises is in default on a $788,000 loan from Bank of America for shops on Sunridge Heights Parkway.
Vacant land owners make up the bulk of commercial property defaults in Las Vegas, said Travis Nelson, assistant vice president of commercial sales at Nevada Title Co.
"There's no income from the land. It's hard to carry. You have a lot of higher-interest loans from private sources and hard money lenders," Nelson said.
"So the trend is a lot of vacant land and also a good portion of office is coming back. I think we'll see more of the same and possibly industrial and gaming at the end of this downturn in the commercial cycle," he said.
Commercial mortgage defaults became a significant investment risk last year. Rising vacancy in apartments, office buildings and retail centers means less income for property owners to pay their debt service. Plummeting property values and a tight credit market made it nearly impossible to refinance.
U.S. commercial mortgage-backed bond defaults could more than double this year as the economic recession hurts office, retail and multifamily housing assets, Fitch Ratings predicted last week.
Monthly notices of default started surpassing commercial property sales back in August and have steadily increased through November, Nelson said.
"Doubling, in fact. Look at November. We had 26 sales and 87 notices of default, so that's pretty significant. That's a trend we're seeing now, unfortunately," Nelson said.
The central measure of default risk is the loan-to-value ratio, or the percentage that the bank loans on the value of a property.
Leo Schafer, vice president of commercial lending at Bank of Nevada, said he's seeing a shift toward lower loan-to-value ratios to mitigate risk. Banks are pushing Small Business Administration 504 loans for business owners who will occupy their building.
For example, if a building costs $1 million, the bank may loan $500,000 on it and SBA takes a $400,000 second mortgage behind the bank.
"I'm in at 50 percent (loan-to-value) on the property," Schafer said. "What that means is we have less risk. The borrower is happy because they only came in at 10 percent instead of 20 (percent) or 30 percent."
The commercial mortgage sector remains healthier than residential. Delinquency rates remain low by historical standards, but pressure from the weakening economy and the credit crunch is building.
Thirty-day delinquency rates on commercial mortgage-backed loans rose from 0.53 percent to 0.63 percent in the third quarter, the Washington, D.C.-based Mortgage Bankers Association reports.
Ninety-day delinquency rates for commercial multifamily mortgages held by banks and thrifts rose from 1.18 percent to 1.38 percent. The rise is small when compared with what has been seen in single-family and construction loans.
"For more than a year, we have been faced with the question of whether commercial real estate would be the next shoe to drop," Jamie Woodwell, vice president of commercial real estate research for the association, said last week. "The weakening economy, in concert with the ongoing credit crunch, is demonstrating that commercial multifamily is not entirely immune to the impacts felt by the residential market."
A commercial mortgage is like a residential mortgage in that the borrower pledges real property as collateral against a loan to either buy or refinance a property. The lender retains an interest in that property until the loan has been paid in full. If the borrower defaults on the loan, the lender can foreclose and take possession of the property.
David Baird, senior vice president of Sperry Van Ness, formed an "assets recovery team" to go after some of the $2 trillion bad loans made by institutional lenders nationwide.
"Even if banks are in good shape, they probably took over some bad debt," Baird said. "Nevada State Bank took over Silver State (Mortgage). So the foreclosure lists are starting to add up with commercial properties. Anything bought in the last two to three years is probably overleveraged, so there's no equity left for the owner to refinance."
Baird said the United States has about twice as much retail space as it needs. Las Vegas is probably overbuilt with apartments and definitely overbuilt in retail. That's why General Growth Properties, owners of Fashion Show, Meadows and Boulevard malls in Las Vegas, are on the verge of bankruptcy, he said.
"At least with apartments, Freddie Mac and Fannie Mae are still loaning money on apartments. The problem is there's not a lot of transactions taking place," Baird said.
His team is working with developers and lenders on a lot of "busted condos," those that have been converted from apartments but haven't sold, he said. If a workout or loan modification can't be accomplished, Baird takes the property to the market or auction.
Real estate attorney Bruce Leslie of Armstrong Teasdale law office in Las Vegas said commercial defaults differ depending on the lender's terms and the project. Banks and institutional lenders are cautious about what they do and usually include covenants for default, he said.
"There's not a lot of appetite for banks to default," Leslie said. "I think a lot of lenders want to renegotiate if it's a performing loan. They'll work with you and do a short-term rollover. Developers are doing what they can to stay out of foreclosure. They want to convince their lender or investors to hang on and things will get better."
Nelson of Nevada Title said he thinks Las Vegas will turn around sooner than other markets.
"The good thing is all the factors that fueled our growth are still here," he said. "Property values have dropped and that entices more people and businesses from California."
Terri Sturm, president of Las Vegas-based retail developer Territory Inc., suspects that many commercial borrowers are overleveraged. She stopped buying land when prices "started getting ridiculous." Retailers are hurting and can only pay so much for rent, she said.
Territory develops large-scale shopping centers such as Centennial Center in northwest Las Vegas and Eastern Beltway Center in Henderson, anchored by big-box retailers Sam's Club and Wal-Mart.
"We never push rents to $4 and $5 (a square foot) like some of the places in Summerlin," Sturm said. "That doesn't mean we don't have tenants coming to us asking for help. That's probably less than 5 percent of our portfolio. Some retailers are going to struggle no matter what. When the economy goes down, some retailers are not going to make it."
Schafer said defaults at Bank of Nevada have remained about the same over the past few months and wouldn't say whether things might improve or worsen in the new year.
"I will say this about the office market — it got overbuilt and you've got a lot of real estate and mortgage companies that planned to take space and didn't or vacated," Schafer said. "The good news is prices have come down and interest rates are very low."
He knows a doctor who's paying $7,000 a month for 2,500 square feet of office space in a 5,000-square-foot building that's for sale. The doctor could probably buy the building with a $6,000 monthly payment and expand into the extra space or lease it out, Schafer said.
"There is opportunity and money still available for that," he said. "But I'll tell you, it's a lot more selective."
Commercial mortgage default has become a topic of interest due to the emergence and continued growth of the secondary mortgage market.
Charles Smith of Irvine, Calif.-based Ocean Pacific Capital said it's easily believable that commercial defaults will double in the coming year, which means there's going to be some room for workouts on the commercial side because lenders don't want to take the property back.
"It's hard to worry about the inevitable. What I do is look for opportunity," Smith said. "Right now, you're hearing there's money sitting on the sideline. Ninety-day (Treasurys) are sitting at zero, so somebody's parking their money there."
Contact reporter Hubble Smith at hsmith @reviewjournal.com or 702-383-0491.