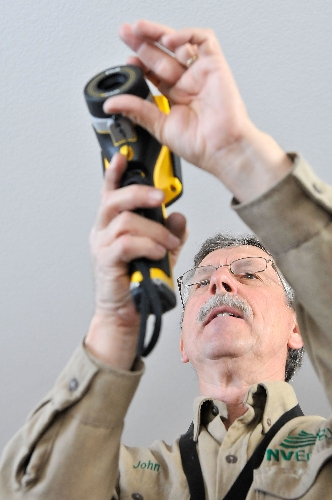 We're going to talk power-transmission grids.
Your eyes are glazing over already, we know, but try to stay with us here, because this is important: We're talking about huge money, the first link between power companies in Northern and Southern Nevada and a potential big step toward tapping renewable-power resources statewide.
The Public Utilities Commission of Nevada is hearing testimony this week in local power utility NV Energy's integrated-resource plan, a proposal that outlines how the company plans to obtain, finance and distribute electricity for the next two decades.
Wednesday's hot topic? The utility's One Nevada transmission line (ONLine), a $510 million project executives want to build and own jointly with big energy developer LS Power. The line would run 235 miles, from Ely to NV Energy's Harry Allen Generating Station in Apex. NV Energy and LS Power are negotiating with the Western Area Power Administration, a government agency that markets and delivers power throughout 15 states, to use federal stimulus funds to help pay for the line.
As commissioners, commission staffers and consumer advocates peppered NV Energy with questions about their plan Tuesday, the utility's executives told commissioners that the utility needs the line to meet state mandates that it obtain 25 percent of its power from renewable sources by 2025.
NV Energy has six major renewable-energy power-purchase agreements in its integrated-resource plan, and the terms in five of those pacts call for the transmission line. That's because many clean-power projects reside in rural areas, and they'll need the line to link them to the grid.
"From the company's perspective, ONLine and the contracts are inextricably linked," said David Hicks, NV Energy's director of renewable-energy procurement. "Without ONLine, there is no path for the power from these projects to go from the north to the south."
Rejecting ONLine could leave NV Energy with renewable-energy power-purchase agreements it has to pay for, without yielding any benefit for the utility's renewable portfolio standard, Hicks said.
ONLine is also important because it could eventually marry NV Energy's southern and northern operations, company executives said. Ratepayers in Southern Nevada could benefit from relatively inexpensive hydroelectric power bought through Sierra Pacific Power Co., NV Energy's Northern Nevada operation. Consumers up north could tap into the natural-gas supplies of southern subsidiary Nevada Power Co. to help fuel heating during cold snaps.
Shifting natural gas from south to north in severe cold weather would allow NV Energy to delay natural-gas pipeline expansions by a decade, from their scheduled 2017 date to 2027, testified Charlie Pottey, the utility's manager of network and integrated-resource plan transmission planning.
The move would also save $55 million in capital expenditures at NV Energy's Harry Allen plant. The utility's current infrastructure requires that it maintain reserve-generating capacity on the rare occasion that operations in the north and south hit peaks in the same hour. But that's happened just twice in 20 years, Pottey said. If the two operations could share resources via ONLine, NV Energy could avoid investing in 34 megawatts of added capacity for freak peak events.
"Transmission between the two systems allows more flexibility, and will allow both companies to adapt to changing conditions in a more cost-effective manner, potentially," Pottey said.
Among the commissioners who will approve or deny ONLine and the staffers and attorneys cross-examining NV Energy, much of the questioning revolved around just how NV Energy will connect the operations and capacities of Sierra Pacific and Nevada Power.
NV Energy said linking the two would be essential to making ONLine work as planned, and company analysts included such a connection in their modeling tests weighing how the line would work.
But the utility hasn't specified how the link would happen, or how it would divvy up the new system's costs and benefits between Sierra Pacific and NV Energy. One company official testified that the split should go 95 percent Nevada Power's way and 5 percent in Sierra Pacific's direction, but an independent researcher hired by the intervening Southern Nevada Water Authority suggested a 78 percent-22 percent split. Some generating-ownership issues would also need ironing out.
Commissioners and consumer advocates indicated several times that they would want to review accounting procedures under the connection, as the protocol wasn't included in the current case. They also asked if approving ONLine now, but requiring a later hearing on the particulars of the connection, would jeopardize NV Energy's power-purchase agreements.
Company officials said such a conditional approval of ONLine wouldn't force them to terminate their purchasing contracts.
The Federal Energy Regulatory Commission would have to sign off on the specifics as well.
Commission staffers and attorneys also raised smaller sticking points in the proposal.
Don Lomoljo, a senior attorney with the Public Utilities Commission of Nevada, noted that NV Energy executives testified that ONLine would be at capacity within a year of its completion. And if the line hits capacity, Lomoljo said, how could the utility bring on that cheaper hydroelectric power it talked about transporting from the Pacific Northwest?
Plus, NV Energy's own analysis showed that production costs for Sierra Pacific would rise post-ONLine. Commissioners wanted to know why.
Pottey responded that the utility put little effort into determining which entity would be charged for power from the other, and when, and that could have yielded the higher cost. Plus, Nevada Power has paid for and owns renewable resources that are essentially "stranded" on the Sierra Pacific system, because there's no way to distribute the electricity to Nevada Power. Once ONLine goes live, that electricity will go to Nevada Power. Sierra Pacific will need to account for that 128 megawatts of lost capacity — an expense that could run $160 million over 30 years.
Pottey also testified that NV Energy ran 280 modeling tests to account for the costs and benefits of ONLine. That compares with 30 to 50 tests the company might run on a typical resource proposal. Much of the additional testing came from the possibility of increased regulations on carbon-dioxide emissions.
NV Energy's carbon-dioxide emissions peaked at 12.21 million metric tons in 2008, and have fallen since, noted David Harrison, senior vice president of National Economic Research Associates, a Boston consulting firm.
Harrison said his analysis didn't show when NV Energy might reach a new emissions peak.
Contact reporter Jennifer Robison at jrobison@reviewjournal.com or 702-380-4512.