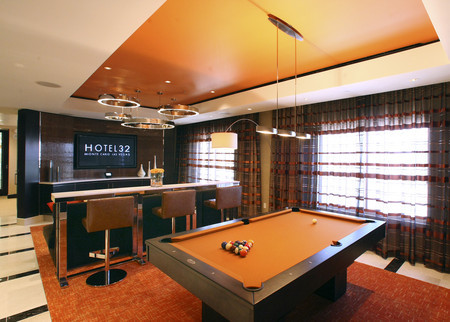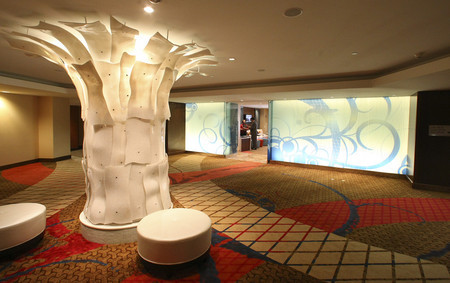 A renovation of the 60 hotel rooms, suites and penthouses on the Monte Carlo's 32nd floor was being planned when a rooftop fire in January 2008 shuttered the Strip casino for three weeks and took the floor out of commission.
The three-alarm fire, which cost $100 million in damages and lost business, is an afterthought 19 months later. Monte Carlo President Anton Nikodemus said there were some benefits that came out of the accidental blaze.
Rather than just refurbish the rooms, MGM Mirage spent nearly $20 million to redevelop and reposition the floor into Hotel32, a separate 50-unit exclusive boutique hotel atop the Monte Carlo.
The floor opened Monday and Nikodemus said Hotel32 is booked in full this weekend.
Longtime Monte Carlo guests may not recognize the space. The 32nd floor underwent a redesign that includes a new color scheme, specialized building materials and accents, including stone, marble, onyx, granite and custom-designed contemporary room furnishings.
"We had what amounted to traditional, high-end suites that you find in most Strip resorts," Nikodemus said Monday. "After the fire, we had an opportunity to take a step back and re-evaluate what we had. Our goal was to create a product that was luxurious, engaging and inviting, but also unpretentious."
The 32nd-floor units range from traditional studio-size hotel rooms to one- and two-bedroom suites with up to 2,200 square feet of space. The penthouses can be converted to one- and two-bedroom units.
Hotel32 is part of the 3,000-room Monte Carlo, but is separate in many ways.
Guests arrive by limousine and are escorted to the 32nd floor by a suite assistant, who acts as both a concierge and butler. The rooms have technological amenities, including a remote system that controls lights, drapes and electronics, an iPod Touch with a mobile concierge application, high-speed wireless Internet access and a Nintendo Wii. The bathrooms all have specialized features.
Guests also have access to lounge32, a VIP-style area offering free refreshments.
Hotel32 comes with a price. Studio hotel rooms start at $250 a night while the penthouses lease for $1,500 to $2,500 a night, depending on the day of the week. This compares to Monte Carlo's typical room rates of between $55 and $289 a night.
Nikodemus said 50 staff members are assigned to Hotel32. He said the database of Monte Carlo's loyal customers and a marketing effort by MGM Mirage has provided Hotel32 with an ample guest list.
"This is a separate independent product that adds to the overall umbrella of what Monte Carlo has to offer," Nikodemus said.
Water damage from fighting the fire forced contractors to gut the space down to the concrete floor. That also turned out to be a benefit, Nikodemus said, because walls could be moved and the lounge was moved to a location that overlooks CityCenter, MGM Mirage's $8.5 billion development.
Over the past year, the Monte Carlo has undergone changes to help reposition the resort to complement CityCenter. A new monorail, which runs through CityCenter, will connect the Monte Carlo with the Bellagio. An entrance to Aria, CityCenter's centerpiece 4,004-room hotel-casino, is just 50 yards from the Monte Carlo.
Contact reporter Howard Stutz at hstutz@reviewjournal.com or 702-477-3871.
Video & Slideshow