4 towering apartment projects planned for Las Vegas
Updated June 22, 2017 - 11:54 am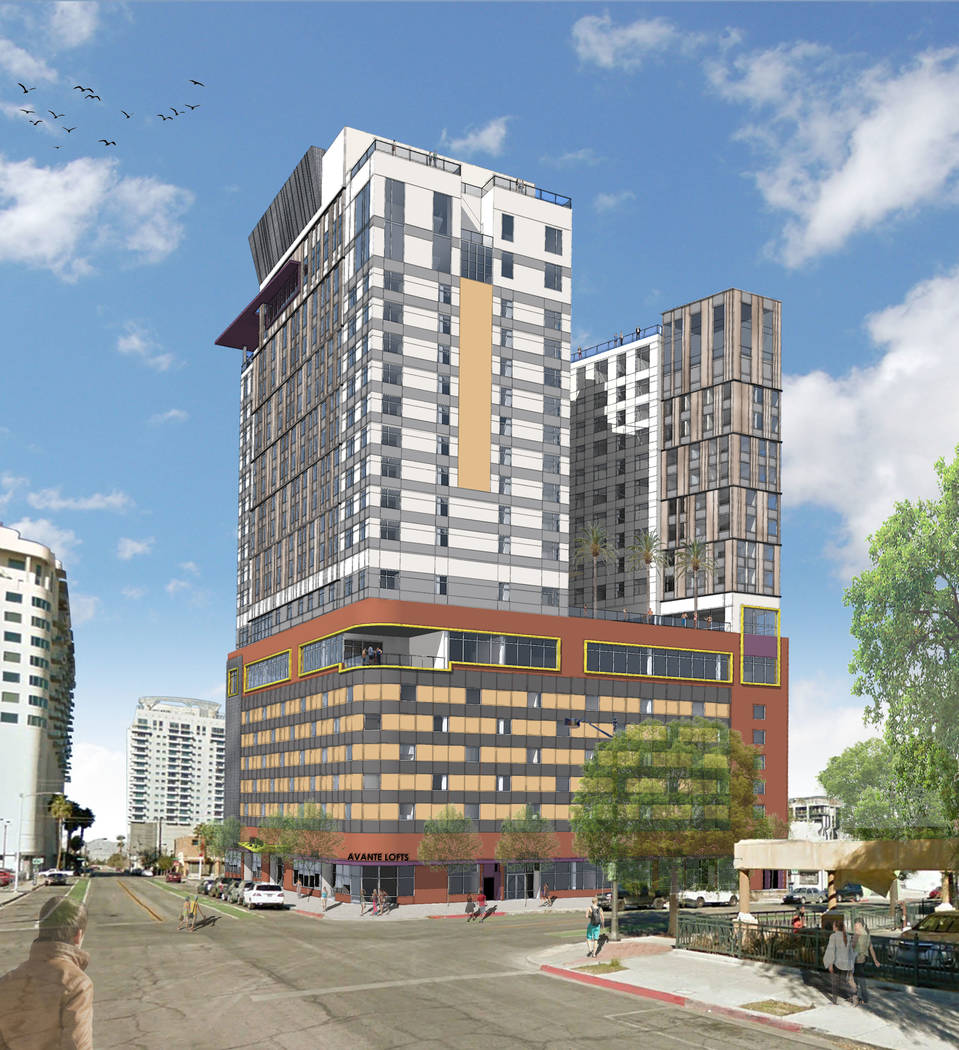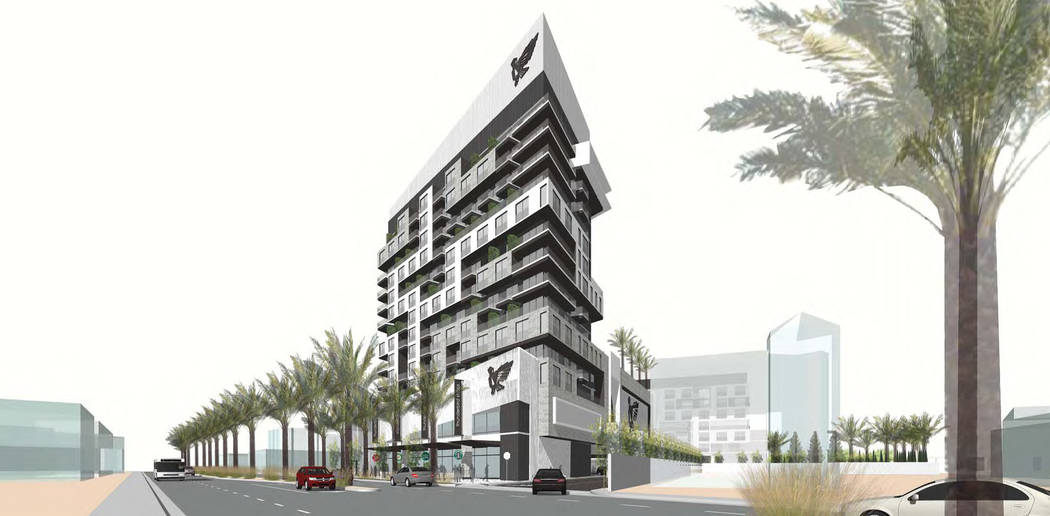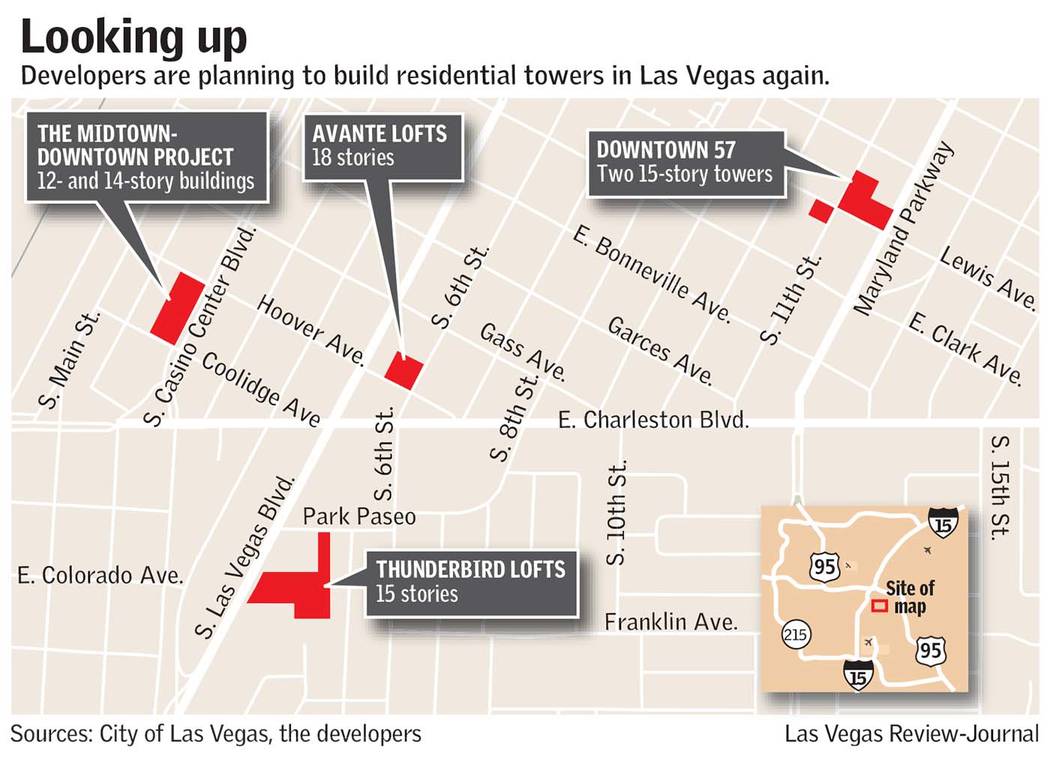 Las Vegas' housing market is getting plenty of construction, with subdivisions and sprawling apartment complexes opening around the valley.
Now, some investors are looking to build higher.
At least four towering apartment projects in Las Vegas, comprising almost 1,400 units total, have received city approvals since last summer.
Downtown 57 calls for two 15-story towers, one at Maryland Parkway and Lewis Avenue and another nearby at Lewis and 11th Street. There's also the 18-story Avante Lofts at Hoover Avenue and Sixth Street, the 15-story Thunderbird Lofts on Las Vegas Boulevard just south of Charleston Boulevard and The Midtown-Downtown Project, which calls for 12- and 14-story buildings at Casino Center Boulevard and Hoover.
All of them plan to have commercial space for eateries or other businesses, as well.
The projects have not broken ground yet, and there's no guarantee that all, or any, of them will get built. But if even one comes out of the ground, it would be the first new residential high-rise in Las Vegas in several years.
The proposals come amid rising rents, shrinking vacancies and an apartment-construction boom that has been heavily concentrated in the suburbs. High-rises are far more expensive to build than the typical rental project in town — a sprawling collection of small buildings with surface parking lots — and developers haven't constructed any towers lately because they can't fetch high-enough rents to turn a profit, real estate pros say.
But that hasn't stopped some investors from laying out plans.
Miro Development owner Kenny Lin, who wants to build Avante Lofts, knows he can't charge big rents in Las Vegas. But apartment buildings have been filling up.
The valley's apartment vacancy rate was just 3.3 percent in the first quarter, down from 8.9 percent in the same period in 2011, according to research firm Reis Inc.
"The demand's there," Lin said.
'$100,000 question'
The Molasky Group of Cos. is developing high-rises in Portland and Seattle but none in Southern Nevada. President Rich Worthington said he "just wouldn't feel comfortable" building a tower here.
The company owns 7,000 apartment units in the valley, with average rents at just over $1 per square foot. A tower would have to charge in the high $2 or low $3 range, Worthington said — prices that are largely out of reach for landlords in Las Vegas, where overall salaries are lower than in cities with high-rise construction.
The median household income in Clark County is around $52,000, compared to about $71,000 in Seattle and $81,000 in San Francisco, according to the U.S. Census Bureau.
Worthington figures the valley will get more towers, but not anytime soon.
"I think we're going to get there," he said, "but the $100,000 question is when."
Apartment developer Jonathan Fore of Fore Property Co. doesn't think the new projects will all get built. He also wouldn't be surprised if would-be developers merely wanted to flip their site to other buyers, a not-uncommon tactic during the bubble years last decade.
He figures there's enough demand to fill one or two new towers, but added, "I could be proven wrong."
At least one thing seems certain: Construction won't start anytime soon.
Lin expects to break ground on Avante Lofts in about a year. Thunderbird Lofts developer Ilan Gorodezki, whose Super 8 and Thunderbird motels occupy the project site, said in March that a groundbreaking could be a year away.
Midtown-Downtown developer Kevin Plencner said his construction financing would be backed by the U.S. Department of Housing and Urban Development, and under its rules, he needs a contractor with HUD experience. He plans to break ground within six months of hiring the builder, he said.
Downtown 57 developer Daniel Riceberg, a Los Angeles-based broker and investor, wants government subsidies and figures he can't build the project without them.
"It'll be really tough, because then the rents have to go up," he said.
Living small
One way to boost revenue is to have micro-units, or pint-sized apartments that let developers cram in more tenants. Avante's units would range from around 300 to 1,000 square feet, with most being on the smaller side, Lin said.
When it comes to parking, Midtown-Downtown, for instance, has plans for 633 parking spaces, well above its proposed 458 rental units. But one way developers can cut costs is to build a parking structure with fewer stalls than the project's total number of homes, in the hope that many renters won't have a car.
Avante's plans call for 295 homes and a 180-space parking structure, city documents show.
In Las Vegas, with its sprawling suburbs and limited public transit, Lin knows that residents can't easily live without a car. But he's banking on a possible light-rail system, bike-sharing programs and ride-hailing services Uber and Lyft to help move people around and lure them to the city's core.
The last high-rise residential complex to open in Las Vegas may have been Veer Towers on the Strip in 2010, Lin said.
The valley has a smattering of towers, but if the bubble years went as planned, they would be all over town.
With easy money everywhere, investors last decade laid out plans for dozens of condo towers and other high-rises as part of the "Manhattanization" of Las Vegas. Ultimately, most weren't built, in some cases leaving giant holes in the ground that still remain.
At an April hearing for Avante Lofts, according to minutes of the meeting, Las Vegas Planning Commission Chairman Trinity Schlottman said that with more of these projects coming before the panel, he hoped "they were not just pipe dreams" and that "they would get built."
Contact Eli Segall at esegall@reviewjournal.com or 702-383-0342. Follow @eli_segall on Twitter.
Correction: This story has been updated with a new parking-space count for The Midtown-Downtown Project, as the Review-Journal initially received incorrect information from the developer.
Related
Council approves plan to build 15-story tower in downtown Las Vegas
Developer plans apartment tower near downtown Las Vegas