Area homeowners flustered while trying to ward off foreclosures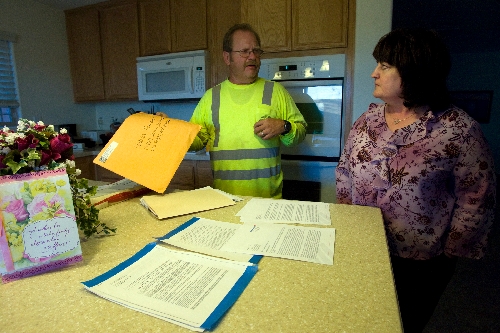 Charles and Roberta Ferraris are trying to do the right thing — to pay their debts and meet their obligations like they were taught by their parents.
Money's been tight since Charles got laid off from his casino job and Roberta had her hours cut at a local accounting firm. They've both found other work, but the loss of income set them behind on $2,100 monthly mortgage payments.
A second foreclosure notice was recently posted on their door, and now they're worried about being tossed onto the streets.
They've been battling with Bank of America for a loan modification since December 2008, seeking a reduction in mortgage principal. Roberta Ferraris was told the best the bank could do was lower the interest rate.
"I called and talked to people and cried and finally they postponed the foreclosure sale," Ferraris said at her home in the master-planned Providence community. "We're pretty frustrated with the whole process. They're just making it impossible. It seems no matter what we do or where we turn, we can't get any help on this."
One in 69 households in Nevada is facing foreclosure, the latest report from Irvine, Calif.-based real estate research firm RealtyTrac shows.
Few Nevadans have found relief with the government's $75 billion Home Affordable Mortgage Program and other foreclosure alternatives, including state-required mediation.
"Loan modifications in Nevada particularly are a joke," Las Vegas housing analyst Larry Murphy said. "They are a waste of time, effort and expense for everybody — borrower and lender alike."
If banks were more willing to work with homeowners in good faith, there would probably be fewer "strategic defaults," or people walking away from their mortgage obligations, RealtyTrac Senior Vice President Rick Sharga said.
"I think there's a lot of visceral anger at the banks right now," he said. "Homeowners find that their mortgage is 50 percent more than the value of their house. What they'd like to do is some workout with the bank. They feel the banks are stonewalling them."
Ken Jameson of Pahrump is up against that wall. Retired and collecting disability, he's fallen behind on his $1,885 monthly house payment. He was granted a six-month forbearance agreement from Bank of America to pay $947 a month, but that period has expired and the bank won't extend it.
"They've allowed me to make this payment until the situation gets resolved, but it's not going to get resolved," he said. "I want a payment that I can live with, that I can make. I want to keep my house, but an $1,885 payment on an income of $3,000 ain't gonna cut it. What they want me to do is keep making $1,885 payments and I can't afford to do that."
Jameson, who was financed by Countrywide Home Loans, bought the new home for $310,000 in March 2007 with 30 percent down. He takes responsibility for signing the loan documents, but said he was "overwhelmed" at the time.
"I should have walked out of there, but we needed to get in the home," he said.
Distressed homeowners read about banks getting bailed out of the subprime mortgage crisis with taxpayer money, paying executives million-dollar bonuses and posting huge quarterly profits. None of it seems to be trickling their way. Maybe it's time to play hardball.
Ronald Williams sued J.P. Morgan Chase, Chase Home Finance and Cooper Castle law firm in Las Vegas, claiming that agents for the bank misrepresented to the homeowner that they were authorized to collect mortgage payments after taking over Washington Mutual.
"They're collecting mortgages on notes that were gone," Williams told the Review-Journal. "Chase has nothing to do with my note at all. They're pretending they do. They're extorting money under cover of the note. I believe a lot of people have left their home in a foreclosure that was fraudulently filed."
That's a tack being taken by legal experts in other states who say lenders must produce the original promissory note to proceed with foreclosure. It hasn't gone far in Nevada. Williams' lawsuit was dismissed, though he said he's going to appeal.
The Florida Supreme Court ruled in February to require verification of mortgage foreclosure complaints involving residential property. The primary purpose is to provide incentive for the plaintiff to "appropriately investigate and verify its ownership of the note or right to enforce the note," the court said.
It's taken a while to identify the issues and to grasp the scope of the problems caused by mortgage lenders, Las Vegas real estate investor Bill Kay said. Now that judges are aware of these issues, the tide has shifted, he said.
"You and I both know that what these bankers did to Las Vegas was worse than any natural disaster," Kay said. "And they are still stealing homes in broad daylight."
Ownership titles have been "polluted" or "clouded," he said. Law firms acting as debt collectors on behalf of lenders are filing wrongful nonjudicial foreclosures, or foreclosures that cannot be overturned in court, Kay said.
"They're digging a hole we're going to fall into," Kay said. "We need to take a cue from Florida. This part of the law is necessary to help the housing market in Las Vegas."
Loan modifications can complicate an already bad situation for homeowners, placing borrowers at a disadvantage with no exit strategy and leaving many in a debt trap at the mercy of the banks, said Marian Anthony, president of Anthony Realty Group in San Diego.
"This problem is so big, it's contagious," he said. "Remember, we are borrowing our own money. It's like a shell game. The banks are investing our retirement funds, our 401(k) money. That money is funding our loans."
Banks are processing an unprecedented volume of loan modifications, which requires extensive documentation, probably more than refinancing, said Jumana Bauwens, spokeswoman for Bank of America in Los Angeles.
"In 2007, if somebody lost their job or couldn't make their mortgage payment, the way out was put a 'For Sale' sign on the property and hope you can sell it and maybe make a profit," she said. "Modifications and these types of programs weren't as extensive as they are today."
Some 500 Bank of America customers in Nevada recently received offers to participate in the Earned Principal Forgiveness Program, Bauwens said. The program incrementally reduces principal balance from 120 percent loan-to-value ratio to 95 percent over a period of three to five years, with certain stipulations and requirements, for homeowners who make 12 months of principal payments.
Michael Burke of Las Vegas told the Review-Journal he contacted CitiMortgage before becoming delinquent on his account. He requested to pay only the interest and escrow for a few months, and was not seeking a loan modification.
Burke said his payment was reasonable at 4.75 percent interest on a 15-year loan. He's paid down the principal balance by $120,000 since 2006, but has had difficulty making the monthly payment due to sporadic income.
A representative for the mortgage company told him there was nothing they could do.
"I consider myself a reasonable person and I was raised to believe it is a moral obligation to honor my promises," Burke said, "but at this moment — based on how angry I am — I could care less if my lender ever gets paid. I cannot believe there is nothing CitiMortgage could do to help me, but that was the line they gave me."
Dick Hofacker of Realty Professionals in Las Vegas hears the same sad stories from homeowners who owe more than their homes are worth. Some of them can afford to make the payments, but have decided not to, he said. Some are investors who took out creative financing and stated-income loans to buy when the market was hot.
"There's a lot of blame to go around," Hofacker said. "Everybody's crying because they tried to make money. If you lied (on loan documents), shame on you."
Roberta Ferraris blames Countrywide, which was acquired by Bank of America. She got an appraisal from Countrywide of $206,000 on her three-bedroom, 2,032-square-foot home in June 2008, but was later notified that the appraisal was wrong. The home was financed for $258,000.
"They didn't like the $206,000 appraisal, so they got their own guy to put in an appraisal and he put $60,000 extra into the land. They magically came up with one that was equal to what they initially wanted to sell us the house for," Ferraris said. "This is a disaster. We are both very angry and frustrated. We feel Countrywide was dishonest, to say the least, in the way they did our loan."
Contact reporter Hubble Smith
at hsmith@reviewjournal.com or 702-383-0491.