Bill aims to halt damage to homes in foreclosure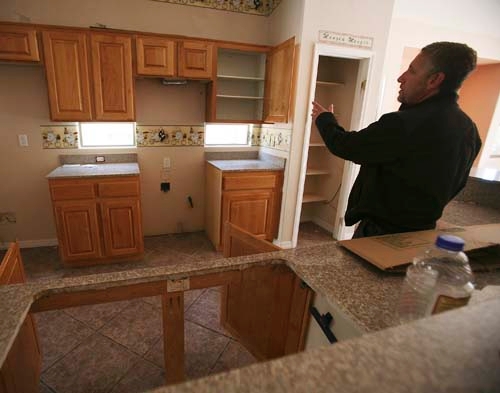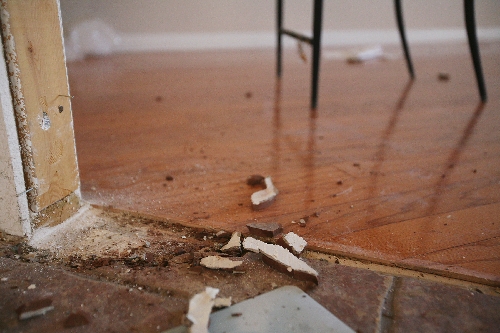 If you're thinking of making off with that fridge inside your foreclosed-upon home, think again.
A bill before the Nevada Legislature would make it a felony to intentionally damage or remove any part of a home that the occupant knew was in foreclosure. A homeowner or renter who breaks the law could face one to four years in prison and up to $5,000 in fines.
Nevada has claimed the nation's highest foreclosure rate for the better part of four years. Legions of delinquent homeowners here have vandalized properties after receiving eviction notices, Realtors have said.
The law's sponsor, Assemblyman Pete Goicoechea, R-Eureka, didn't respond to a request for comment by press time.
But Goicoechea's Assembly Bill 373 is earning mixed reviews from Las Vegas real estate brokers.
Thomas Blanchard, broker-owner of 1st Realty Group, said he believes a bill toughening foreclosure-related vandalism penalties would help curb the destruction.
"I think it would be great as laws go as far as providing a deterrent," Blanchard said.
Oana Sterlacci, a broker with Nevada Realty Solutions, said the bill should pass on principle.
"I think it's worth it if for no other reason than for us, as a society, to say, 'No.' There needs to be a public acknowledgement that this is wrong," Sterlacci said.
But the bill would probably be unenforceable, sales agents said.
A homeowner accused of trashing his house could claim he was in the middle of remodeling when the bank took over the place, or he could assert the damage happened after he moved out and squatters came in, said Fafie Moore, broker-owner of Realty Executives of Nevada.
"It's very difficult to identify the people who did it, and it's difficult to put someone in jail who's already angry," Moore said. "Law enforcement has a lot of things to do. We have to think about how we're going to use our resources."
Moore also worries about a "slippery slope" that might lead to banks performing regular inspections to ensure homeowners are maintaining their properties.
"As much as I would like to see people punished who deliberately destroy properties, I think the sacrifice to personal rights and personal property are not worth it," Moore said. "I don't think this law would change behaviors."
Blanchard estimated that more than half of the foreclosed homes his agency sees have some sort of damage. Homeowners often remove appliances from houses in foreclosure and sell them.
"People feel that the home is theirs, that somehow, they paid for it, even though they still owe a whole bunch of money on it. Therefore, they think it's their right to trash it and to steal from it," he said.
Most of the homes Sterlacci visits are in poor condition, though she said it's sometimes hard to tell the difference between vandalism and neglect. Homes sporting "outright, nasty vandalism" make up about 20 percent of the properties she sees, she said. She's seen homes stripped of plumbing pipes, garbage disposals, ceramic-tile floors, appliances, curtains, lighting fixtures, toilets and even 40-cent outlet covers and switch plates. One homeowner lifted his entire landscaping package, from the decorative boulders on down to the automatic-sprinkler system.
Vandalism presents a broader problem for all homeowners. Damaged homes are likelier to attract squatters and other vandals, Blanchard said.
"Blight attracts blight," he said.
Banks don't often repair destroyed homes, instead selling those properties at a steep discount. That in turn drags down resale prices among even well-maintained homes nearby, increasing the odds that neighbors will walk away from an investment that continues to spiral downward in value, and perpetuating the vicious cycle, Sterlacci said.
When banks do pay for fixes, they charge the costs to insurance companies, which turn around and seek higher premiums marketwide to cover the expenses, Blanchard added.
Neither Sterlacci nor Blanchard reported any success pursuing legal action against homeowners who harm distressed properties.
Assembly Bill 373 might not change that, because "you'd have to arrest half the population," Sterlacci said.
"It can't be enforced. The numbers just don't make sense," she said.
Foreclosure vandalism is a moral question that the law would do little to fix, Sterlacci added.
"It used to be a stigma to have a home foreclosed on. Today, people get together and high-five each other because they're still in the house and they haven't made a payment in 26 months. It's this whole attitude of sticking it to somebody. It's a cultural issue," she said.
Moore suggested other solutions.
Boosting the number of short sales in the market would mean fewer properties in foreclosure, and would keep homes occupied, thus discouraging vandalism, she said. Banks should also consider expanding their "cash for keys" programs, through which they offer money to homeowners who leave a property in good condition by a specific date .
"If banks gave notice to people about their options, it might encourage them to leave the house in one piece," she said.
Contact reporter Jennifer Robison at jrobison@reviewjournal.com or 702-380-4512.