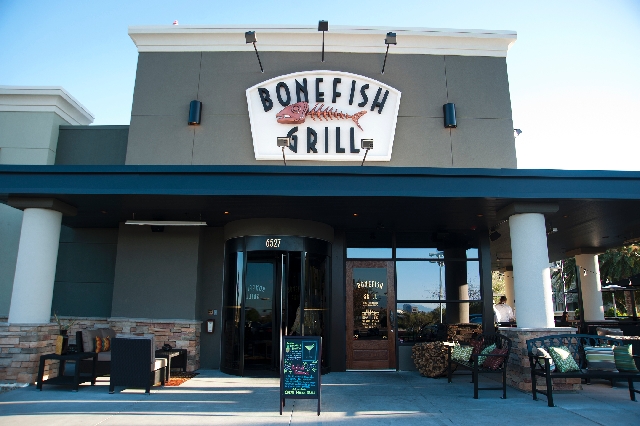 After a four-year run on Eastern Avenue that ended in 2010, Bonefish Grill is giving Las Vegas a second chance with its new location at Town Square, a shopping and entertainment mall.
Bonefish built a stand-alone 5,100-square-foot restaurant on a retail pad at the southwest corner of Las Vegas Boulevard and Sunset Road and hired back about 15 former employees, said Craig Leedom, the restaurant's managing partner. He would not disclose construction costs.
Traffic flow on Eastern Avenue was not enough to sustain business, he said.
"It was probably a mile away from being a great location," Leedom said during a media reception at the new Bonefish. "At Town Square, we're right off Las Vegas Boulevard, so visibility is phenomenal and the view is equally phenomenal."
Leedom said he couldn't believe how many former guests have returned and told him how disappointed they were to see Bonefish close on Eastern.
"We've done well. We're definitely off to a good start, better than the average Bonefish," he said.
Bonefish is looking for more sites in Las Vegas, particularly at the Summerlin mall that's expected to resume construction later this year. Three restaurants are opening in California this year, and Las Vegas will serve as a "springboard" for training those employees, Leedom said.
Each restaurant is tailored to its area, so the Town Square location is looking to add handcrafted brews and spirits from Nevada distributors, he said. The restaurant, with seating capacity for about 200 people, has expanded its weekend business hours and added a Sunday brunch.
"I feel the whole economy in Las Vegas is turning in the right direction," Leedom said. "It was hard to say that a few years ago. It's still a good value for property and business seems to be gaining steadily."
Bonefish Grill, founded in 2000 in St. Petersburg, Fla., operates more than 160 restaurants specializing in market-fresh fish and wood-grilled menu items.
RENT Versus BUY
Despite rising home prices, buying remains inexpensive relative to renting, a report from online real estate listing service Trulia.com shows.
Buying is 44 percent cheaper than renting on average in each of the 100 largest metropolitan areas if owners stay in their homes seven years, itemize deductions at the 25 percent income bracket and pay a 3.5 percent mortgage rate.
A year ago, buying was 46 percent cheaper than renting.
Low mortgage rates have kept overall buying costs down although prices have risen 7 percent year-over-year. The discount is biggest in Detroit, where buying is 70 percent cheaper than renting.
APARTMENT VACANCY
After struggling with double-digit percentage apartment vacancy rates, Las Vegas' vacancy rate fell to 9.72 percent in February, CBRE multifamily specialist Spence Ballif reported.
He showed 6.77 percent vacancy for 40,376 Class A apartments, or the highest class; 9.61 percent vacancy for 47,859 Class B apartments; and 13.79 percent vacancy for 30,724 Class C apartments.
reNTAL HOUSING
About 20 percent of American households live in multifamily rental buildings, the 2012 Rental Housing Finance Survey, released in March by the U.S. Census Bureau and Housing and Urban Development, shows.
Ryan McNamara, senior vice president of B&R Property Management in Las Vegas, said he expects the percentage of multifamily rental households to increase as affordability of homes continues to decline, loan credit standards remain tight and household savings dwindle in the soft economy.
He also expects owners of multifamily communities to shift more heavily toward larger companies and real estate investment trusts, or REITs.
Pricing for multifamily rentals has become so high and return expectations have compressed, making it harder for individual owners to afford larger multifamily properties, McNamara said. Competitive returns can be achieved through other investments that require less intensive hands-on management.
COMMERCIAL TRANSACTIONS
Dan Doherty and Chris Lane of Colliers International represented PAR Industrial in leasing a 133,400-square-foot industrial property at 3200 E. Gowan Road, in the Las Vegas Corporate Center, to Derse Inc. Transaction value for the 89-month lease was $3.54 million. Jeremy Green of CBRE represented the lessee.
Doherty and Lane also represented ProLogis in the 39-month lease of a 303,150-square-foot industrial property at 2880 N. Lamb Blvd. in the Sunrise Industrial Park to Hand Air Express. Transaction value was $3.27 million. Steve Spelman and Tim Cronin of Lee & Associates represented the lessee.
Mike DeLew and Greg Pancirov of Colliers represented SGPS Holdings in the purchase of a 48,960-square-foot industrial building at 2945 Coleman St. for $2.85 million.
Gatski Commercial's Laramie Bracken and Joe Anderson represented Sridhar Real Estate Contra in the purchase of a 50,000-square-foot industrial property at 2275 Marion Drive for $800,000. Brian Riffel of Colliers represented the seller.
B&R Receivership retained Gatski Commercial to handle property management and leasing for a 103,119-square-foot office building at 400 S. Fourth St.
Contact reporter Hubble Smith at hsmith@reviewjournal.com or 702-383-0491.