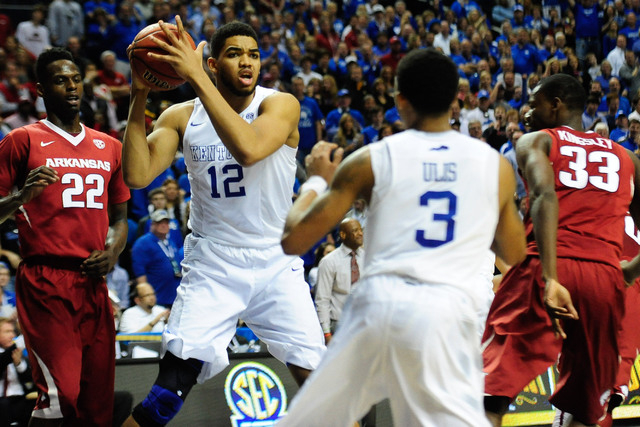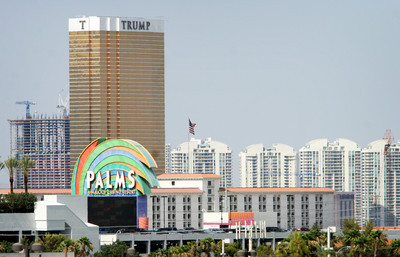 Ronald Cowan thought he'd be living the high life in Las Vegas, rubbing elbows with sports stars and celebrities who frequent hip places like ghostbar, Rain, Playboy Club and the Pearl concert hall at the Palms.
Cowan plunked down $132,000 for a deposit at Palms Place, the swank condo-hotel tower that opened earlier this year next to the Palms.
One slight problem: He can't close escrow on his $663,000 unit.
Cowan, of Cambria, Calif., was hoping to sell his property in nearby Grover Beach and use the proceeds in an Internal Revenue Service code 1031 exchange to buy the unit at Palms Place.
That was three years ago. The financial market has changed radically since then.
"I would love to close (escrow) and stay in the project," Cowan said. "I'm in real estate and with a stated income, you can't get a loan. Maybe if you put 50 percent down. Call it whatever, reality is what it is."
Cowan isn't the only condo buyer in that sinking boat.
Tighter credit requirements squeezed some buyers out of financing. They could have qualified for a mortgage when they bought a unit in the preconstruction stage, but not now.
Other people simply want to cut their losses on condos that are appraising for sometimes hundreds of thousands of dollars less than the sales price. They want out of their contracts, preferably with deposits refunded.
"Several factors are contributing to what we're seeing," said Brian Gordon, principal of Applied Analysis, a Las Vegas business advisory firm.
"We have a credit crunch that's limiting the number of mortgages being issued, particularly on highly leveraged investments and high-risk purchases," he said. "With the latest slowdown in the luxury condo market, buyers and lenders have raised the question about value, which creates challenges for both lenders and appraisers."
Robert Daniels wishes he'd held off buying a 910-square-foot unit at Juhl, the mid-rise development by San Diego-based CityMark in downtown Las Vegas, for $440,000. He sees 1,600-square-foot units at nearby Newport Lofts and SoHo Lofts going for about the same price.
"How are these units going to appraise for what we paid for them?" Daniels wondered. "Now I've got a guy who said, 'Make me an offer' at either Newport or SoHo. It's going to cost me $3,000 a month to keep it alive and I can only rent it for $1,000."
Daniels is assuming he's lost 20 percent in value at Juhl and may walk away from his deposit, but he's not whining about it.
"I took my shot. It didn't work out," he said. "This is Las Vegas. Some people win, some people lose. Who are the winners, anyway?"
George Maloof, developer of the $400 million Palms Place, said there's nothing he can do for buyers who can't close escrow.
"It's not our responsibility to provide financing," he said. "As a developer, you don't do that."
Condo-hotel buyers at places such as Signature at MGM Grand, Platinum, Trump and Palms Place should not have counted on revenue from the rental pool program to pay their mortgages, Maloof said.
Palms Place has had more than 250 closings and only five cancellations, he said. The condo-hotel had fewer investors than other properties and some owners have opted out of the rental program.
Many people bought high-rise condos in Las Vegas on pure speculation, hoping to "flip" the units, or sell them for a quick profit, Realtor Steve Hawks of ReMax Platinum said.
"Owners wanting out are having a horrific time unloading them," Hawks said. "One reason is many have dropped in price, so much that they owe more than it's worth. Units that were once $1.4 million are now $700,000 and units that were $600,000 to $900,000 are now $350,000 to $600,000 and are continuing to free-fall with no end in sight."
Buyers at Mira Villa condos, a project by HDB that filed for Chapter 11 bankruptcy in January, are worried they may never see their earnest money again.
Randa Bishop said she has good credit and assets, including a $1.5 million apartment in New York, and wanted to get an interest-only loan with 20 percent down on her $740,000 unit at Mira Villa, plus about $60,000 in upgrades.
"If they come and say the property only appraises at $700,000, I still have to cough up an additional $100,000 for the difference," she said. "That I don't like. I would probably be better walking away from it with my money and wait three months or six months and go back in and buy it."
Bishop, who attended a creditors meeting for Mira Villa in March, said she needs to know how many people are pulling out of the project and how much homeowners association fees are going to be to maintain the pool, community center and common areas.
Those are questions that need to be answered during bankruptcy reorganization, she said.
Signs of "vertical Vegas" going flat are becoming more evident every day, Hawks said.
Homeowners association fees weren't an issue when units were originally purchased because most buyers were looking to flip the units, he said. When that didn't pan out, the first thing some people did was stop paying homeowners association fees.
One high-rise condo has more than 100 units not paying homeowners association fees, leaving a deficit of about $8,000 a month, Hawks said.
"Some homeowners associations are on the verge of being broke," he said. "The results are disastrous and a crisis is looming. Amenities are being drastically cut from security to landscaping. The hallway carpets in some complexes are stained and smell like vomit from Vegas partiers that rented units from owners getting foreclosed on."
After being told his unit at Mira Villa would be ready in January 2008, Doug Peterson sold his apartment in New York City and, along with his wife and two kids, moved in with in-laws.
"Needless to say, we are extremely nervous, but hopeful that all involved will honor our contract and let us move into our unit shortly," he said.
Another project that could leave buyers in the lurch is Vantage Lofts, a $160 million development in Henderson that filed for Chapter 11 bankruptcy protection in June.
Vantage is a tough sell because of its location near power lines, freeway traffic noise and industrial development in the area, Sharon Dixon of Custom Realty and Marketing said.
"I've got buyers that buy that kind of stuff, but not there because I knew they had troubles," she said. "They were really slow to take off."
Judy Anderson, an attorney from Walnut Creek, Calif., sent a letter to Slade Development, developer of Vantage Lofts, terminating her sales contract and demanding that her $40,000 deposit be returned.
She said the contract stipulated that her unit be completed in two years, which would have been June 3.
"It's probably overpriced," Anderson said of the $540,000 unit. "For me, this is good to get out, but I want my money back. I'm entitled to it."
Streamline Tower in downtown Las Vegas has a number of "disgruntled" buyers who have issues with the project, California buyer Christopher Ford said. Quality of the delivered product is nowhere close to what they were sold and the square footage doesn't measure up, he said.
Ford doesn't want to pay $300 or $400 for an appraisal, one of the final steps in financing, when he knows he probably won't get the loan anyway. Because of Las Vegas' high foreclosure rate, lending requirements are stricter here than in other parts of the nation, he said.
"It puts buyers in a precarious position," Ford said. "The most troubling aspect is the purchase contract for Streamline is very one-sided toward the seller and not the buyer. If the buyer fails to close the loan, the buyer doesn't get the earnest money deposit back. That, as you can imagine, has buyers very upset."
Some buyers are losing $35,000, some are losing more than $100,000, he said.
Streamline developer Dusty Allen is well aware that buyers are struggling to close escrow.
Across the board, developers, builders, sales representatives and buyers all need to work together to deal with the current market challenges, he said.
"The fact of the matter is loan programs people had an opportunity to get when they contracted are not available anymore," Allen said. "Right now, underwriting is very difficult. People are trying to find ways out of their contract. They're just wanting their money back because they don't want to close, but I have a construction loan to pay down."
Appraisals have not been an issue at Streamline and several buyers closed escrow without incident, Allen said.
Ford, who bought a two-bedroom, 1,400-square-foot unit at Streamline for $853,000, said the Financial Power Group marketed the $125 million project as a good investment.
"In my opinion, there were some deceptive business practices on the part of Streamline that, along with the other issues, have created an environment in which buyers are unhappy with the project," he said. "Some are seeking individual and group legal representation."
Contact reporter Hubble Smith at hsmith@reviewjournal.com or 702-383-0491.