Coyote Springs owners say they're ready to build a new city in the desert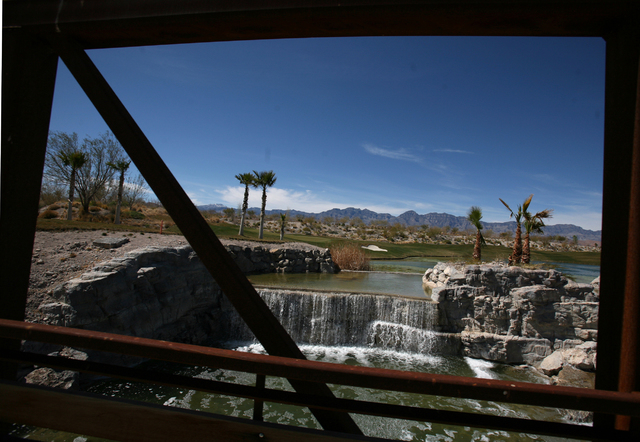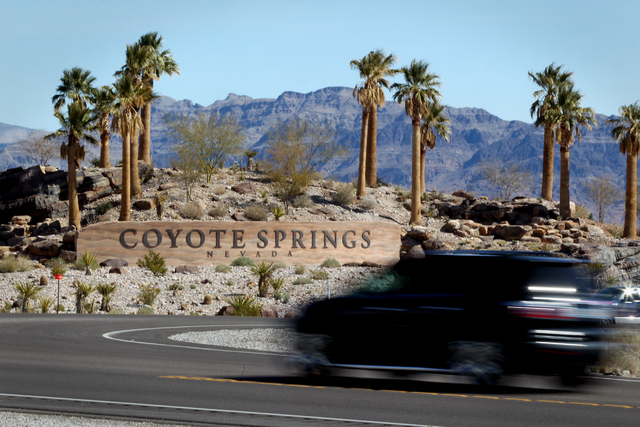 The owners of Coyote Springs have ended a four-year legal fight by agreeing to buy out their homebuilding partner in the stalled development.
The court settlement made public this week clears the way for construction to resume in the desert 55 miles northeast of Las Vegas, according to Emilia Cargill, chief operating officer and general counsel for Coyote Springs Investment.
"We're going to start seeing some work very soon," she said of the remote development designed to be twice the size of Summerlin.
Cargill declined to discuss the terms of the confidential settlement, but she said Coyote Springs Investment will buy back 2,600 acres sold for development by Pardee Homes and later transferred to the Weyerhaeuser Corporation.
According to county records and court documents, Pardee spent about $140 million on Coyote Springs land and had an option to buy up to $1.2 billion worth of property there.
Clark County Commissioner Tom Collins hailed the settlement, which came up briefly during Tuesday's Las Vegas Valley Water District board meeting.
"It's a happy day in paradise," Collins said. "I bet a year from now we'll see some activity up there."
Cargill said it should happen much sooner than that. She said the first order of business is to "dust off" and finish the water and sewer treatment facilities Pardee had started. She hopes to see that work completed by early to mid-2016.
It's too soon to say when the first home will go up, but Cargill said some land might be sold to third-party homebuilders while the rest is developed by its current owner, California-based builders Thomas Seeno and Albert Seeno Jr..
Cargill said the first houses are likely to be on lots already roughed out along the development's Jack Nicklaus-designed golf course, which opened in 2008.
Nevada's largest master-planned community was dreamed up by Reno developer and lobbyist Harvey Whittemore, who paid $23 million for about 43,000 acres straddling the Clark-Lincoln county line in 1998.
Whittemore eventually took on partners, including Pardee and the Seenos. By 2006, plans for the community called for 150,000 homes, at least 10 golf courses and a full slate of commercial amenities, including several hotel-casinos.
Then the housing market crashed, and so did Coyote Springs.
By 2012, the Seenos had taken control of the development and were locked in lawsuits with both Pardee and Whittemore, accusing him of misappropriating more than $40 million for private jet flights, home improvements and entertainment. Whittemore countersued the Seenos, alleging racketeering, extortion and threats to his family.
Those lawsuits were settled in 2013 on terms neither side would divulge. Whittemore would later be fined $10,000 and sent to prison for funneling illegal campaign contributions to then-Senate Majority Leader Harry Reid.
As a result of the settlement reached on June 12, the lawsuit between Coyote Springs Investment and Pardee Homes was officially dismissed June 26.
Experts say the development will be a tough sell. Dennis Smith is founder and president of the real estate analysis firm Home Builders Research Inc. He said there simply isn't a market for Coyote Springs right now.
"Presently we don't have enough demand for new housing in Vegas. Adding a master plan at this point that is that far from the metro area is a stretch," Smith said. "Could it change in three years? Maybe, but I doubt it."
The lack of basic amenities poses a major challenge for the project, Smith said. The closest gas station is in Moapa, about 25 miles away, while the closet major grocery store is an hour down the highway in Las Vegas.
Unless those services are provided along with the housing stock, Smith predicts trouble for Coyote Springs.
As it stands, he said, the development is probably most attractive to retirees who like golf, but how many seniors will want to settle more than 50 miles from the nearest hospital?
"There's issues to any consumer group you choose to target," Smith said. "My wife wouldn't live there, and neither would I. It would have to be a heck of a deal, and even then it would be a stretch."
But if Cargill and company are concerned about their place in Southern Nevada's real estate market, they certainly aren't showing it.
"We believe Coyote Springs will be a true suburb of Las Vegas. It's not that far," Cargill said. "We're really excited to move forward. Let's see how far we can go."