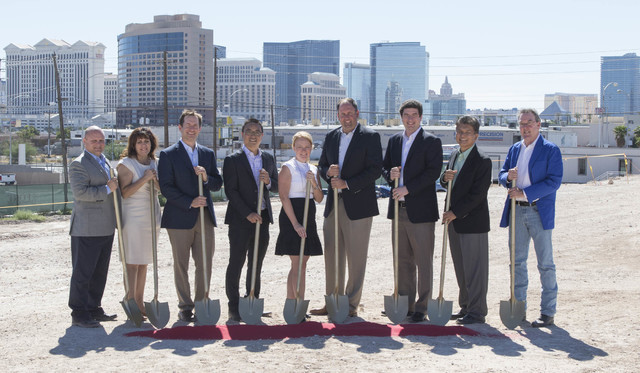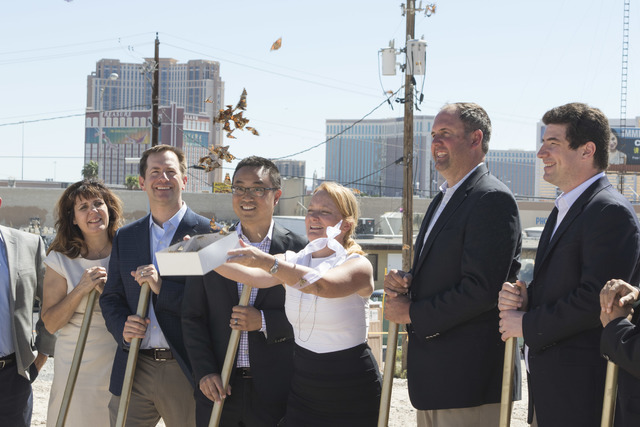 With developers packing the Las Vegas suburbs with new apartments, Jonathan Fore is laying a big bet in another part of town: the urban core.
The managing partner of Fore Property Co. held a ceremonial groundbreaking Monday for his 295-unit luxury rental project at Spring Mountain Road and Valley View Boulevard, a mile west of the Strip.
He said he expects to finish the $52 million development in March 2018.
Like many other new apartment complexes around the valley, Fore's is slated to have a lot of amenities, including concierge service, a rooftop deck, a massage room, a DJ booth and 9,000 square feet of ground-floor retail.
Units would range from about 575 to 1,200 square feet, with rents from $1,000 to $2,400 per month, he said.
Fore is one of only a few developers with apartment projects underway in urban neighborhoods in Las Vegas, though he hasn't avoided the suburbs. He and investor Daniel Grimm built the 20-acre Volare apartment complex at Dean Martin Drive and Cactus Avenue, in the south valley, last year.
But he said about 3,500 units are being built in southwest Las Vegas, one of the top spots for development, and "there may be a glut of rentals coming there."
"That's where the competition is," Fore said of the suburbs.
It costs an extra $30,000 to $40,000 per unit to develop his Chinatown-area site as opposed to a suburban parcel, he said, but there's a lot more activity nearby.
His target renter, he said, is someone who works and goes out on the Strip and wants to live near the resort corridor.
Fore is partnering on the project with investment firm Argosy Real Estate Partners.
Contact Review-Journal writer Eli Segall at (702) 383-0342. Follow at @eli_segall on Twitter.