Every Las Vegas ZIP code sees home appreciation in '15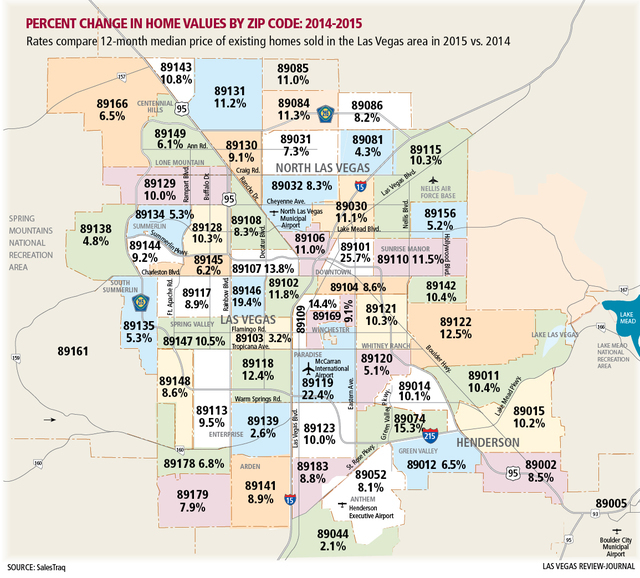 What goes up …
… is still going up.
For the third straight year in 2015, every ZIP code in the Las Vegas Valley posted home-price gains, according to new numbers from local analysis firm SalesTraq.
While improvements vary from neighborhood to neighborhood, overall statistics reflect ongoing recovery from recession in one of the nation's worst-hit housing markets.
"It follows the broader market trends we've seen in Southern Nevada," said SalesTraq principal Brian Gordon. "A lot of that is tied to improving fundamentals in the economy, including positive population growth, gains in the job market and increases in incomes. Much of that has translated into a respectable run in terms of housing price appreciation in the Las Vegas area."
Before you scan SalesTraq's map for your neighborhood, keep a couple of details in mind.
For starters, the map lists median prices and value increases. The numbers don't reflect your home's actual value or appreciation rate, which depend not just on what the place across the street sold for, but also on location and condition, among other factors.
Also, based on SalesTraq's analysis of 44,027 resale closings in 2015, the valleywide median price ended the year at $185,000, up from $168,800 in 2014. That's a marketwide appreciation rate of 9.6 percent.
Beyond that, price gains swung widely.
The ZIP code that showed the biggest improvement was downtown's 89101, where values surged 25.7 percent. The worst performer was the Anthem master plan's 89044, which appreciated 2.1 percent.
To understand the discrepancy, consider the median closing price in both areas.
The median value in 89101 was $102,900, compared with 89044's $274,750.
"Values in mature neighborhoods tend to be lower than those of master-planned areas, so in percentage gains, mature areas look more impressive," Gordon said.
What's more, those price points attract more interest.
"Investors and other buyers are identifying product in the market that's more affordable, and that increased interest is translating into additional price appreciation," Gordon said.
Dennis Smith, president of analysis firm Home Builders Research, agreed that neighborhoods in the urban core are appreciating more quickly. He said inventory is a big factor.
"The supply of homes in those areas is tight, and financing — I won't even go there," Smith said. "Just call a Realtor and ask, 'Can you find me a house listed for $200,000 or less?' See how quickly they hang up on you. They'll say, 'It's a waste of my time. There's nothing out there.'"
Other ZIP codes with double-digit appreciation were clustered mostly in the middle of town. Prices spiked 22.4 percent to a median of $120,000 in 89119, which surrounds McCarran International Airport. The median jumped 19.4 percent to $166,000 in 89146, bordered roughly by Spring Mountain Road and Charleston, Rainbow and Decatur boulevards.
On the flipside, Summerlin's 89138 had the highest median price, at $330,000, and one of the lowest appreciation rates, at 4.8 percent. Another Summerlin ZIP, 89135, weighed in with a median price of $329,250 and a value gain of 5.3 percent.
Don't fret if your ZIP is lagging. Upscale areas recovered faster right after the recession. In 2012, for example, the median price in 89135 soared 18.3 percent, to $243,725. The ZIP's median is up an additional 35 percent in the three years since.
Lower-priced areas may finally be enjoying some of those big strides, but they still lag peak values by a wider margin, Gordon said.
The city's mature neighborhoods remain 40 percent on average off of their price highs, while newer suburban communities are 25 percent below their value crests.
Take 89101: The ZIP's 2015 median is 49.1 percent below its 2007 record of $202,000. The median in 89135, on the other hand, is 20.7 percent below its 2007 high of $415,000.
Don't count on much bigger value increases in 2016.
"We're starting to see pricing trends plateau in selected areas, so it's unlikely that we'll continue to see price appreciation in every ZIP code across the valley by the close of the year," Gordon said. "We don't expect values to retreat in any significant way, but we are starting to see price gains that are more reflective of gains in income, and that dynamic should make the market more balanced on a go-forward basis."
Especially vulnerable to a slowdown will be those high-end neighborhoods, where affordability could become a big issue.
Smith said he doesn't expect any ZIP codes to turn negative in 2016
"I think we're at a pretty good stabilization point where demand is pretty equal to supply, and I think that's good for the market," he said.
Still, Smith said he sees the potential for economic stress — including higher gasoline prices and a softening gross domestic product — through the rest of the year.
"I think we'd be very happy to see 5 or 6 percent," he said.
Contact Jennifer Robison at jrobison@reviewjournal.com. Find @_JRobison on Twitter.