Financing tool helps buyers restore homes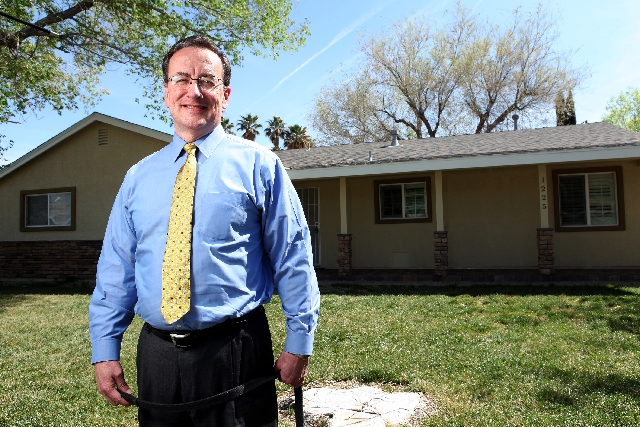 When Brian Burton took over as president and chief executive officer of Three Square Food Bank two years ago, he traded life in Dallas for the bright lights of Las Vegas.
Burton, who has spent his career in the nonprofit world serving those less fortunate, thought he might find and restore a ranch-style home like those in older sections of Las Vegas.
He found his project on Buehler Drive, near Oakey Boulevard and Rancho Drive.
"I was looking for a home that was centrally located," Burton said. "This area is well known for its bigger lots and older homes. That's is what I wanted for my first home in Las Vegas."
But for this 56-year-old house to be livable would require almost $40,000 in plumbing and electrical work, which would make it difficult for Burton to complete the purchase.
That's when he heard about an innovative financing tool that would allow him to borrow against future equity.
The mortgage, called a 203(k) loan, is a Federal Housing Administration product that permits borrowers to finance not only the home's price, but also the cost of needed repairs or renovation.
"I didn't have a huge cash reserve," Burton said. "The loan allowed me to get the funds necessary to update the house. The house needed to be brought up to city code."
THE BEST OPTION
Burton arranged both his mortgage and 203(k) loan through Wells Fargo, which helped him meet a tight closing schedule.
The home closed in early January and renovations are nearly complete.
"My contractor is experienced in preparing all the paperwork the bank needed in a short time," Burton said. "He convinced me that is was the right thing to do. It was by far my best option."
Burton received a $38,000 203(k) loan with a 3.25 percent interest rate. He said the alternative, charging materials on a home improvement store credit card and working weekends, would have cost at least twice as much.
"It's a great way to fund projects when money is scarce," said William P. Hall, co-owner of Knipp Contracting of Nevada, which is Burton's contractor. "The purpose of the loan is to bring a home up to FHA standards."
Hall said sometimes all it takes to meet FHA standards is a few coats of paint or a remodeled bathroom. But larger projects can include eliminating lead-based paint; upgrading heating, ventilation and air conditioning systems; or improving energy conservation.
The 203(k) loan is available for either a home purchase or refinancing an existing mortgage. The term can be up to 30 years. Hall said the buyer must hire a contractor for the work, which should be complete within six months.
Contractors are specified because a do-it-yourself homeowner might not be able to finish the work by then. The time limit is required by FHA to insure the loan based on the house's value after the work is done.
The mortgage can be taken out for 110 percent of the value of the home after the repairs are completed. Currently, the interest rate for a 203(k) loan is less than 4 percent.
Darius Toston, Wells Fargo's renovation branch manager for Nevada, Oregon and southern Washington, said the loan works well for someone who wants a discounted, distressed property but doesn't have all the money needed to fix it up.
The loans have been used to revitalize communities and keep people in their homes, he said.
"We'll finance the cost into the loan over 20 years," Toston said. "That's the purpose of these loans — community development."
Contractors, such as Knipp, are accredited by lenders who offer the loans.
Hall said his construction company, which also does business in Phoenix and Tucson, has handled more than 50 such projects in Nevada and Arizona.
Full 203(k) loans have a value exceeding $35,000 and cover major structural repairs and renovations, including room additions. The more common 203(k) loan is $35,000 or less, and is used for minor projects that require less time and fewer contractors.
NOT FOR EVERYONE
While the loans may be an option for many local homeowners, they come with restrictions. They can be used for refinancing as well as purchasing a property, but are limited to owner occupants. Investors are not eligible.
In addition, the work has to begin within 30 days of closing and be completed within six months.
All 203(k) applicants need to get three bids from contractors and must have an evaluation by a Department of Housing and Urban Development-approved cost consultant.
Such consultants can be found through a lender of on the FHA's website (fha.com).
Burton declined to disclose his purchase price, but Zillow.com reported the "home recently sold for $135,000."
Hall said his firm completely modernized Burton's 3-bedroom, 2-bath, 1,751-square-foot home.
"We upgraded the electrical and plumbing from 1957 to modern standards," Hall said. "We put new insulation in the attic and crawl space … new stucco and poured a new driveway. The project took about 60 days from getting permits to finishing the work."
Hall said his company has finished four 203(k) loan projects in Las Vegas in the past couple of weeks.
To qualify for a 203(k) loan, borrowers need decent credit, Most lenders require a credit score of 620 and above for an FHA loan.
Like all FHA loans, these loans require 3.5 percent down and an upfront mortgage insurance payment of 1.75 percent of the total loan amount. This can be wrapped into the financing.
Borrowers also pay a monthly mortgage insurance premium of about 0.5 percent of the loan, based on the loan-to-value and length of mortgage.
"There is no question I would do this again," Burton said. "My house is in good shape and it's up to code and clean. It's an asset to the community. It's a win-win."
He said his last project will be upgrading his home's landscaping, which is not eligible for 203(k) loan funds.
Contact reporter Chris Sieroty at csieroty@reviewjournal.
com or 702-477-3893. Follow @sierotyfeatures on Twitter.