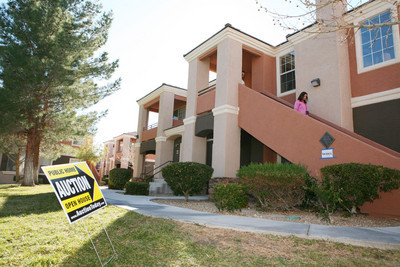 Two-bedroom condominiums near Summerlin starting at $79,000. Arizona resort homes for $1 minimum bids.
Sound too good to be true? It probably is.
That's the typical hype behind home auctions that have become increasingly prevalent in Las Vegas, where home sales are slow and foreclosures top the nation.
"I think it's just a sign of the troubled times we're in," housing analyst Larry Murphy of SalesTraq said.
Home builders and banks stuck with a growing inventory of unsold and real estate-owned homes are turning to public auctions to stimulate sales.
Signs along Buffalo Drive advertise Adagio condominiums scheduled to be auctioned Sunday at Palace Station. Real Estate Disposition Corp. is auctioning 83 units, 31 of which are occupied, at starting bids as low as $79,000 for units previously listed up to $233,000.
"I have to question the health of the condo market," Bob Reeve of Realty One Group said. "My guess is it's in worse shape than single-family homes. It's a tough sell right now, you better believe it."
Standing inventory of condos and townhomes for sale stood at 5,508 at the end of 2007, a 14 percent increase from the previous year, the Greater Las Vegas Association of Realtors reported. That doesn't include some 15,000 mid- and high-rise condos that are planned.
The $1 bid for the Arizona resort home is for one fully furnished home in Laughlin Ranch, a master-planned golf community in Bullhead City, and it's already been bid up to $100,000 in an online auction launched by Freedom Realty Exchange.
Expect that price to be closer to $400,000 or $500,000 as the Feb. 21 bid deadline approaches. That's about what builder Nationwide Homes wanted for the home.
"Auctions are becoming more common now," Freedom spokeswoman Kelly Lovegrove said. "Auctions will bring out buyers that might not be there with just a for-sale sign."
Earl Mastin, a retired "snowbird" from Coeur d'Alene, Idaho, was looking for a winter home in Phoenix and Tucson when he discovered Laughlin Ranch about 21/2 years ago. He was interested in a $400,000 lot near the block being developed by Nationwide Homes.
"That's two-thirds of what we ended up paying for this," Mastin said of the Laughlin Ranch home he bought for $585,000 last year in Freedom's online auction. "If we would have had the same house built on that lot, it would have cost around $600,000 with the pool and landscape."
Reeve, who attended foreclosure auctions held in Las Vegas last year by Dallas-based Hudson & Marshall, said it's interesting to see how many homes actually close escrow.
"Auctions might work if the buying public is convinced it's a true auction," he said. "They're being used all over the country. I think they're a great tool, but you have to prove to the public, yes, we sold 200 properties and 50 actually closed escrow."
Robin Camacho of American Realty & Investments said the auctions she has attended appear to be no more than a great marketing gimmick.
"Throwing a low price or opening bid on a property doesn't really mean anything," she said.
"Even when the buyer wins the bid, that doesn't guarantee the right to buy the house at that price. These auctions are a great opportunity for mortgage lenders to fish for clients, but I don't think many homes are actually being sold," she also said.
Camacho said she was told by a bank representative that 48 homes were put up for auction in December and the bank representative thought that only four or five might sell.
Lovegrove of Freedom Realty Exchange said she's not dealing with a bank and foreclosed homes. She's dealing with a builder who is motivated to sell.
Nationwide had 50 or 60 homes in its inventory at Laughlin Ranch and started auctioning off 15 at a time last year.
"They were proactive. The market was starting to change and they saw sales slow down, so they approached us a year ago," Lovegrove said. "Do they want to carry an empty home for another year? Because it'll take nine months to a year to sell 15 homes."
Contact reporter Hubble Smith at hsmith@reviewjournal.com or (702) 383-0491.