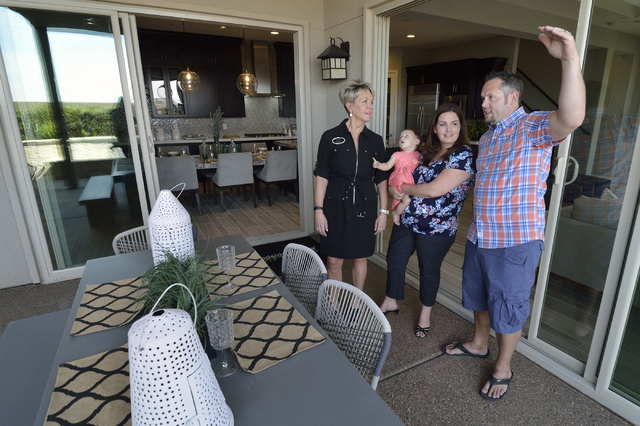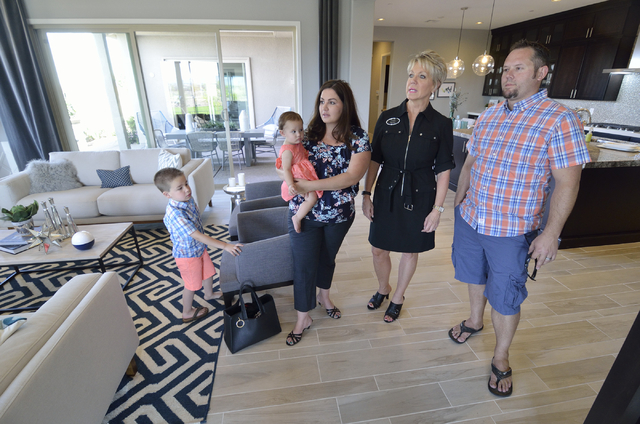 Eric and Jodi Gilliland traded a yard in back for a 50-acre park out front.
A yard for their growing family was top among the features the Henderson couple wanted in their next home. But they tossed their shopping list as soon as they visited Cadence at Lake Mead Parkway and Boulder Highway.
"When I looked at the models at Cadence, which are right across the street from the (central) park, I saw that we would have access to playgrounds, trails, bike paths — everything was right there," Jodi Gilliland said.
And so the Gillilands became the first buyers in Southern Nevada's newest master plan, a community that will build 13,250 homes over the next 10 to 15 years. The couple bought at Woodside's At the Park community, where 119 homes will range from 2,712 square feet to 3,287 square feet and start at $396,000. The homes have garages that back up to alleys, and outdoor loggias instead of traditional back yards. Woodside isn't building the floor plans anywhere else in the country.
At the Park is Cadence's only actively selling community, but that will change this summer, as builders including Ryland Homes and Richmond American Homes open models. There'll be more conventional layouts, including homes with yards and garages in front, as well as an age-qualified community by Lennar. Homes at Cadence will begin at 1,100 square feet and $220,000.
Community spokeswoman Cheryl Persinger said the Gillilands fit one buyer segment Cadence is chasing.
"The mix of housing we offer within Cadence really fits a cross section that includes younger families, retirees, single folks looking for a home for entertaining or someone buying a first home," she said. "Eric and Jodi fit within that cross-section of buyers we're targeting."
The Gillilands, both higher-education administrators, bought at Cadence after a six-month home search. They moved to Henderson from Colorado in 2013, and bought at Calico Cove, just off of Lake Mead Parkway before the turnoff to Lake Las Vegas. They planned to eventually move Jodi's dad into their 1,945-square-foot home, but as soon as they signed the paperwork on the place, Jodi learned she was pregnant with the couple's second child. So they needed more space.
Their Cadence home will have 3,200 square feet and a casita for Jodi's dad. It will also have a view of the Strip from a second-floor balcony. Its downstairs living space will surround the loggia, with massive glass doors that slide open on all sides and let in the outdoors.
At the Park's exteriors also stand out in the local market, going heavy on wood and brick accents.
"I fell in love with the models. They're a different style of house from what we knew," Eric Gilliland said.
Executives with The LandWell Co., which is developing Cadence, said they believe the 2,200-acre community is the nation's largest infill development. With infill, builders develop on land surrounded by existing development, rather than leapfrogging to isolated land in the suburbs. Development around Cadence includes downtown Henderson, grocery stores, St. Rose Dominican Hospital's Rose de Lima campus, Sam Boyd Stadium and Tuscany Golf Club.
It's not clear yet whether Cadence will help move the needle on local new-home sales, which have stalled at about 6,000 units a year for the last two years. That's twice the 3,000 annual closings in the bust, but well below highs of 30,000 or more in the boom.
LandWell executives haven't forecasted a closings count for 2015, but local housing analysts say they do not expect new-home construction activity to increase significantly through the end of the year.
Contact Jennifer Robison at jrobison@reviewjournal.com. Find her on Twitter: @J_Robison1.