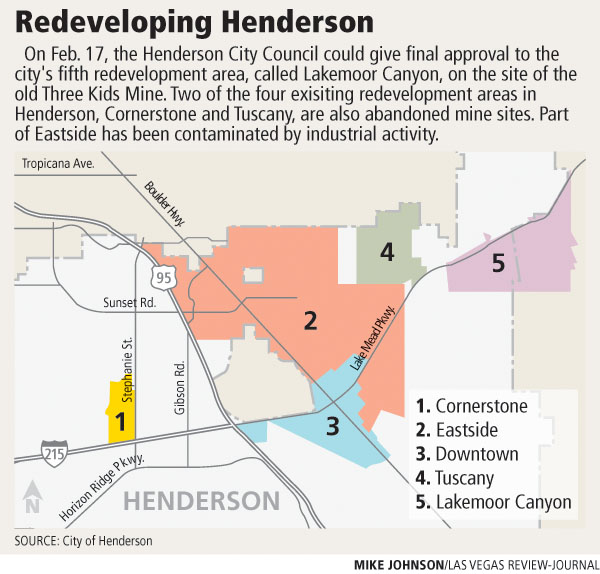 In many cities, the word redevelopment is reserved for decaying downtowns and old neighborhoods lost to crime and neglect.
In Henderson, it often means mines.
The city has four redevelopment areas. Two of them, Tuscany and Cornerstone, center around old gravel pits.
Now, Henderson is taking aim at its biggest cleanup effort to date: a scarred and littered tract at the city's northeastern edge that once housed a manganese mine and milling operation.
With a City Council vote slated for this time next month, the long-abandoned Three Kids Mine is expected to become Lakemoor Canyon, Henderson's fifth redevelopment area.
The distinction will enable the 1,259-acre wedge of land on Lake Mead Parkway, across from Lake Las Vegas, to be cleaned and prepped for development using a mix of bond money and private investment.
"Frankly, there would be no other way to get this cleaned up. The federal government doesn't have the money. It's a mess," said Bob Unger, a master-plan developer who represents private land owners inside the proposed redevelopment area.
Efforts to reclaim the Three Kids Mine have been in the works for two years.
Unger said it could take the next two years to get all the necessary approvals and two years after that to actually clean up the property. "This would not come to the market for homes for four or five years."
With any luck, he added, the valley's housing market will have rebounded by then.
Unger also helped shepherd Tuscany into the city's redevelopment fold. He said the cleanup of the Three Kids Mine is expected to cost more than the land is worth, "which is why we need redevelopment help."
Henderson recently annexed about 800 acres of public and private land within what soon could be known as Lakemoor Canyon. Now the entire area lies within the city limits.
Eventually, the federal land destined for redevelopment will have to be deeded to the city.
Both the Bureau of Land Management and the Bureau of Reclamation control acreage within Lakemoor Canyon's proposed boundary.
"Literally, we're looking at an act of Congress to make this work," Unger said.
Then the real work begins.
"The biggest challenge is just the monumental remediation," said Henderson Redevelopment Manager Michelle Romero.
Among its myriad contaminants, the site contains lead, arsenic, asbestos, and piles of tailings dust laced with metals and chemical residue from ore extraction. In a few spots, surveyors found the remnants of small oil spills.
Then there is the trash and debris that has accumulated over the past four decades, as trespassers used the property for an illegal dump site, shooting range and off-road racetrack.
"Hopefully we can get a tremendous eyesore cleaned up and put to productive use again," said David Norris, a real estate specialist for the city. "We've got an opportunity here."
Starting in 1917, a quarter century before Henderson was born, the site mined and milled manganese, which was largely used to harden steel for the hulls of warships.
Production at the Three Kids Mine spiked during both world wars.
The operation shut down in 1961.
"It's like the last remnants of another era," Unger said.
Tuscany was easier, he said, because it basically involved "turning something that looked like a mess, but didn't have any real environmental issues, into a place people would want to live."
The same was true of Cornerstone, Romero said.
"Neither Cornerstone nor Tuscany were contaminated. They had plenty of issues, but contamination wasn't one of them," she said. "They were scarred, and oftentimes they were used as illegal dump sites. They did nothing for the community."
Five years into the 30-year redevelopment process, both places are well into the change from "attractive nuisances" to what city officials hope will be viable — and taxpaying — neighborhoods.
Tuscany's 850 acres off Lake Mead Parkway, southwest of Lake Las Vegas, now features a golf course surrounded by dozens of homes.
The 322-acre Cornerstone redevelopment area, near Stephanie Street and the Las Vegas Beltway, now sports a shopping center at one end and some homes and apartments at the other.
Plans call for an enormous mixed-use development that would include Henderson's tallest buildings and 100 acres of city park built around a pond that forms at what used to be the bottom of the gravel pit.
Unger said reclaiming old mines has "always been built into state redevelopment code," hardly a surprise considering Nevada's rich history of mineral exploration.
In Henderson's case, the sight of tract homes going up in old gravel pits and mines is emblematic of the community's steady march away from its industrial roots.
"Arguably, it was our largest industrial community in Nevada. That was our version, on a much smaller scale, of a Gary, Ind., or a Bethlehem, Pa.," said State Archivist Guy Rocha. "Today you can live in parts of Henderson and not even know about that industrial base. It's so far-flung."
When the city was incorporated in 1953, it had fewer than 7,500 residents clustered in factory housing in what is now downtown.
Today Henderson is Nevada's second-largest city, with a population of almost 270,000.
Though startling in both speed and scope, Henderson's transformation from factory town to affluent suburb, from blue collar to white, is not unique in Nevada. It's not even unique in the Las Vegas Valley; the same thing happened to the city next door.
"Las Vegas started as a railroad town," Rocha said. "When you look at Las Vegas today, who would think of it as a railroad town?"
Henderson's largest redevelopment area, the 4,500-acre Eastside zone, doesn't include any old mines or gravel pits, but part of it does rest on a plume of contamination from the chemical plants that gave the city its start.
A private company tied to the chemical plants recently began removing truckloads of contaminated soil from the property. The land is slated to be cleaned up and, eventually, covered with houses.
In place of the pits and piles and scattered debris that now dot the Three Kids Mine area, Unger pictures a residential community with some commercial development "very similar to Tuscany."
"I just think we're fortunate we have the tools to do it," Romero said. "Who knows how long it would sit there if we didn't?"
Contact reporter Henry Brean at hbrean @reviewjournal.com or 702-383-0350.