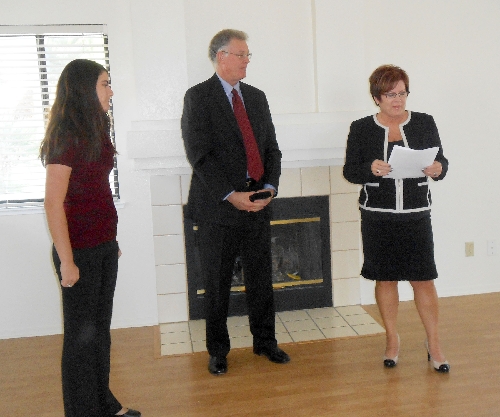 For nine months, Christine Bulot, an elementary schoolteacher, had been scouring Henderson for her first home, a task that proved to be harder than she expected.
"Every time I'd place a bid, someone would bid over me with cash," Bulot said. "I don't have that kind of cash sitting around. I'm a schoolteacher."
Bulot was going to wait until the winter to see if she could swoop up a deal. That was until she found HFN Inc., an affordable housing developer and a Housing and Urban Development- approved housing counseling agency. The nonprofit assists in the acquisition, rehabilitation and resale of homes.
The organization, which began in 2002, helps low- to moderate-income families with down payments, closing costs and property improvements.
Funding comes from the Neighborhood Stabilization Program, which was established through the American Recovery and Reinvestment Act, known as the stimulus plan.
The city of Henderson received $3.9 million in the Neighborhood Stabilization Program Round 3, $1.4 million which has gone to HFN Inc. for its Acquisition, Rehabilitation and Resale Program.
Henderson Mayor Andy Hafen said this program was needed because Nevada was ground zero for foreclosures.
"If these programs had more funding, we could put that many more people into homes," Hafen said.
Bulot said she doesn't know what she would have done without the program.
"I'm ready to invest in the community," Bulot said. "This is my first house."
Christine Johnston, the CEO and president of HFN Inc., said eligibility is based on household income and family size.
"Clients cannot own any other real estate," she said.
When applying, applicants must attend an eight-hour homebuyer education class. Bulot was approved after she scheduled an appointment with her housing counselor.
"She was approved because of her good credit, low debt, qualifying income and work history," Johnston said. "This transaction has not closed yet, but Christine will be eligible to receive up to $14,999 to assist with the down payment and closing costs for the purchase of her home."
Bulot didn't want to get her hopes up even though she learned a month and a half ago that she was at the front of the line to receive the home.
"I've had so many fall through," Bulot said. "I put in so many bids. I'm the type that doesn't take it all in at once."
Johnston said the Neighborhood Stabilization Program also provides funding to rehabilitate properties before they are placed on the market.
"This home has been provided with several improvements, including new Energy Star-rated appliances, corrective HVAC (heating, ventilation and air conditioning) work, new plumbing fixtures and refurbished landscaping," Johnston said, "all of which highlight the program's goal to make these properties more energy-efficient and affordable for the family."
Lydia Camacho, property development director for HFN, said the house received about $32,000 worth of repairs, most of which was water damage.
Camacho added that in Henderson, the maximum the group does for home rehabilitation is about $35,000. In other parts of the valley, Camacho said, repair costs are higher.
"So we have to take that into consideration when we do inspections," Camacho said.
Bulot is one of eight who are currently benefiting from the program in Henderson. Johnston said the program has helped more than 70 people valleywide.
HFN and the city of Henderson held a ceremony Oct. 24 to welcome Bulot to the neighborhood and her home. She received the key to her house, and Hafen presented her with a key to the city.
"I tried a long time to get this," Bulot said. "I will take good care of it and be a good neighbor."
For more information, visit housingfornevada.org.
Contact Henderson/Anthem View reporter Michael Lyle at mlyle@viewnews.com or 702-387-5201.