Home-price drops said to reflect overcorrection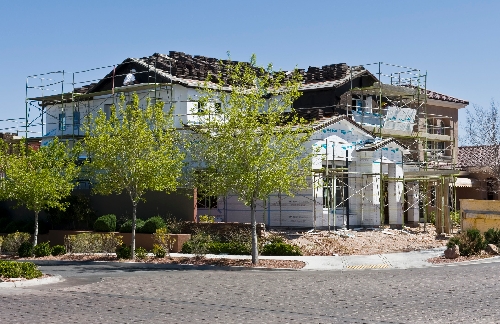 We're in another housing bubble in Las Vegas, but this time it's the flip side of the overvalued market that emerged from 2000 to 2006, a real estate economist said Wednesday.
Just as Las Vegas home prices were unsustainable when they hit a median of $285,000 in 2006, they're tremendously undervalued now at $106,000 and that, too, is unsustainable, said Mark Boud, principal of Irvine, Calif.-based Real Estate Economics.
"It collapsed so hard that it overcorrected," Boud told about 60 real estate professionals at the Las Vegas Midyear Builder Symposium at Alexis Park. "You pay 11 cents on the dollar in mortgage costs, which is incredible and, in fact, unsustainable. We'll never be able to see this affordability again."
By 2015, inventory will tighten, vacancy will drop below 2 percent and there will be a strong push in pricing into 2016, Boud predicted.
Median existing-home prices fell to less then $70 a square-foot in June, down 12 percent from a year ago and nearly $30 a foot less than the cost of a new home, Las Vegas-based SalesTraq reports.
Cheap housing prices combined with the lowest interest rates in 40 years give consumers the leverage they need to buy their dream home, said Anthony Grasst, regional sales manager for MetLife Home Loans in Kirkland, Wash.
Homebuilders need to do a better job telling buyers that it's a fantastic time to buy instead of rent, he said.
"People buy emotionally and justify logically," Grasst said. "How much of the buying decision is financing? About one-third. You have more to fear in rising interest rates than depreciation."
A one-point increase in mortgage interest rate erases 11 percent of household purchasing power, Grasst said.
For example, someone who buys a $250,000 home at 5.25 percent interest rate has a monthly principal and interest payment of $1,242. If the price is discounted 3 percent to $242,500, the payment drops to $1,205, a savings of $37 a month.
If that $7,500 discount is used to "buy down" the interest rate to 4.25 percent, the monthly payment is $1,107, a difference of $135 a month, Grasst calculated.
"Your monthly payment is 11 percent below market and you save $49,000 over the life of the loan," he said. "Explain that rents are susceptible to increasing. Buy now and you're guaranteed low payments for 30 years."
Geoff Gorman, vice president of sales for Harmony Homes in Las Vegas, said the 3-year-old company has grabbed the fifth-highest market share of new-home sales in Las Vegas, but the numbers aren't where he wanted to see them this year.
While new-home sales rose to their highest level of the year at 357 in June, they're only on pace for about 3,500 for the full year, compared with 5,438 in 2010, SalesTraq's monthly report showed.
It was inevitable that sales would be lower in 2011 with "no outside impetus and no manufactured urgency," Gorman said. Demand dried up after the federal tax credit expired in June 2010, though it was later extended to September.
"It's harder than ever to sell a home today," Gorman said. "It's not 2004, with lines out the door like the Matterhorn at Disneyland."
The No. 1 challenge for the homebuilding industry in Las Vegas today is appraisals, he said.
Just this week, Gorman said he had a willing buyer and the necessary comparable sales, but the appraisal came in $10,000 short, killing the deal. The home was appraised at $194,000, about $1,000 more than an appraisal for the same floor plan a month ago. However, this home had $10,000 worth of upgrade options, including stainless-steel General Electric appliances, a larger lot by 700 square feet and several thousand dollars in flooring upgrades.
"I don't think enough of us have said the appraisal situation in town is ridiculous," Gorman said. "I know appraisers have rules to follow, but what's missing is common sense. We all hear that a new car is worth more than a repossessed car. I understand diminishing returns, but seriously, $1,000 appraisal for $10,000 in upgrades? It's not right. I don't know what can be done."
Other challenges for homebuilders include buyers' poor credit ratings and debt-to-income ratios, along with competition from foreclosures and short sales, Gorman said. Those who could qualify to buy a home last year under the federal tax credit did, and those who didn't probably have issues relative to income and creditworthiness, he said.
Las Vegas has an excess supply of distressed properties with a "shadow inventory" pushing 30,000 homes still being held by lenders that has to be absorbed moving forward, economist Boud said.
"Supply will flatten, but probably won't go negative. Demand will go negative," he said. "Unfortunately, the housing market is going to lag economic growth by eight to 12 months."
Consultant Bob Mirman of Eliant Inc. said the nation's best production builders are selling 45 percent of their homes from referrals.
He warned about "consumer terrorism," or people who use the Internet as a weapon to spread the word about how unhappy they were with customer service from a particular homebuilder.
"It's not about the home you build, but the experience you deliver," Mirman said. "Your strongest sales force is an army of delighted homeowners who then tell their friends. Nobody can sell your home better. They're the most trustworthy sources."
Contact reporter Hubble Smith at hsmith@reviewjournal.com or 702-383-0491.