Home-sale inventory shrinks; sales surge
November 11, 2008 - 10:00 pm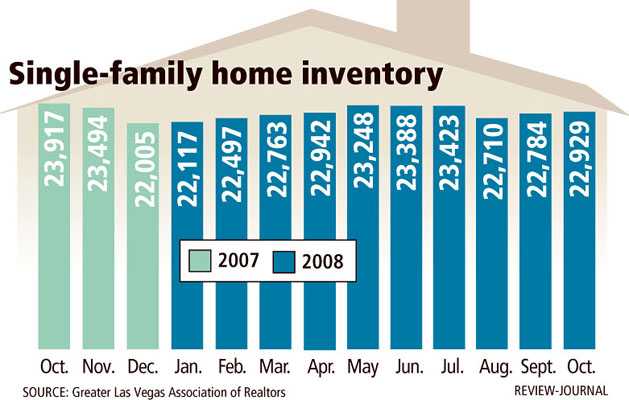 The number of homes available for sale in Las Vegas has receded from last year's peak and monthly closings have nearly tripled, the Greater Las Vegas Association of Realtors reported Monday.
Realtors sold 2,718 single-family homes in October, a 180 percent increase from 974 sales in the same month a year ago. Inventory is down to 22,929 after peaking at 24,341 in September 2007.
The median price continues to fall, down 30.8 percent from a year ago to $190,000 in October.
"We don't see any surprises in this month's statistics," Realtors' association president Patty Kelley said. "The main trends we see in the local housing market continue to be increased sales and decreased prices."
She said bank-owned properties continue to have a huge impact on the local housing market, adding to the already ample supply and driving prices down. Roughly two-thirds of Las Vegas home sales are real estate-owned, or foreclosures.
As in the past, Kelly said prices are at the point where bargains abound for qualified buyers.
Condos and townhome sales more than doubled from a year ago. Realtors reported 414 sales in October, up 7.3 percent from September and up 110 percent from October 2007. The median price is down 36.7 percent from a year ago at $109,575.
Realtor Rob Jenson of ReMax Central said there were 8,311 foreclosures on the market in October, up 4.6 percent from September. The number of foreclosures that closed escrow rose 6.1 percent to 1,752 in October.
More affordable pricing and rising sales have helped reduce market inventory and is helping Las Vegas return to stable conditions, Jenson said. Inventory is down for the second month in a row, dropping from a 9.4-month supply to an 8.9-month supply.
Short-sale listings, or homes offered at less than the mortgage owed, decreased while foreclosure listings increased, reflecting the difficulty in achieving a successful short sale that ultimately results in subsequent REO listing and foreclosure, Jenson said.
Applied Analysis, a Las Vegas-based business advisory firm, showed the number of resale homes on the market rising for the sixth consecutive week to 22,873. That's up 915 units over six weeks.
Vacant properties listed for sale are reaching back toward all-time highs reported in October 2007 and reflect nearly 60 percent of all listings.
The number of homes identified as contingent or pending sale fell by 310 units during the week of Nov. 3, finishing at 6,461, Applied Analysis reported. About 52 percent of the 3,808 contingent units are identified as short sales, which require lender approval.
Local real estate transactions tracked though the Multiple Listing Service in October totaled nearly $613 million in single-family home sales, down 4.5 percent from $642 million in September, but up 68 percent from a year ago.
Contact reporter Hubble Smith at hsmith@reviewjournal.com or 702-383-0491.