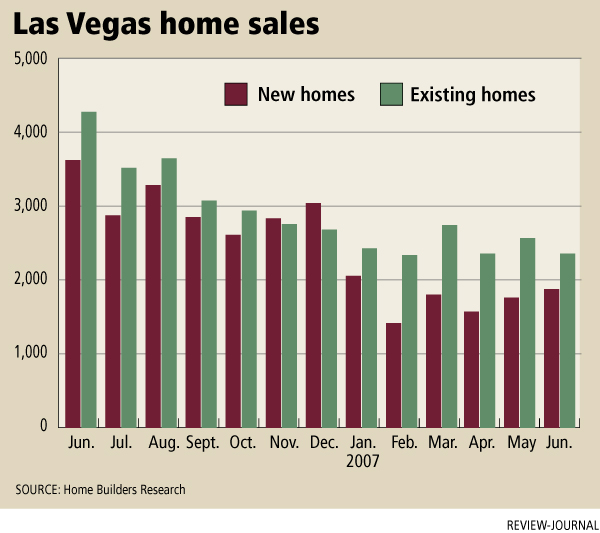 The summer months are always slow for home sales in Las Vegas. When it's 110 degrees outside, nobody likes to go house hunting.
That's part of the reason for the dip in June numbers for both new and existing home sales, housing analyst Dennis Smith of Home Builders Research said Wednesday.
"It looks like we've entered into our mid-summer seasonal trend," Smith said. "It's really just kind of a blah period with consumers. There's no urgency for people to go out and buy. It's typical when it gets hot out."
There were 1,872 new home sales in June, bringing the total to 10,395 for the first half of the year, a 45 percent decrease from a year ago, Home Builders Research reported.
Existing home sales totaled 2,422, close to the monthly average this year, Smith noted. The six-month total of 14,556 is down 36.2 percent from a year ago.
"Obviously the market's down. That's nothing new. You don't have to buy right now, but it's a heck of time to be looking," he said.
Larry Murphy of SalesTraq counted 1,812 new home closings in June, down 48.3 percent from the same month a year ago. Existing home closings fell 42.9 percent to 2,399.
Perhaps the most surprising aspect of the housing market is the lack of price erosion in the face of plummeting sales, Murphy said. Median prices improved from the previous month in every category, but declined in year-over-year comparisons.
The median new home price was $329,990 in June, up from $314,100 in May but down 2.2 percent from a year ago. June's resale median price of $277,900 beat May's $275,000 and is off 4.1 percent from a year ago, according to Sales Traq.
Home prices have fallen, but not nearly as much as pundits predicted. California real estate consultant John Burns said housing Las Vegas prices must drop 30 percent to return to a normal market.
"Is it realistic for houses to back off by 30 percent?" Smith asked. "Why are we even talking about it? Come on. I think prices still have a ways to come down in Vegas, but not 30 percent. Eight to 10 percent, maybe."
Alex Edelstein, developer of the mid-rise Manhattan condos and Manhattan West in Las Vegas, points out that many U.S. cities have had housing prices well above the national average for decades. They're "cool" cities like San Francisco, New York and Los Angeles, he said.
"My interpretation of Vegas is not that it will have to plunge 33 percent, but rather that Vegas is being promoted into the small elite group of cities that have enough external factors that make people want to own property there that the prices simply are high relative to income," Edelstein said.
Prices needed to plunge in San Francisco 25 years ago, he said. Instead, they went up because people want to live there and the city has limited land. Home prices rose even without job growth.
Edelstein said every Strip high-rise condominium pushes the average price higher. Sky Las Vegas closed escrow on 200 units starting at about $500,000.
"When City Center completes 2,500 units at $1 million a unit, does that mean immediately Vegas prices will have to plunge an extra $30,000 per house to get back to normal? Of course not. It's a dumb, spurious, misleading calculation and it's time that someone pointed out the flaws in it," he said.
Smith of Home Builders Research said the Las Vegas market can't be generalized. Parts of it, including the million-dollar market, are doing okay, he said.
That doesn't help Peter Kaiser. He moved to Las Vegas from the Caribbean in December with his wife and baby boy and was hoping to find a home at a reasonable price.
"We are above the median income and have a nice little nest egg to put into a new home," Kaiser said. "What I have found is a market full of homes still hoping to extract the prices seen in late 2005. Simple three-bedroom, two-bath homes that are still $100,000 more than they're worth are languishing on the market for well over a year."
He said he's seen at least a 10 percent slide in prices for homes in Henderson and Green Valley for the past six months and they're still not moving at the reduced price.
"Bottom line from my point of view is that the current price levels have been set by investors, not people who plan on actually living in any of these homes," Kaiser said.
"I cannot and will not jeopardize my family's financial well-being by jumping into a market that has such a high chance of going further south. We are currently renting a nice little home and doing what very few in our society are able to do any more — save money," he added.
He has a novel idea about what to do with all the vacant homes in the valley. An estimated 40 percent to 50 percent of the 23,000 homes on the Multiple Listing Service are sitting empty. According to the Las Vegas Outreach Center, there are 10,000 homeless people in the valley.
"I think I just solved our homeless issue," Kaiser said.
Housing in Las VegasMore Information