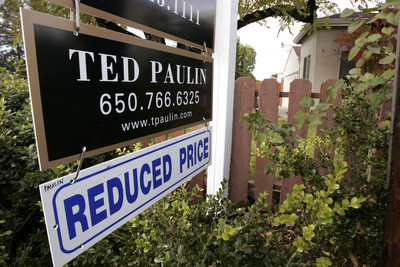 WASHINGTON — U.S. home sales in 2008 are expected to be the worst in a decade, November data confirmed Tuesday, and there appears to be no quick turnaround coming next year.
Existing-home sales plunged to a rate of 4.49 million last month, down 8.6 percent from October, and worse than economists predicted. Total sales, not calculated as an annual rate, fell 17 percent in November from a year earlier to 322,000, the National Association of Realtors said.
The median sales price tumbled 13 percent to $181,300, the largest decline since record-keeping began 40 years ago.
The deteriorating economy makes the timing of any recovery in sales a moving target. While sales are growing in foreclosure-plagued areas like Las Vegas and Los Angeles, most of the country is still sinking.
And though mortgage rates dropped to nearly 5 percent last week, providing an attractive opportunity for borrowers to refinance, real estate agents say it's too early to tell how much of a sales boost low rates will provide.
Las Vegas-based SalesTraq reported 622 new-home sales in November, down 58 percent from the same month a year ago. For the year, new-home closings in Las Vegas are down 49.1 percent at 9,076.
The median price of a new home in Las Vegas dropped 10.8 percent from a year ago to $243,000.
Las Vegas is probably near leveling off for home prices in desirable locations, local investor Lord Hartley said.
"But there is no bottom to those pockets out in the boondocks, and we've got a gang of them in the southwest and northeast (valley)," he said.
The median price of a resale home in Las Vegas fell to $170,500 in November, the lowest level since August 2003. More than 60 percent of the 2,737 resales were bank-owned homes with a median closing price of $160,000. The median price of a regular home was $198,000, about the same as it was in the first quarter of 2004.
But analysts hope a big drop in mortgage rates will prop up sales early next year.
And while 45 percent of existing-home sales are now foreclosures and other distressed properties, there is a silver lining, said David Resler, chief economist at Nomura Securities.
"The quicker those properties get into steadier hands at prices that are more realistic, the sooner the economy gets back to some kind of health," he said.
Meanwhile, the Commerce Department said November sales of newly built homes fell 2.9 percent from October to a pace of 407,000 units, the slowest rate in nearly 18 years. The median price of a new home sold in November was $220,400, a drop of 11.5 percent from the sales price a year ago and the biggest year-over-year price decline since March.
Builders have struggled to reduce production in the face of a two-year slump in housing that has seen sales and prices plummet. November sales activity was depressed by the worst financial crisis in seven decades, which has made it harder for potential buyers to get home loans.
The inventory of unsold new homes stood at 374,000 in November, down 7 percent from the October inventory level. JPMorgan Chase analyst Abeil Reinhart called that figure "the only positive news in this report."
Still, there is almost a one-year supply of both new and existing homes at the current sales pace.
Lawrence Yun, the normally upbeat chief economist of the National Association of Realtors, found few positive spots in the month's dismal data. But he did note that after prior stock market crashes, home sales usually rebounded within a few months.
"We hope that, similarly, the current slowdown in home sales activity is a short-term phenomenon," Yun said.
The Realtors association is lobbying for a government aid package of up to $50 billion, including a $7,500 tax credit for all homebuyers.
"It's just a matter of some spark," said David Crowe, chief economist at the National Association of Home Builders.
"The consumer is looking for some signal that now is the time," he added.
Review-Journal writer Hubble Smith contributed to this report.