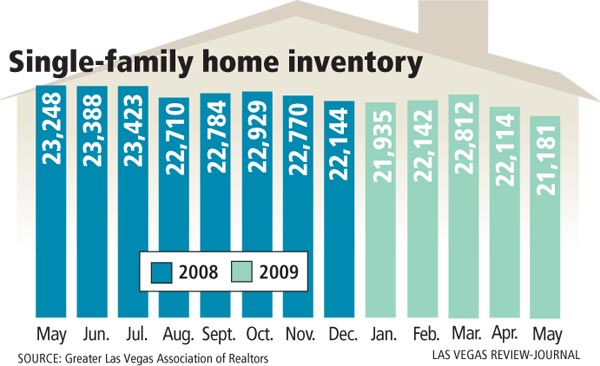 Home sales continued to post big numbers in May and the median price dipped 1.2 percent, or $1,720, from the previous month, the smallest decline since November 2007, the Greater Las Vegas Association of Realtors reported Tuesday.
The inventory of homes on the market, a major concern for local housing analysts, declined 9.3 percent from a year ago to 21,181, leaving supply at about seven months.
Realtors sold 3,255 single-family homes during the month, a 60.7 percent increase from a year ago. The median price was $140,000, down 40.9 percent from May 2008.
Counting 737 condo and townhouse units sold in May, Las Vegas had nearly 4,000 total sales, one of the best months on record, said Sue Naumann, president of the Realtors association.
"So there's plenty of activity in our local housing market," she said. "We're down in inventory so we're starting to move things out of the market and I'm sure a great deal of it is REOs (real estate-owned)."
Any further price deterioration will be caused by foreclosure properties, which account for about 80 percent of Las Vegas home sales, Naumann said.
"We had a bank moratorium that expired June 1, but I still don't think they're going to flood the market," she said. "It would be devastating if they did."
Real-estate owned inventory, or bank-owned homes, fell 29 percent from a year ago to 2,992, roughly one-fourth of the total single-family home inventory, David Brownell of Keller Williams Realty said. There were 3,092 REO closings and 6,029 pending sales, up 124 percent and 78 percent, respectively, from a year ago.
For condos and townhomes, the median price was $65,000, down 53.4 percent from a year ago, but up 0.8 percent from the previous month. Inventory grew 2.3 percent to 5,572.
Realtors took 4,211 new listings in May at an average price of $150,000, down 3.8 percent from the previous month and 36.2 percent from a year ago.
Naumann said many homes are priced below what it would cost to build them today and people are recognizing opportunities to buy.
"We're starting to see that maybe the market's going to rebound here. At least with sales it has," she said.
Statistics are based on data collected from the Multiple Listing Service and does not necessarily account for new homes sold by builders, sales by owner and other transactions not involving a Realtor.
Single-family listings that entered into a contract topped 10,000, indicating that closings should remain strong over the coming weeks, Frank Nason of Residential Resources said.
One possible counter-trend to the increase in purchase contracts is volatility in the mortgage market, he said.
Buyers who were waiting to lock in their loans when rates hit 4.5 percent are likely to be washed out of the mix as 30-year fixed mortgage rates skyrocketed to 5 percent last week.
"If rates don't come back down quickly, many who did not lock their loans will be canceled out of the lender's system," Nason said.
Contact reporter Hubble Smith at hsmith@reviewjournal.com or 702-383-0491.