January 23, 2009 - 10:00 pm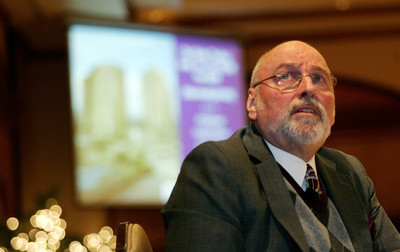 The worst year on record for the Las Vegas housing market is over, and the question now is whether it can sink any deeper in 2009.
It's a possibility that many experts suggest is highly likely.
Larry Murphy, president of Las Vegas-based SalesTraq research firm, doubts that new home prices will drop much more than December's median of $243,254.
Home builders aren't going to sell a home for less than it costs to build, he said Thursday at his quarterly Crystal Ball presentation.
Median existing home prices dropped 36.6 percent in December to $157,250, bringing affordability back to the local housing market, Murphy said. He doesn't believe they'll drop another 29 percent, as one chief economist predicted at the International Building Show in Las Vegas.
"I don't think anybody could have predicted that we'd see a 33 percent drop in prices in 2008. I'll confess I did not see that coming; nor did a lot of other people," Murphy said. "I don't claim to be an expert on Las Vegas housing. I'm a student of the market, and it's taught me a lot."
Murphy polled the audience of about 250 people as to whether they thought the market would worsen, stay the same or get better in 2009. The hand count was pretty much split between getting worse and staying the same, while only one person thought it would get better.
The local housing analyst counted 9,741 new home sales in 2008, a 49.1 percent decline from the previous year. New home building permits declined 53.2 percent to 5,550. Both of those numbers are the lowest since Murphy started tracking the market in 1990.
He estimated that new-home construction would climb back above 10,000 this year and go to 15,000 in 2010 and 20,000 in 2011.
Existing home closings increased 37.5 percent to 31,727, largely because of foreclosures, which account for about two-thirds of all sales, Murphy said.
Foreclosures will bottom out when banks start selling more homes than they're taking back each month, he said.
Lenders hold about 15,000 real estate-owned properties and are disposing of about 2,000 a month. That's a 7.5-month supply if no more homes went into foreclosure, but another 75 homes are foreclosed upon every day, Murphy said.
The top builder in 2008 was KB Home with 1,134 closings, followed by Del Webb (778), Richmond American (772) DR Horton (754) and Pulte (684), Murphy reported. The top-selling master-planned communities were Mountain's Edge (1,021 closings), Providence (666), Summerlin (410), Anthem Mesquite (345) and Rhodes Ranch (313).
Real estate consultant Steve Bottfeld of Marketing Solutions brought a positive perspective to the presentation, predicting that the housing market will bottom out in the first quarter of the year.
Homes are undervalued based on market fundamentals, he said.
Some of the "signposts" to watch are the stock market, foreclosure numbers, interest rates, oil prices, stability in the financial markets and employment growth, he said.
Clark County's unemployment rate is projected to reach 10 percent this year, but that's the wrong statistic to watch, Bottfeld said.
He looks instead at year-over-year total employment, which is expected to grow incrementally this year with 12,000 new jobs at CityCenter and 7,200 jobs from "shovel-ready" construction projects awaiting funding from President Barack Obama's economic stimulus package.
Bottfield said, "2009 is a transition year. That's exactly what it's going to be, from fear to confidence, not totally confident, but we're going to be a lot more confident than at the beginning of the year. Confidence is the difference between a good economy and a bad economy."
The United States is in the worst financial and economic crisis since the 1930s, real estate consultant John Burns of California said.
Home prices are falling rapidly across the nation, which has resulted in more than $2 trillion in losses in the last two years.
Congress, in conjunction with the Federal Reserve and U.S. Treasury Department, needs to do four things to stabilize home prices, Burns said.
First, stabilize the banking system: Save local businesses by saving local employers' banks, he said.
Second, stimulate job growth: Bring more jobs to the economy with short-term stimulus and smart government spending, he said.
Third, promote responsible home buying: Stop home price declines by stimulating home buying by responsible individuals to bring demand and supply back into balance, he said.
And fourth, support loan modifications: Stop home price declines by helping keep responsible people in their homes, he said.
"Some of our recommendations have already been accomplished, but many of them have not," Burns said.
The resale median price in Las Vegas peaked at $283,000 in 2006 and has come down dramatically since then, Murphy of SalesTraq said.
Homes under $200,000, generally considered entry-level homes, made up 83 percent of the market in 2003, he said.
That was diminished by one-third in 2004 and again by one-third in 2005.
"We were anticipating the demise of the $200,000 home, that it would become extinct," Murphy said.
"We buried the $100,000 home two years ago. Wayne Laska of Storybook Homes now has a new 1,200-square-foot home for $89,900 in northeast Las Vegas. We suddenly have affordability again in Las Vegas and that's a good thing."
Contact reporter Hubble Smith at hsmith@reviewjournal.com or 702-383-0491.