Three builders have bought land near a former Las Vegas Valley pig farm and plan to construct hundreds of houses.
Century Communities, Pulte Homes and Beazer Homes acquired about 60 acres combined on Ann Road between Commerce and Fifth streets, according to Century's Nevada division president, Robb Beville.
They paid almost $12.9 million total for the vacant North Las Vegas land, just west of where R.C. Farms used to operate, property records show. The sales closed Nov. 15.
Bob Combs, who fed casino leftovers to squealing pigs for years, sold his farm site and almost 120 acres of adjacent, vacant land last year to investors who wanted to bring residential and commercial projects.
The homebuilders were the first to buy land there from the new owners.
Beville said the builders picked up around 20 acres each and plan to construct about 360 single-family houses combined. He expects the trio to start grading land in March and to open for sales in the fourth quarter next year.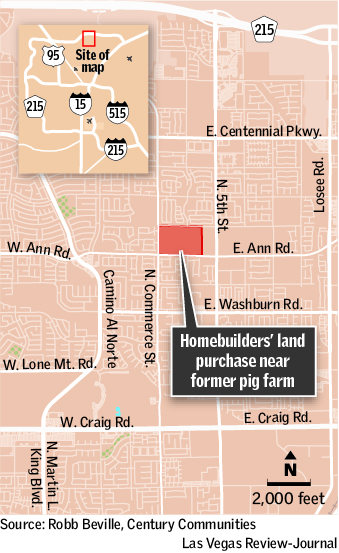 North Las Vegas is "kind of a gem right now" and allows for "great pricing," Beville said. Land there can sell for much less than in the faster-growing southwest valley, for example, allowing builders to sell homes at more affordable prices in North Las Vegas.
He also said that he's not worried about trying to lure buyers to a site that's right near a former pig farm, a business that predated nearby housing tracts but whose pungent fumes bothered neighbors.
Beville noted the farm is no longer operating there, and its cleanup, when finished, will make the site "pristine."
Pulte's portion of the community will include roughly 120 houses, said Jason Demuth, marketing director for parent PulteGroup's Las Vegas division.
Beazer's regional marketing manager in Las Vegas did not respond to requests for comment.
From pigs to houses
Combs sold his property in November 2016 to developer Guy Inzalaco, a partner with Las Vegas-based Olympia Cos. He drew up plans for 710 single-family homes, 384 multifamily units and 22 acres of commercial development, North Las Vegas city records show.
The project is called Sedona Ranch.
Inzalaco's group sold the 60 acres to the homebuilders this month.
Ladera Ventures founder James Pickett, a Reno developer who partnered with Inzalaco on last year's purchase, said on Monday that the ownership is talking to homebuilders and commercial developers about the remaining land, but no buyers are under contract.
The landowners held a neighborhood meeting in March and another in April about Sedona Ranch. As part of their presentations, they told attendees that they planned to remove waste from the site over the next 12 to 18 months, city records show.
Combs launched his food-scrap recycling business in the 1960s, starting with four casinos and Nellis Air Force Base as clients.
His farm, 10 miles north of the Strip, had about 5,000 pigs at its peak, his son Clinton Combs said last year.
Contact Eli Segall at esegall@reviewjournal.com or 702-383-0342. Follow @eli_segall on Twitter.
Where the Combs are now
The Combs family is still in the business of feeding casino leftovers to pigs.
Combs brothers Clinton and James opened a food-scrap recycling operation called Las Vegas Livestock at the Apex landfill in June.
"I grew up in recycling living on R.C. Farms. That's all we did was recycle. It's just in our blood, it's a way of life and we have this opportunity to grow it and modernize it a bit," James Combs said.
Clinton Combs described the opening of Las Vegas Livestock as "a passing of the torch" after their dad sold R.C. Farms. "And there's a real need for this service, so we decided to start our own and carry on the legacy."
The operation currently has about 300 hens and just under 3,000 pigs—though they are permitted for up to 25,000 pigs.
— Nicole Raz Las Vegas Review-Journal
36.263982, -115.138684