L.A. investors pay $80 million for Las Vegas rental properties
September 16, 2016 - 8:54 pm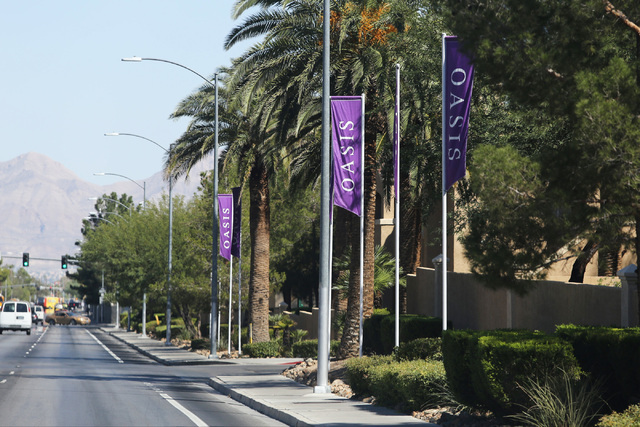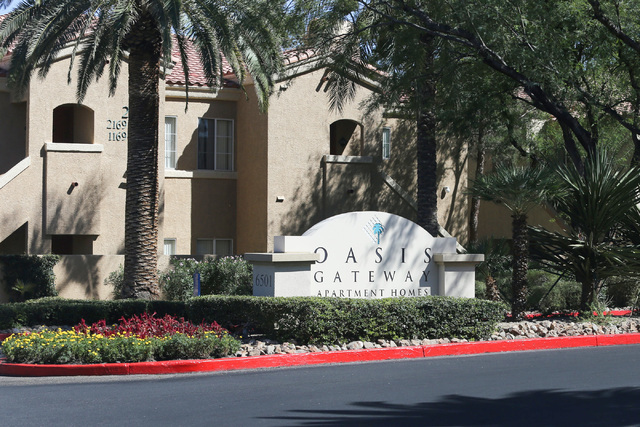 With the apartment market showing no signs of cooling, a Los Angeles investment firm has picked up more rental properties in Las Vegas for more than $80 million.
TruAmerica Multifamily this month acquired three apartment complexes, comprising 802 units: Oasis Gateway, 6501 Vegas Drive; Oasis Palms, 2500 N. Rainbow Blvd.; and Oasis Vinings, 6100 Carmen Blvd.
The $83.5 million purchase closed Sept. 1, Clark County records show.
TruAmerica said it partnered on the deal with MSD Capital, a firm that was launched to manage billionaire computer mogul Michael Dell's money.
The purchase comes amid increased apartment construction, rising rents, decreased vacancy rates and higher investment prices in the Las Vegas Valley. Amid a national apartment boom, the local market has surged in recent years because of soured personal finances and changing tastes. Many people could not afford or qualify to buy a home after the recession, pushing them into rentals, and many people, especially younger adults, simply prefer to rent.
TruAmerica itself was founded in 2013 and says it's one of the "most active multifamily investors" in the country. The company reports it manages a $6.3 billion portfolio of about 30,000 units, up from a $3.6 billion portfolio of 18,000-plus units last year.
In Southern Nevada, apartment landlords charged an average $918 per month in the first quarter, up from $889 a year earlier, and the market's vacancy rate was 4.2 percent, down from 5.1 percent. Moreover, investors are paying an average $110,000 per unit this year, up from about $71,840 last year, according to brokerage firm Colliers International.
Despite the ramped-up activity, Greg Campbell, senior managing director of TruAmerica, said Las Vegas still has room to grow for rental rates. Rents in coastal markets such as Seattle or San Francisco have surpassed previous peaks, he said, but not in Las Vegas, one of the hardest-hit areas of the country during the recession.
That also means it's cheaper for landlords to buy properties here.
TruAmerica and MSD's purchase amounts to about $104,115 per unit. According to Campbell, similar properties in similar neighborhoods in, say Seattle, would cost $200,000 per unit.
Developers are packing the valley with new apartment complexes, especially in southwest Las Vegas and Henderson, and many offer several amenities and charge above-average rents. Campbell said there are concerns that investors, locally and nationally, are building too many of these "Class A" projects. But his company buys mostly Class B properties, he said, and "nobody's building Class B."
Such properties are older and command lower rents than a typical Class A project. Campbell said all five of TruAmerica's properties in the Las Vegas Valley are at least 20 to 25 years old. But such apartments can have a wider pool of potential tenants because the rents are cheaper, he said, and his company might not be done acquiring properties here.
"We continue to be a buyer in Vegas," he said.
Campbell confirmed that TruAmerica bought the complexes this month from the Wolff Co. of Scottsdale, Arizona, which acquired them as part of a bulk deal in 2013.
Wolff still owns apartment complexes in the valley, property records indicate, and it's building Fremont9, a five-story, 231-unit rental property downtown at Fremont and Ninth streets, next to Atomic Liquors.
The company partnered on the development with Zappos CEO Tony Hsieh's Downtown Project.
Efforts to get comment from Wolff on the TruAmerica sale were unsuccessful.
Contact Review-Journal writer Eli Segall at 702-383-0342. Follow @eli_segall on Twitter.