Las Vegas builders slash home prices as buyers pull back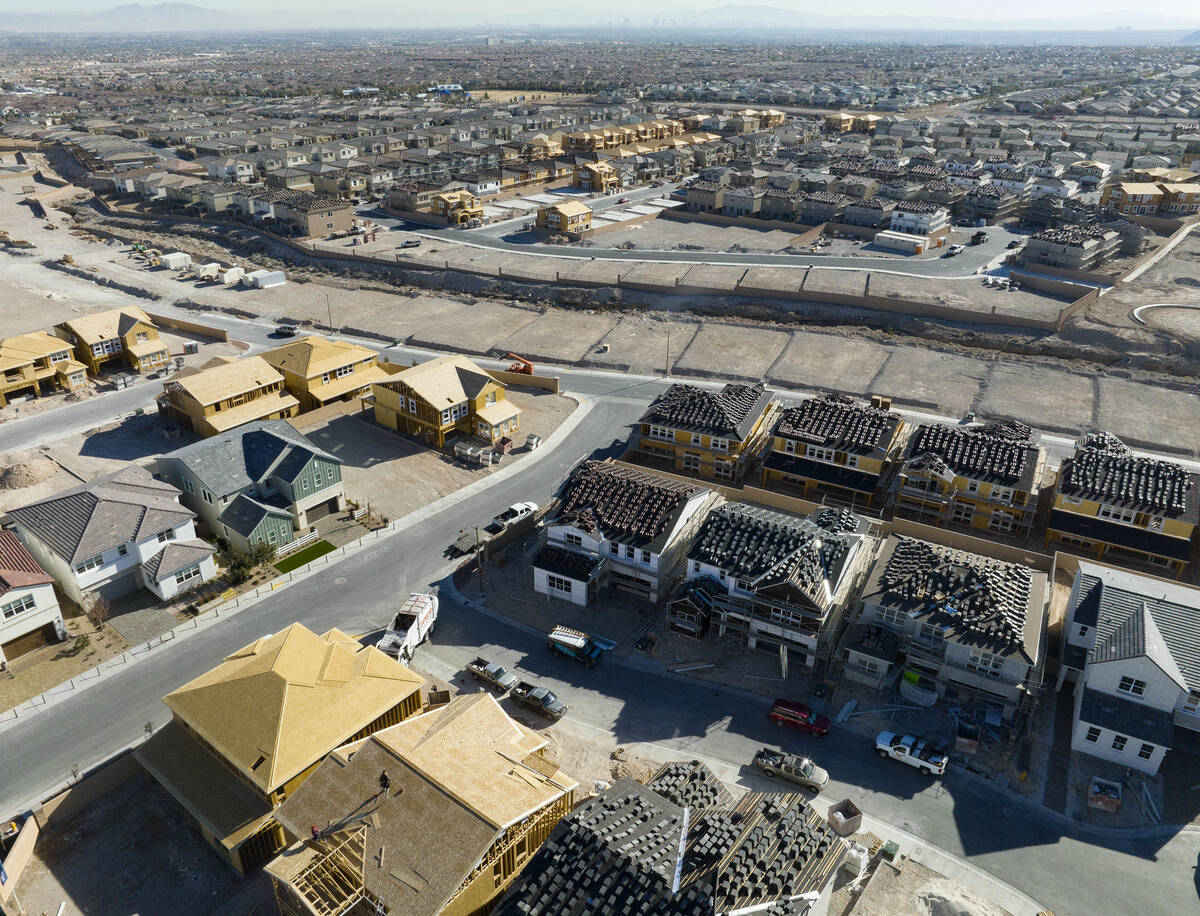 With builders slashing prices and buyers pulling back, Las Vegas' home construction market kept hitting the brakes in November.
Builders logged 313 net sales — newly signed purchase contracts minus cancellations — in Southern Nevada in November, down 59 percent from the same month a year earlier, Las Vegas-based Home Builders Research reported.
Builders' sales cancellation rate increased for the fourth consecutive month in November to 40 percent, up from just 12 percent in November of 2021, wrote the firm's president, Andrew Smith.
According to Smith, builders' land acquisition personnel "have been pared down to the bare minimum in many cases," and as base home prices continue to slide, more sales are shifting from the $500,000-plus range to the $400,000-range.
"Prices are an understandably hot issue in the market today, as they have been since the grip of the pandemic," Smith wrote. "Over the past few months though, the conversation has changed from how high prices have gone to how far and how quickly they are falling."
More incentives as market slows
After a cheap-money-fueled buying binge in 2021, Las Vegas' housing market pumped the brakes last year. A sharp jump in mortgage rates sparked big drops in home sales, widespread price cuts and huge increases in available inventory.
Amid the slowdown, builders have offered more incentives to buyers and higher commissions to agents who bring them in, real estate sources have said.
Last month, builders' average base asking price in Southern Nevada was $581,531, down 4 percent, or almost $27,000, from May, Smith reported.
Leading the pack was Taylor Morrison Home Corp., whose average base price of $527,382 last month was down 21 percent, or more than $136,000, from May, according to Smith.
Nationally, the pace of builders' home sales in November rose 5.8 percent from October but was still down 15.3 percent from November 2021, federal data shows.
Mortgage rates ticked lower in the second half of November, helping builders land a bump in sales, according to the National Association of Home Builders.
But the market "continues to struggle because of ongoing supply chain disruptions, elevated construction costs and challenging affordability conditions," the association said.
In the doldrums
Mortgage rates have dropped from levels seen this past fall but are still well above what buyers paid in 2021. As of last week, the average rate on a 30-year home loan was 6.42 percent, up from 3.11 percent a year earlier, mortgage buyer Freddie Mac reported.
Freddie Mac Chief Economist Sam Khater said in a release that the housing market "remains in the doldrums," and even though the "intensity of weakness is moderating," it appears housing "will remain weak throughout the winter.
Taylor Marr, deputy chief economist with brokerage firm Redfin, predicted that U.S. resales will tumble by about 16 percent in 2023, and the median sales price for a home will slide by roughly 4 percent.
Last month, he told the Review-Journal that 2022 marked one of the biggest "U-turns" for the housing market and noted that mortgage rates climbed at the fastest pace ever.
"It caused the party to end," he said.
Contact Eli Segall at esegall@reviewjournal.com or 702-383-0342. Follow @eli_segall on Twitter.