Las Vegas home prices lose all of 2022's gains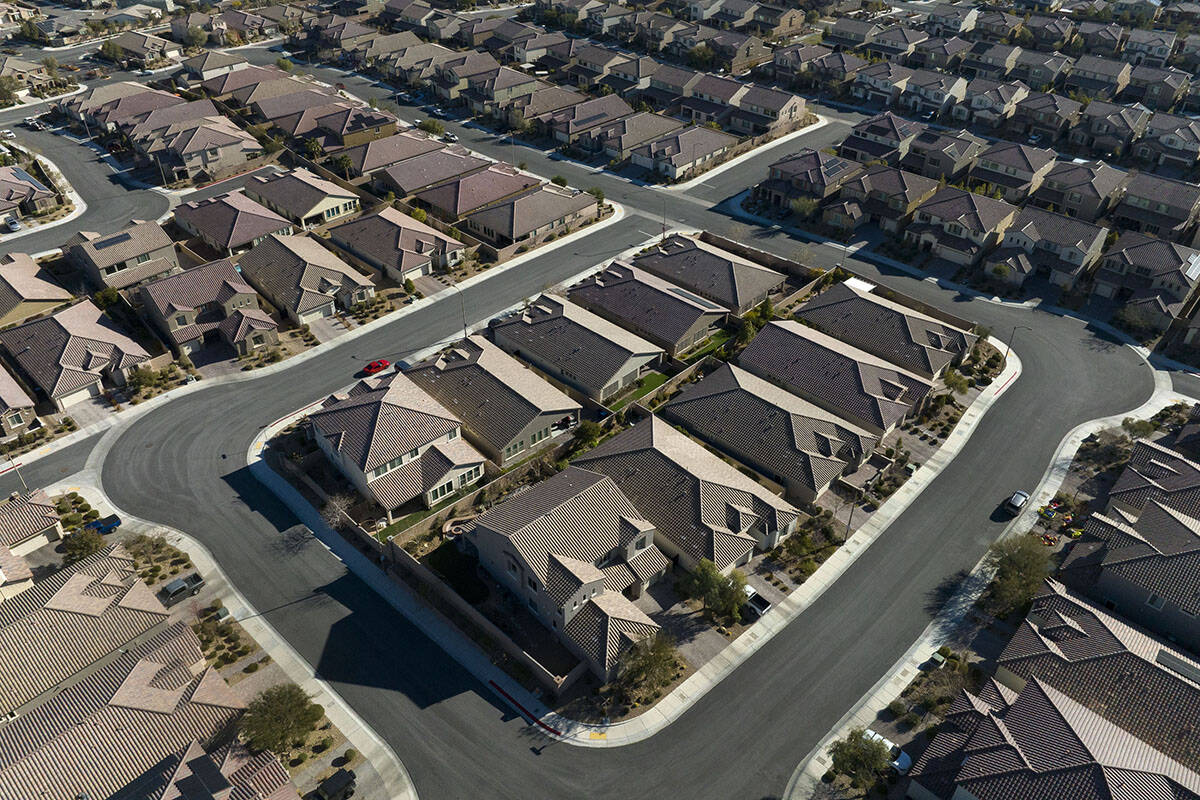 Las Vegas' tumbling house prices have shed all of last year's gains, a new report shows, in another sign of the market's dramatic slowdown.
The median sales price of previously owned single-family homes — the bulk of the market — was $425,000 last month, down 1.4 percent from November and the same amount buyers paid in December 2021, according to trade association Las Vegas Realtors.
Prices have slid amid a monthslong pullback from buyers. A total of 1,534 houses traded hands last month, up 0.9 percent from November but down 51.7 percent from December 2021, the association reported.
Also, 6,211 houses were on the market without offers by year's end, down 15.4 percent from November but up a staggering 175.9 percent year over year, according to LVR, which reports data from its listing service.
After a cheap-money-fueled buying binge in 2021, Las Vegas' housing market hit the brakes hard last year. A sharp jump in mortgage rates sparked big drops in home sales, widespread price cuts and huge increases in available inventory.
Housing markets across the United States also slowed. But Las Vegas, which has a track record of speeding up then pumping the brakes, retreated faster than the nation overall in some key ways, including the share of sellers who slashed their prices and the speed that sales volume fell.
'Easier for buyers'
Overall, Southern Nevada's median house price has now fallen by $57,000 from a record-high of $482,000 last May.
Las Vegas Realtors President Lee Barrett said in a news release that the market is cyclical, and "the sky is not falling."
He said with prices "leveling off" and more homes available for sale, Las Vegas is seeing "a more balanced market that makes things easier for buyers."
"It's also a supply issue," he added. "We have more listings and fewer buyers."
Sam Khater, chief economist at mortgage buyer Freddie Mac, said in a news release Thursday that mortgage application activity sunk to a quarter-century low this week, as high rates "continue to weaken the housing market."
The average rate on a 30-year home loan was 6.48 percent as of Thursday, up from 3.22 percent a year earlier, Freddie Mac reported.
Builders drop prices
Southern Nevada's homebuilding sector has also slowed, amid the jump in borrowing costs.
Builders logged 313 net sales — newly signed purchase contracts minus cancellations — in November, down 59 percent from the same month a year earlier, according to a report from Las Vegas-based Home Builders Research.
Builders' sales cancellation rate increased for the fourth consecutive month in November to 40 percent, up from just 12 percent in November of 2021, wrote the firm's president, Andrew Smith.
As base home prices continue to slide, more sales are shifting from the $500,000-plus range to the $400,000-range, he noted.
"Prices are an understandably hot issue in the market today, as they have been since the grip of the pandemic," Smith wrote. "Over the past few months though, the conversation has changed from how high prices have gone to how far and how quickly they are falling."
Contact Eli Segall at esegall@reviewjournal.com or 702-383-0342. Follow @eli_segall on Twitter.