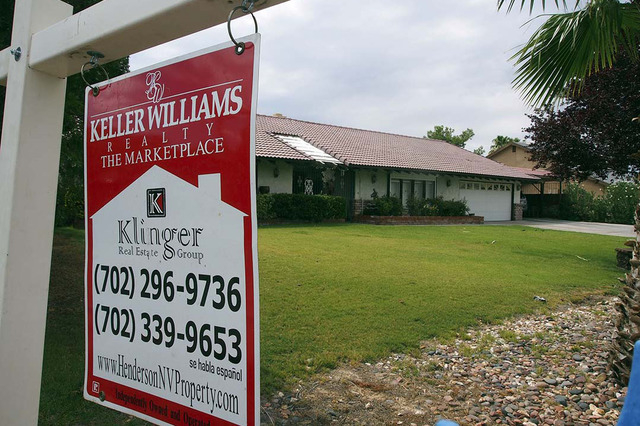 Sales ticked down as prices rose in Southern Nevada's resale-home market in May.
Among existing local single-family homes, condominiums and town houses, 3,363 units sold in May through the Multiple Listing Service of the Greater Las Vegas Association of Realtors, the trade group reported Monday. That tally was down 2.5 percent from 3,450 closings in May 2014.
The median price of a single-family home was $211,250, up 8.3 percent from $195,000 a year earlier. Condos and town houses sold for a median of $112,000, up 9.8 percent from $102,000.
"Overall, home prices have been stable this year, and demand is steady in our housing market," association President Keith Lynam said.
Nevertheless, Lynam said the trade group reported about half of the inventory — about three months' worth — it would like to see in a normal market.
The association's report also found that most local homes listed for sale are overpriced. When homes are "presentable and priced properly," sellers typically get offers within 30 days, Lynam said.
The number of single-family homes on the market without offers increased 7.8 percent year over year, to 7,133 units.
The median list price of units without offers was $279,900, up 12 percent from a year ago and about a third more than the median closing price.
Distressed sales continued to retreat in May. Short sales, in which the bank lets the borrower sell a home for less than the mortgage owed, made up 7.3 percent of local closings, down from 7.9 percent a year ago.
Eight percent of sales were bank-owned, compared with 9.1 percent in May 2014.
Contact Jennifer Robison at jrobison@reviewjournal.com. Follow @J_Robison1 on Twitter.