Las Vegas home sales jump as prices stay flat
Updated April 6, 2023 - 7:10 pm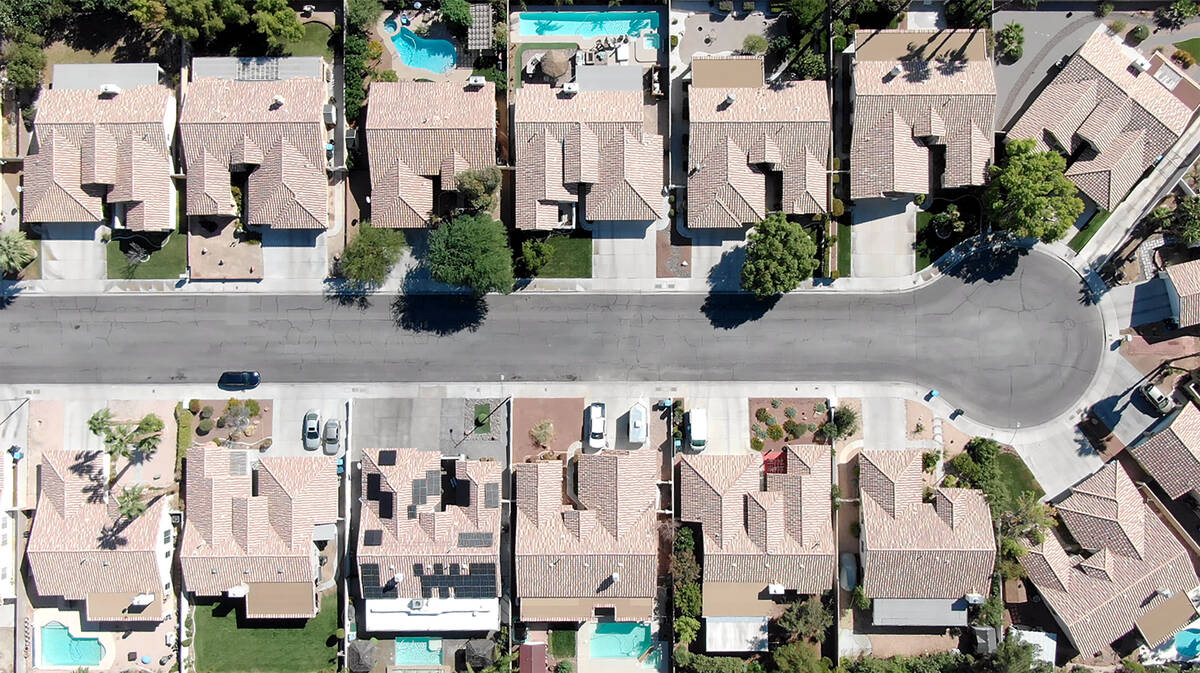 Southern Nevada home sales jumped again last month as prices stayed flat, a new report shows, with buyer activity overall still well below year-ago levels.
The median sales price of previously owned single-family homes — the bulk of the market — was $425,000 in March, virtually unchanged from February but down 7.6 percent from March of last year, according to trade association Las Vegas Realtors.
A total of 2,361 single-family houses traded hands last month, up 37.1 percent from February but down 27.8 percent from March 2022.
Available inventory shrank last month amid the jump in sales, though it was still more than double what it was a year ago.
A total of 4,196 houses were on the market without offers at the end of last month, down 10.1 percent from February but up 109.3 percent year over year, according to the association, which reports data from its listing service.
Las Vegas Realtors President Lee Barrett said in a news release that home prices haven't changed since December, following a monthslong slide.
"This may be a sign that we're near the bottom of this cycle," he said.
After a cheap-money-fueled buying binge in 2021 that sent prices soaring, Southern Nevada's housing market hit the brakes hard last year amid a sharp jump in mortgage rates.
Buyers pulled back, sellers slashed their prices and available inventory soared.
The market started 2023 on a slow note, and though mortgage rates have been volatile lately, buyers have been returning.
On the resale side, last month's sales increase followed a 30 percent month-to-month jump in February.
On the construction side, builders logged 874 net home sales — newly signed purchase contracts minus cancellations — in Southern Nevada in February, up 32 percent month to month, according to Las Vegas-based Home Builders Research.
However, sales were still down 23 percent from February 2022, the firm noted.
Builders' "consistent" price drops during the second half of last year "have mostly stopped, and many builders are beginning to slowly increase them once again," Home Builders Research President Andrew Smith wrote in a report last month.
He noted that builders' sales incentives and a now-sliding inventory on the resale market have helped draw buyers to new subdivisions.
But people who want a newly built house have fewer places to shop than they did last year.
The tally of actively selling, new communities in Southern Nevada "has been steadily declining since the middle of 2022," wrote Smith, who pointed to the "lack of land buying activity over the past quarter or more" in the Las Vegas area.
In another sign of Las Vegas' changed market, homes aren't selling nearly as fast as they used to.
Among the previously owned houses that changed hands last month, 49.6 percent had been on the market for 30 days or less, compared with 82.8 percent in March 2022, Las Vegas Realtors reported.
Contact Eli Segall at esegall@reviewjournal.com or 702-383-0342. Follow @eli_segall on Twitter.