Las Vegas home sales slip in September as prices stay stable
October 19, 2010 - 11:00 pm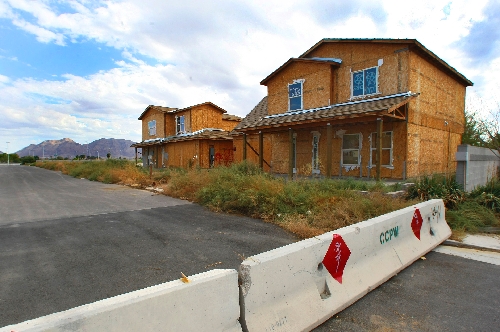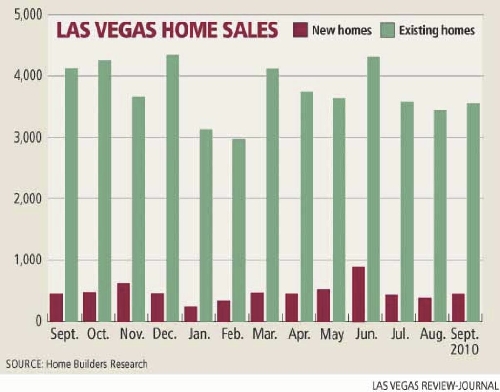 The post-tax credit slump kept Las Vegas home sales down in September, though median prices remained relatively flat from a year ago, Home Builders Research reported Tuesday.
The Las Vegas-based research firm sorted through 438 new-home closings during the month, compared with 452 in September 2009. The median new-home price rose 2.2 percent to $212,870.
Existing-home sales fell to 3,540 in September, a 14.1 percent decline from 4,121 a year ago, while the median price dipped 1.8 percent to $123,000.
Under normal market conditions, the gap between new and existing median home prices should be $20,000 to $30,000, Home Builders Research president Dennis Smith said.
The gap began to grow in early 2009 as resale prices plummeted and is now close to $90,000.
"We don't expect the resale-new home pricing gap to improve much until the foreclosure mess is in our rear view mirror," Smith said. "Just when we start to believe the foreclosure mess is running its course and the system is slowly correcting itself, another shoe drops that results in more consumer doubt."
Major lenders such as Bank of America, GMAC and JPMorgan Chase recently delayed foreclosure proceedings in 23 states, not including Nevada, after reports that some loan documents were not properly verified or notarized.
Bank of America had announced it would stop foreclosures in all 50 states, but said it will resume the process.
"I think it's disgusting that lenders and loan servicers got caught doing things they shouldn't be doing, taking shortcuts and not doing it the right way," Smith said. "Are people surprised? I don't think so."
Las Vegas needs to move through foreclosures and "flush the system," and hopefully the snag in foreclosure paperwork won't prevent that from happening, the housing analyst said.
Las Vegas-based SalesTraq showed 448 new-home closings and 4,300 existing-home closings in September, down 3.4 percent and 15 percent, respectively, from a year ago.
The median new-home price rose 1.2 percent to $213,418 and the median existing-home price decreased 1.7 percent to $118,000, SalesTraq reported.
"It's going on 18 months now with prices between $120,000 and $125,000," SalesTraq President Larry Murphy said. "I think the story is prices remain stable. I would say it's been virtually flat."
Among key statistics were 1,595 real estate-owned, or bank-owned, home sales at $117,000 median price; 1,227 nondistressed sales at $124,000; 971 short sales, or sales approved by the lender for less than the principal mortgage balance, at $124,900; and 507 auction sales at $97,500.
Las Vegas had about 25,000 foreclosures a year in 2008 and 2009 and is on pace for the same number this year, Murphy said.
"It's ugly, it's painful and it's slow, but we've been working our way through this. Why stop now with a moratorium? That will simply extend the recovery time," he said.
Realtor Tim Kelly Kiernan of ReMax Pros said he's concerned about the next three months. Each bank or servicer seems to have its own way of releasing foreclosures.
"It is typically slower towards the holidays, but what I have seen already is some short-sale listings ask the question, 'Should I continue with the short sale or not? Since the banks are not foreclosing any time soon, why don't I just sit tight and do nothing?' These are some of the questions we are getting from clients in the last few days," Kiernan said.
New-home building permits fell to 343 in September, down 20 percent from the same month a year ago, SalesTraq reported. Overall, the permit count stands at 3,458 through September, compared with 3,776 for all of 2009.
Murphy noted that 55 percent of homes on the Multiple Listing Service are vacant and 11 percent have tenants, leaving roughly one-third as owner-occupied. Also, 44 percent of all closings were cash transactions and 52 percent of REO sales were cash.
Contact reporter Hubble Smith at
hsmith@reviewjournal.com
or 702-383-0491.