Las Vegas median home prices 'slowing down' this summer
After a stretch of roaring price hikes, Las Vegas' housing market seems to be tapping the brakes.
Price growth is cooling down, sales have slowed, and the industry's biggest trade group in town is dialing back expectations that prices will reach their pre-recession peak this year.
By all indications, Las Vegas is still a seller's market and not undergoing a wrenching change, and prices continue to rise faster than the national average. But collectively, the shifts could give buyers some relief.
Southern Nevada home prices have been rising at one of the fastest clips in the country this year amid low availability and strong demand. Things have been so heated that Fitch Ratings in June deemed Las Vegas the most overvalued market in the nation.
Prices have been "a little out of control," and sellers "could basically ask what they want" and get their desired price or more, but this "seems to be" changing a bit, said Brandon Roberts, co-founder of Signature Real Estate Group.
The median sales price of previously owned single-family homes in July was $290,000, up 11.5 percent from a year earlier, the Greater Las Vegas Association of Realtors reported. By comparison, the median house price was up 12.7 percent year-over-year in June and 18 percent in May.
Roberts said he suspects rising prices and higher borrowing costs were behind the pullback.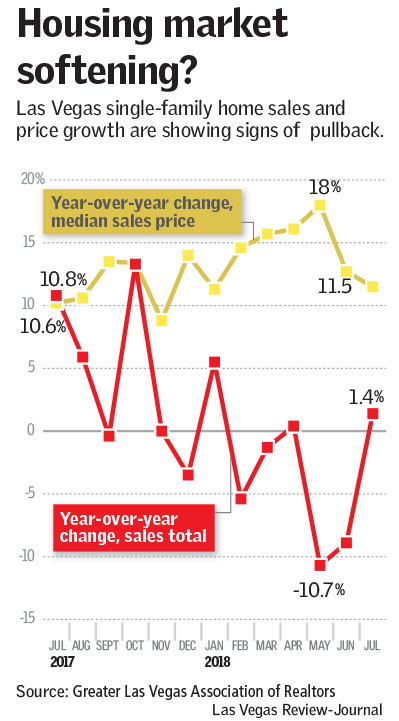 The average rate in the U.S. on a 30-year mortgage last month was 4.53 percent, up from 3.97 percent in July 2017, according to mortgage-finance company Freddie Mac.
First Serve Realty co-owner Bryan Kyle said he has been marketing a handful of properties "that didn't fly off the shelf as quickly as I thought they would," and it "feels like homes are staying on the market just a little bit longer" around Las Vegas.
Scott Beaudry, owner of Better Homes and Gardens Real Estate Universal, said homeowners and renters are watching prices climb and are "not in a major rush" to purchase a house.
Those looking to buy aren't giving up, he said, but it's taking them "a little bit longer" to find something amid the low availability.
Homes can still sell fast: Nearly 75 percent of houses that traded hands last month had been on the market for 30 days or less, according to the GLVAR.
And prices are still climbing faster than the U.S. average. Nationwide, single-family houses sold for a median of $279,300 in June, up 5.2 percent from a year earlier, according to the National Association of Realtors.
But locally, prices have been "slowing down this summer," sales totals have been "leveling off," and at the current pace, there will be fewer sales this year than in 2017, GLVAR President Chris Bishop, a branch manager at Coldwell Banker Premier Realty, said in a news release this week.
The GLVAR also tempered expectations that house prices will reach their bubble-era peak anytime soon, as Bishop said that "it may be some time" before prices reach that level again.
Las Vegas' median house price peaked at $315,000 in mid-2006 and bottomed out at $118,000 in early 2012, after the market crashed.
Just two months ago, Bishop said "it's possible" prices could reach their prior peak "sometime later this year."
Whether a cause or a result of the market's softening, there are also signs that Las Vegas' inventory shortage is easing.
Around 4,800 houses were on the market without offers at the end of July, up 10.4 percent from June, the GLVAR reported. It was also down 4.2 percent from a year earlier, but as recently as January, inventory had shrunk by 36.5 percent.
Las Vegas' housing market is prone to swings and changes, but Kyle, of First Serve Realty, expects any current shifts to be slow and gradual.
"Nothing that's going to freak anybody out," he said. "I hope not."
Contact Eli Segall at esegall@reviewjournal.com or 702-383-0342. Follow @eli_segall on Twitter.