LV home sales soar in November
December 10, 2008 - 10:00 pm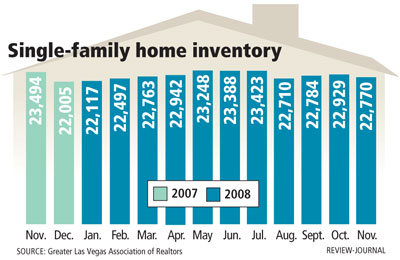 The bottom of the Las Vegas housing market appears to be taking shape late in the year.
Home sales have improved and inventory has been reduced. Prices continue to fall, but the rate of decline has dropped under 3 percent for the last two months.
The Greater Las Vegas Association of Realtors reported 2,183 single-family home sales in November, more than double the 968 home sales in the same month a year ago.
The number of homes available for sale declined 3.1 percent to 22,770 in November from a year ago and the median home price fell 32 percent to $186,000. The price is down just 2.1 percent from October.
It's the third straight month that home sales have doubled from a year ago. That trend is expected to slow during the Christmas holidays, said Patty Kelley, president of the Realtors association.
Statistics generally show home sales peaking in the summer and slowing in the winter, she said.
Foreclosures are still having a significant effect on the local housing market, Kelley said. They're adding to the inventory and driving down home prices, which is making Las Vegas more affordable for qualified buyers.
Realtor David Lampe of Coldwell Banker Wardley said he put a two-bedroom, 1,127-square-foot home in Henderson in escrow Monday for $120,000. It's a short sale, or a sale for less than the balance owed on the mortgage, and must be approved by the bank.
"Everything that's moving is REOs (real estate-owned) and short sales. That's 80 percent of it," Lampe said.
"It's not hard to get them in escrow, but realize typically when you send in a letter of hardship with the offer, it takes three or four weeks to get assigned, then four to six weeks to get processed and another four to six weeks to OK it. The short sale is about a three- to four-month deal and buyers need to be aware of that," Lampe also said.
Loan servicers are finding solutions to those problems, bringing in companies to outsource short sales, said Travis Hamel Olsen, president of Scottsdale, Ariz.-based National Short Sales Center. He's currently processing 2,000 short sale loans, primarily in Nevada, Arizona, California and Florida.
"Do your research and make sure you walk into a property with equity already in it," he said. "REOs and short sales are the best deals in the marketplace."
The nation's foreclosure hemorrhage has finally slowed. Foreclosures.com reported a slight drop in November foreclosures to 84,291 compared with 84,534 in the previous month. Clark County had 2,974 foreclosures, up from 2,653 in October. However, preforeclosure filings dropped to 5,830 from 6,429.
Foreclosures.com President Alexis McGee said foreclosures should decline significantly next year as buyers return, pushing home prices up and fueling a real estate recovery.
"Recovery is under way. Affordable is back in the housing market," McGee said. "In 2009, housing will not only recover, but we'll see buyers leap into this market in droves, depleting our housing oversupply, and actually put higher price pressures on the market."
Las Vegas Realtors sold 392 condos and townhomes in November at a median price of $90,750, down nearly 50 percent from a year ago.
Greater Las Vegas Association of Realtors statistics are based on data collected through the Multiple Listing Service, which does not account for new homes sold by builders, sales by owners and other transactions not involving a Realtor.
Contact reporter Hubble Smith at hsmith@reviewjournal.com or 702-383-0491.
PENDING SALES RISE IN LAS VEGAS
WASHINGTON — Pending U.S. home sales gained slightly in Las Vegas but fell slightly nationwide in October, the National Association of Realtors reported Tuesday.
The group's seasonally adjusted index of pending sales for existing homes fell 0.7 percent from September to a reading of 88.9, beating economists' average estimate of 86.5, according to a survey by Thomson Reuters.
The Realtors association noted that pending home sales are showing gains in some areas, including in Las Vegas, Florida and California markets; Providence, R.I.; Lansing, Mich.; and Oklahoma City.
REVIEW-JOURNAL