Massive hole in ground in southwest Las Vegas slated for apartments
December 1, 2017 - 12:26 pm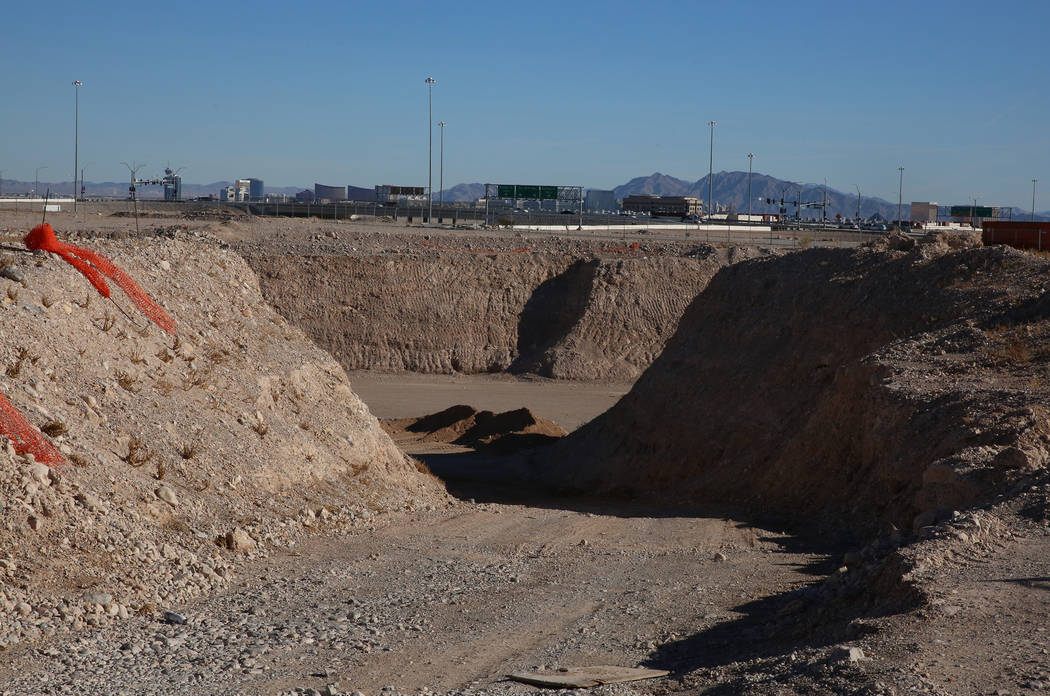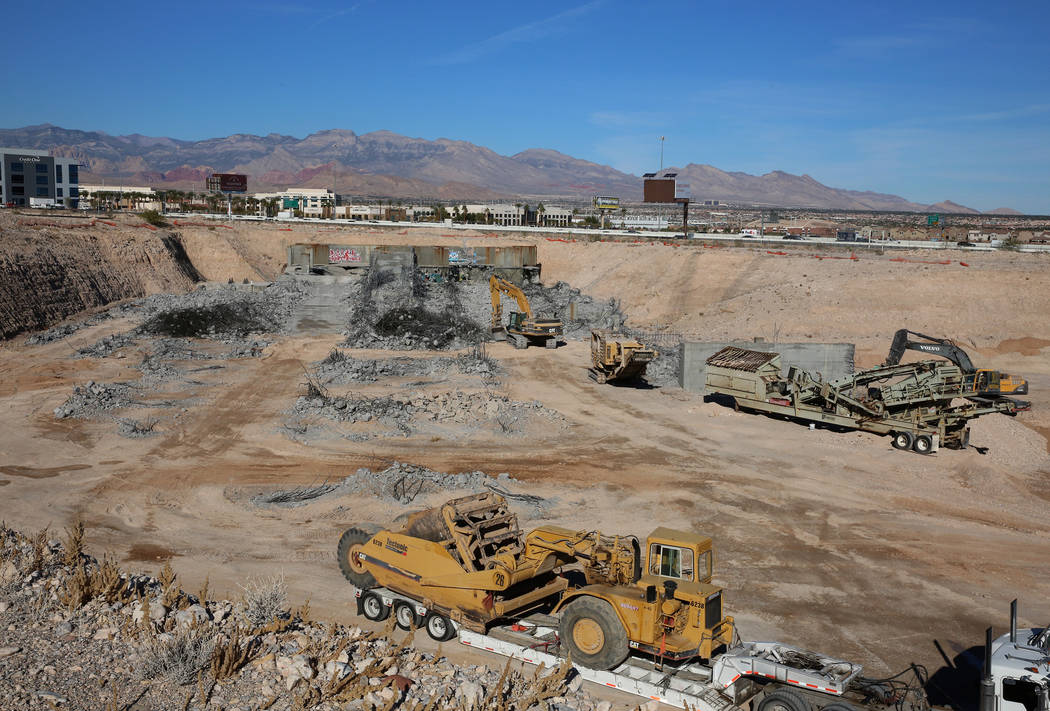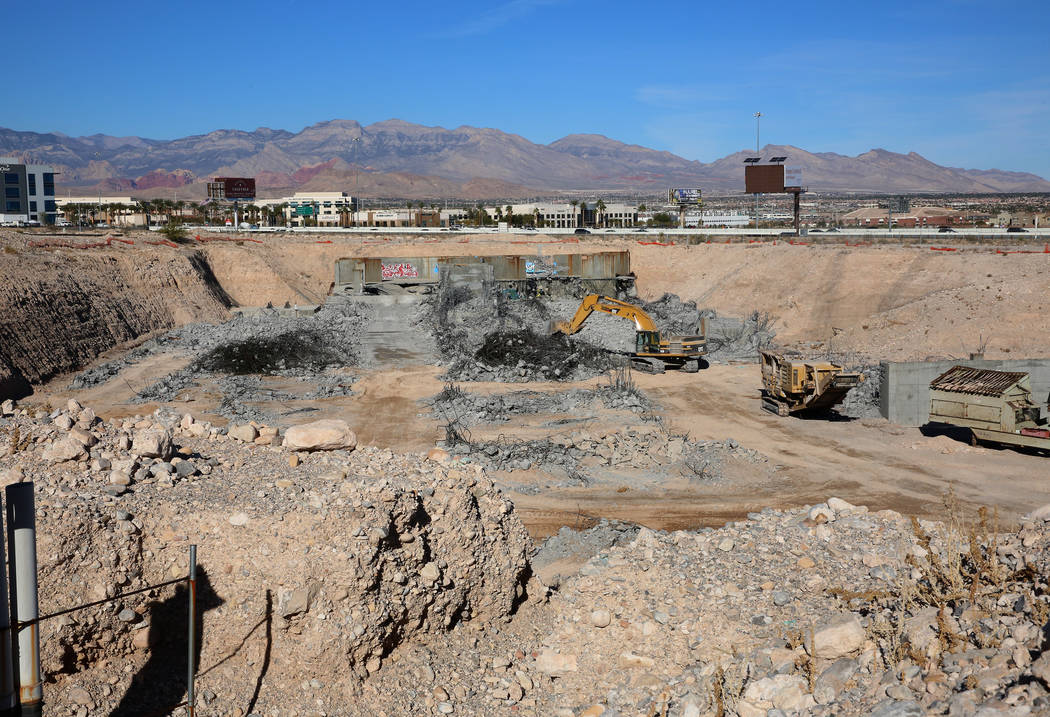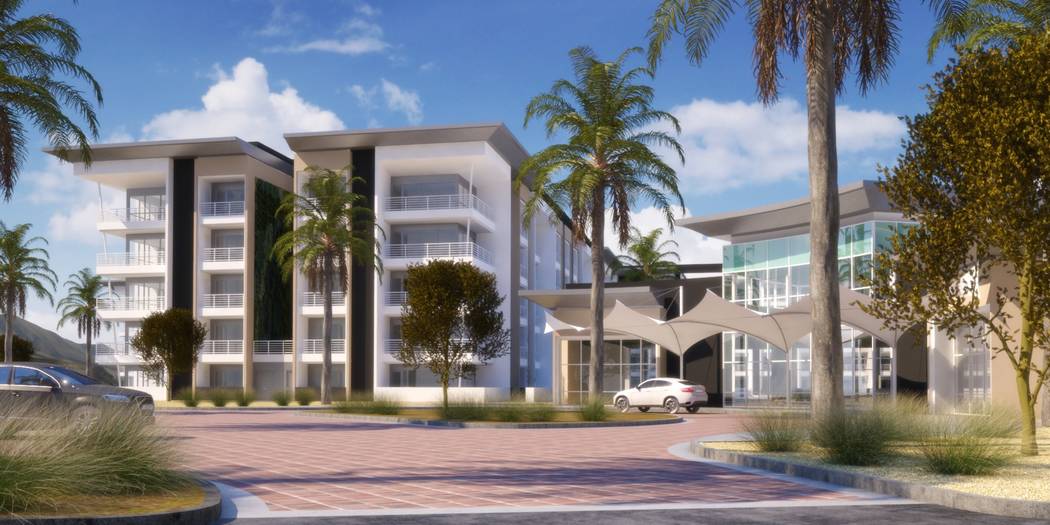 The construction trailer with broken windows was still there this week, and so was the never-finished, graffiti-hit underground garage.
But down in the 40- to 50-foot-deep pit in the Las Vegas suburbs, the parking structure is being torn down — part of an effort by local investors to bring new life to this carcass of the recession.
Tru Development Co. founder Tim Deters and investor and broker Jack Woodcock have teamed up to turn the former Spanish View Tower site in the southwest valley into a 608-unit apartment complex. The project, off Buffalo Drive just south of the 215 Beltway, would feature a cluster of five-story buildings, some retail space and underground parking.
The Clark County Commission is scheduled to consider project plans on Dec. 20. The county Planning Commission issued its approval on Nov. 21.
Southwest Las Vegas, perhaps the fastest-growing area of the valley, is among the most popular spots for apartment developers. But in a town where real estate projects were abandoned all over the place after the economy crashed, the Spanish View site stands out.
Earmarked in the bubble era for three condo towers, it has been a giant hole in the ground for 11 years. It also sat untouched as other failed projects were bought and finished in recent years.
'This area can handle it'
Deters said he could break ground on his project, Kaktus Life III, by around mid-2018 and finish in 2020.
Asked why he liked the site, he cited new sources of employment in the area, including credit-card issuer Credit One Bank, which is building its headquarters right nearby. The property also is close to the freeway and retail.
Deters said he's not worried that investors are building too many apartments in the southwest valley, noting that others are "performing very well."
"I think this area can handle it," he said.
Research firm Reis Inc. reported in September that Las Vegas' apartment market had a 3.1 percent vacancy rate, ninth-lowest among the 79 metro areas listed.
Woodcock, a broker with Berkshire Hathaway HomeServices, was a lender for Spanish View and acquired the 15-acre property through foreclosure in 2012.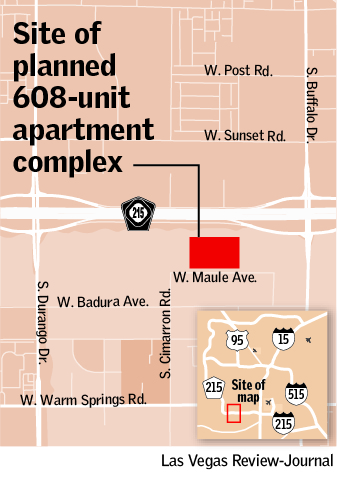 He listed it for $18.9 million, but in the past year or two, most of the interest he received was for joint ventures, he said.
At the very least, the new project provides some closure.
"We now know what it's going to be instead of still wondering," Woodcock said.
'Squirt the Dirt'
Spanish View's developer, Rodney Yanke, acquired the property in 2004. He said in a news release in February 2006 that his project, consisting of three 18-story condo towers, would "surpass anything Las Vegas has seen" and be "the foundation for high-rise living" in the Western U.S.
Work crews excavated the site and started building an underground garage. But construction stopped around June 2006, according to creditors who filed court papers in 2007 to push the project into bankruptcy.
The creditors claimed they were owed more than $36 million combined. They alleged in a court filing that Yanke used project funds to pay for his 7,200-square-foot house in Las Vegas, as well as luxury cars and a captain for his 55-foot boat in Tampa, Florida, called "Squirt the Dirt." (Yanke had a multilevel marketing company that sold waterless car-wash products, the filing said.)
Ultimately, project lender OneCap Mortgage acquired the site out of bankruptcy, but OneCap also went bankrupt, and Woodcock took ownership of the property.
In an interview Thursday, Yanke cited the economic crash for why he didn't build the towers. Las Vegas was one of the hardest-hit areas of the country during the recession, and Yanke noted that construction firms, banks and others went out of business and that the U.S. economy was "a disaster."
He also declined to discuss the creditors' claims, saying he's been fighting cancer for five years.
"Everybody got hurt," he said of the project. "It's sad, but it happened."
Contact Eli Segall at esegall@reviewjournal.com or 702-383-0342. Follow @eli_segall on Twitter.