More local homes up for sale, data show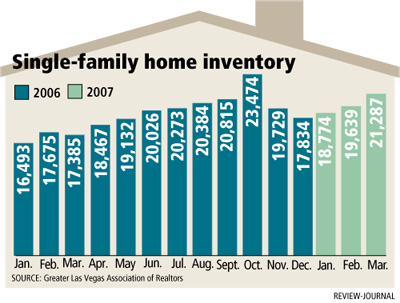 The number of single-family homes, condominiums and townhouses for sale in Las Vegas rose for the third straight month, the Greater Las Vegas Association of Realtors reported Thursday.
Single-family inventory climbed to 21,287 in March, up 22.4 percent from the same month a year ago and 8.4 percent from February. There are nearly 6,000 condos and townhouses for sale, a 63.5 percent increase from a year ago.
Meanwhile, sales have plummeted. Realtors sold 1,605 single-family homes in March, down 36.3 percent from a year ago. Condo sales were down 47.2 percent to 341 units.
However, sales in both housing sectors rose from February.
"As we approach the summer months, we're generally going to see more activity," Greater Las Vegas Association of Realtors President Devin Reiss said. "This is the time of year when people are ready to make a move. This is why we're going to continue to see an increase in inventory as well as an increase in sales."
The median price of a single-family home declined 3.2 percent from a year ago to $305,000, the association reported. Condo and townhouse median prices fell 2.5 percent to $199,900.
The Las Vegas real estate market is approaching its bottom, but recovery begins with credibility, Houston developer Jim Noteware said. He's planning to build the 178-unit Brickwater midrise condos near Las Vegas Boulevard and Blue Diamond Road.
To assure recovery and accelerate absorption of excess inventory, prices must adjust to reflect the "realities of the market," especially buyers' expectations, Noteware said.
"Very simply, buyers will not re-enter the market until they are convinced that prices have hit bottom and are beginning to recover," he said. "Sellers must therefore make price adjustments necessary to bring buyers back to the market. The alternative is continued suspension in transactions, overall market uncertainty and the costs associated with both the carry during this period of suspension and the cost of uncertainty."
The association's Reiss predicts that home prices will remain about the same, barring any significant change in the local economy.
Dollar value for homes sold during March totaled $604.8 million, down nearly 37 percent from a year ago. Condo and townhouse sales totaled $79.8 million, down 46 percent from last year.
Realtor association statistics are based on data collected through its Multiple Listing Service, which does not necessarily account for new homes sold by local builders or private transactions.
Housing in Las VegasMore Information