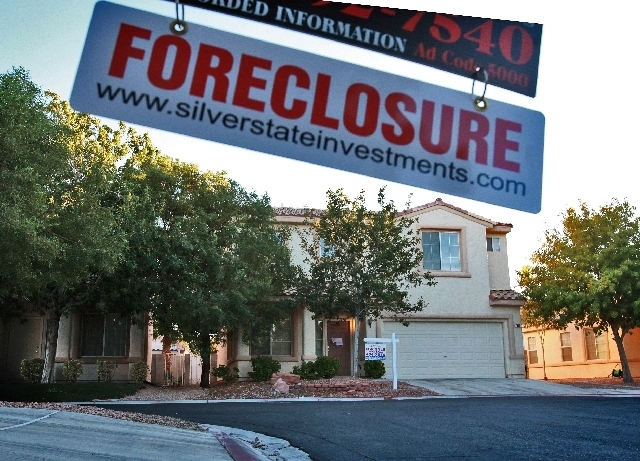 Nevada's foreclosure starts jumped 334 percent in February from the same month a year ago, leading the nation in year-over-year percentage gains, online foreclosure listing service RealtyTrac reported late Wednesday.
Other states with huge spikes in foreclosure activity include Maryland (319 percent), Washington (172 percent), New York (139 percent) and New Jersey (70 percent).
RealtyTrac showed 15,281 foreclosure filings on U.S. properties in February, a 2 percent increase from the previous month but down 25 percent from a year ago. Foreclosure filings include default notices, scheduled auctions and bank repossessions.
Florida had the nation's highest foreclosure rate for the sixth straight month with one in every 282 housing units receiving a foreclosure filing, more than three times the national average.
Nevada was No. 2 for the fifth straight month with one in every 320 housing units receiving a filing.
"At a high level, the U.S. foreclosure inferno has been effectively contained and should be reduced to a slow burn in the next two years," said RealtyTrac Vice President Daren Blomquist. "But dangerous foreclosure flare-ups are still popping up in states where foreclosures have been delayed by a lengthy court process or by new legislation making it more difficult to foreclose outside of the court system."
Foreclosure starts have been steadily building in those states over the past several months and probably will end up as bank repossessions or short sales this year, Blomquist said. Bank repossessions decreased from a year ago in 41 states, including a 59 percent drop in Nevada.
Florida dominated the list of cities with the highest foreclosure rates with seven of the top 10. Las Vegas was No. 6 on the list.
A separate report from ForeclosureRadar, a Discovery Bay, Calif.-based foreclosure tracking company, found 1,981 notices of default filed in Clark County in February, more than double the 982 notices of default in the same month a year ago.
Default notices, the first step in foreclosures, climbed steadily in 2012 after falling dramatically when Nevada's robo-signing law took effect in October 2011.
That's bad news for the local housing market, said Tara Newberry of the law firm Connaghan Newberry. She warned of a "foreclosure tsunami" that seems to be hitting Southern Nevada.
Clark County notices of trustee sale, which set the date and time of auction, fell nearly 40 percent to 1,133 in February, ForeclosureRadar found.
The company reported 386 cancellations of trustee sales in February, down 63 percent from a year ago; 310 sales back to the bank, or real estate-owned, down 56.6 percent; and 258 sales to third party, usually investors, down 55.5 percent.
Contact reporter Hubble Smith at hsmith@reviewjournal.
com or 702-383-0491.