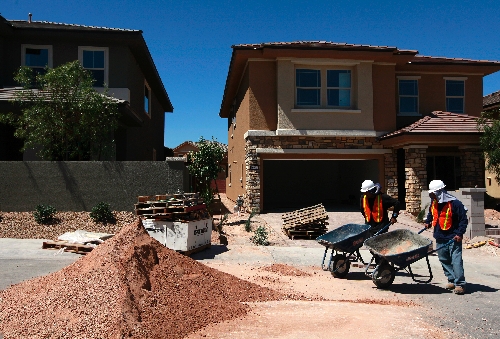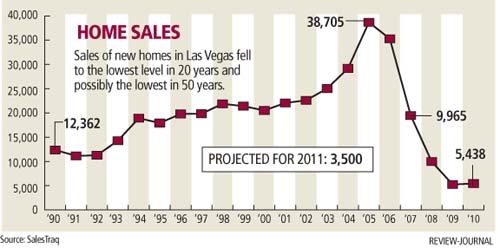 Landscaper Poncho Peres knows nothing about national reports that new home sales are approaching 50-year lows.
He certainly feels it in Las Vegas, though, much like the 108-degree heat beating down on him Tuesday as he laid irrigation lines and planted shrubs at Richmond American's Amado Crest subdivision near Russell Road and Hualapai Way.
He's working eight hours a day, five days a week, getting hot and dirty, but you don't hear him complain about it.
"I work for food, pay bills, pay rent, gasoline," Peres said in limited English. "Construction no busy."
He's lucky to find any work in the home construction industry. Sales of new homes in Las Vegas fell to 315 in July, down 22.8 percent from a year ago, and probably won't reach 3,500 for the year. That's the lowest level in 20 years, and possibly the lowest in 50 years, a local housing analyst said Tuesday.
New-home closings have decreased by double-digit percentages in each of the first seven months of 2011, and the year-to-date total of 2,067 is far below last year's pace, which ended at 5,438, Las Vegas-based SalesTraq reported. Compare that with 38,705 new homes at the peak of the boom in 2005.
And new-home sales are now less than 10 percent of the overall housing market in Las Vegas, whereas 20 years ago they accounted for 50 percent, said Larry Murphy, president of SalesTraq.
"I don't have records before 1990, but it could be the lowest here in 50 years," Murphy said. "Aside from those people who want a new home and nothing else, there's no need to build any new homes. The population has been flat for three years."
Homebuilders that have survived the housing crash have responded accordingly, pulling just 286 new-home permits in July, a 21 percent decrease from a year ago, SalesTraq reported. Total permits for the year are at 2,320, compared with 4,380 for all of last year.
The number of homebuilders in Las Vegas has dwindled to fewer than 40, down from a peak of more than 100 in 1985, said Murphy, who tracks companies that build at least five new homes a year.
The top builder through the first half of the year was D.R. Horton with 220 closings, followed by KB Home (197), Richmond American (143), Lennar (136) and Harmony Homes (127).
Nationally, sales of new homes fell for the third straight month in July, a sign that housing remains a drag on the economy. If the current pace continues, 2011 would be the worst year for U.S. new-home sales in nearly half a century.
Sales nationwide fell nearly 1 percent in July to a seasonally adjusted annual rate of 298,000, the Commerce Department said Tuesday. That's less than half the 700,000 that economists say represent a healthy market.
Last year, 323,000 homes were sold — the worst year on records that go back to 1963.
While new homes represent less than one-fifth of the housing market, they have an outsize impact on the economy. Each home built creates an average of three jobs and $90,000 in taxes, according to the National Association of Home Builders.
High unemployment, larger required down payments and tougher lending standards are preventing many people from buying homes. Plunging stocks and a growing fear that the U.S. could tip back into another recession are also keeping people from entering the troubled housing market.
If home sales nationally are the worst in 50 years, Murphy said he's got to believe that's probably true in Las Vegas as well.
"We entered a time frame of zero population growth and a huge surplus of homes. We probably had 40,000 homes too many when the population curve went flat, so there's no demand," Murphy said. "That's why 80 percent of the homes sold in the MLS were vacant homes. It's been that way month after month after month."
A lack of new-household formation exacerbates the situation, he said. People who've lost their homes are moving in with family members or friends, increasing average household size, Murphy said.
New-home prices slipped to $199,000 in July, down $1,000 from the previous month and down $11,000, or 5.2 percent, from a year ago, SalesTraq showed.
Three houses away from where Peres was working on landscaping, Jesus Miranda was installing plumbing in the kitchen and bathroom. He went from working three days a week in January and February to five days a week in the last four months.
"I'm happy because I have a job," he said. "Too many people is unemployed."
The Associated Press contributed to this report. Contact reporter Hubble Smith at hsmith@reviewjournal.com or 702-383-0491.