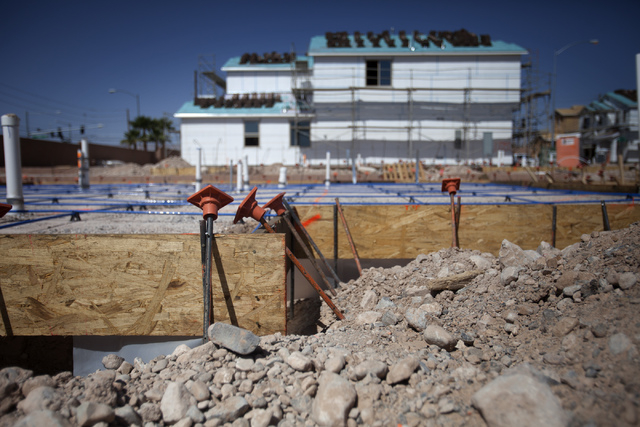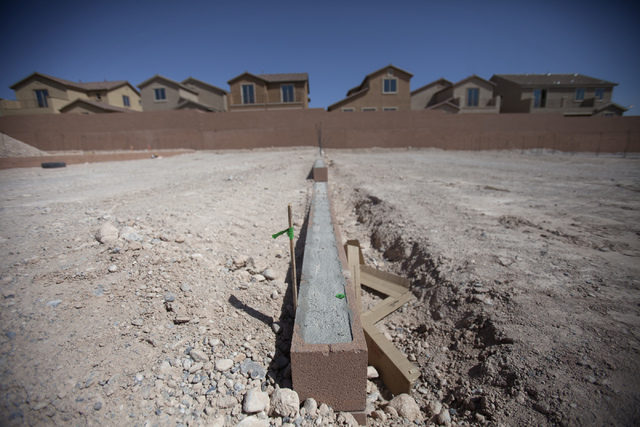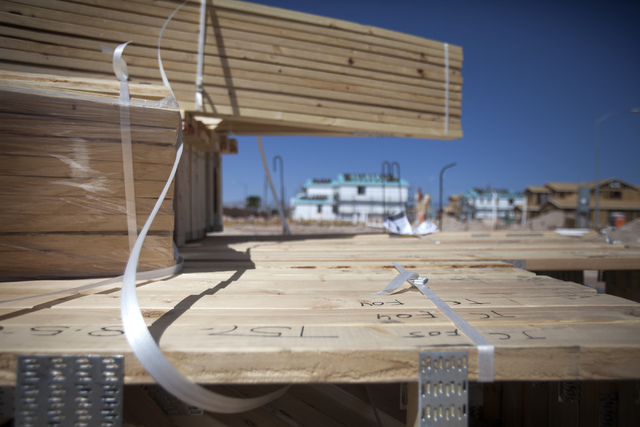 WASHINGTON — Sales of new homes unexpectedly plunged in March to the lowest level in eight months, reflecting a broad-based retreat that signals the industry is facing bigger challenges than just bad weather.
Sales dropped 14.5 percent to a 384,000 annualized pace, lower than any forecast of economists surveyed by Bloomberg and the weakest since July, Commerce Department data showed Wednesday in Washington. The median forecast of 74 economists surveyed by Bloomberg News called for the pace to accelerate to 450,000.
New-home sales in Nevada fell even more, dropping 27 percent year over year in March to 453 closings, according to Tuesday numbers from local analysis firm Home Builders Research. Local sales were down 22 percent to 1,287 closings year to year in the first three months of 2014.
Dennis Smith, president and CEO of Home Builders Research, said in a newsletter that the local median new-home price was up 26 percent, to more than $285,000 in March, and that's likely pushing down sales.
"Many feel the local economy is not strong enough to 'keep pace' with the rising prices," Smith wrote. "The steady, improved job growth and a growing population are certainly good things to see, but there is still a long way to go before most consumers and businesses feel 'warm and fuzzy' about the future."
The nation's housing recovery has slowed as higher borrowing costs and rising prices make properties less affordable. Shortages of buildable lots and skilled labor also have hindered construction as the market heads into its busiest time of year.
"The housing market is in a rut that's so far not showing signs of getting better," Guy Berger, a U.S. economist at RBS Securities Inc. in Stamford, Conn., said before the report. "They don't have enough lots, they don't have enough workers. That's playing a big role."
Economists' estimates ranged from 428,000 to 476,000. The Commerce Department revised the February reading up to a 449,000 pace from a previously estimated 440,000.
The median sales price of a new house climbed 12.6 percent from March 2013 to a record $290,000, Wednesday's Commerce Department report showed.
Purchases slumped in three of four U.S. regions, led by a 21.5 percent drop in the Midwest, the biggest since September 2012. The West fell 16.7 percent to an 80,000 annualized rate, the weakest since January 2012.
The supply of homes climbed to 6 months, the most since October 2011, from 5 months in February. There were 193,000 new houses on the market at the end of March, the most since November 2010.
New-home sales, which account for about 7 percent of the residential market, are tabulated when contracts are signed, making them a timelier barometer than transactions on existing homes.
The pace of residential construction was held back last month even in warmer parts of the country that weren't hit with snow and frigid temperatures. Housing starts climbed 2.8 percent to a 946,000 annualized rate following February's 920,000 pace, the Commerce Department reported last week. Permits for future projects declined.
Sales of existing homes fell in March for a third consecutive month as rising prices and a lack of inventory discouraged would-be buyers. Closings on previously owned properties, which usually occur a month or two after a contract is signed, fell 0.2 percent to a 4.59 million annual rate, the lowest level since July 2012, the National Association of Realtors reported Wednesday. Purchases were down 8.5 percent compared with the same month last year.
Some builders see plenty of room for growth as the job market improves and young adults return to the market. LGI Homes Inc., is targeting first-time buyers in the Southwest, Florida and Georgia with properties priced between $140,000 and $250,000. The company, based in The Woodlands, Texas, closed 485 sales in the first three months of this year, an almost 92 percent increase from the same period a year ago.
LGI expects to sell at least 2,200 properties this year, Chief Executive Officer Eric Lipar said.
"We are seeing steady traffic in sales on a per-community basis and demand from customers looking for home ownership is high," Lipar said on a March 31 earnings call. Many first-time buyers are shopping for more expensive properties with higher-quality finishes, he said.
"We've got a lot of communities right now that have sales prices on certain floor plans above $200,000," Lipar said. "That's really still targeting the first-time homebuyer and someone that is currently paying rent and moving into a home."