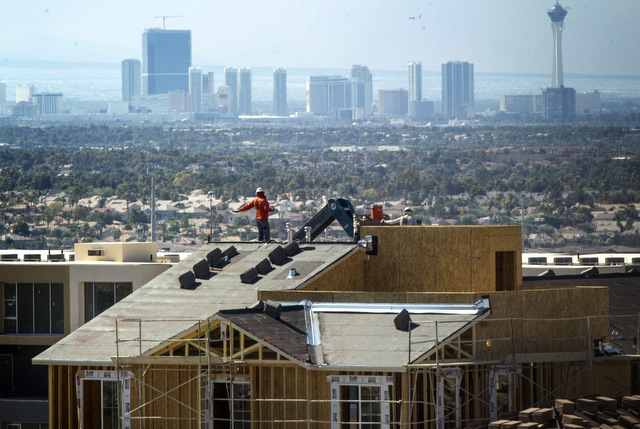 A partnership wants to give Las Vegas its first new large-scale master plan since the recession.
But the site being eyed has a cloudy history, and the state of the market could give it an unclear future.
The Olympia Cos., in partnership with New York investment groups Stonehill Capital Management and Spectrum Group Management, are looking to build out the 1,700-acre master plan at U.S. Highway 95 and Kyle Canyon Road that Focus Property Group was set to develop in 2007 before foreclosure scratched the idea.
Olympia President and CEO Garry Goett said the company would be the community's master developer, and it would own the property with Stonehill and Spectrum, though the Clark County Assessor shows the owner is still KAG Property LLC, the Wachovia Corp. affiliate that foreclosed on the land.
Goett said the partners plan to break ground in fall.
They're entering a different market than six years ago. The Las Vegas Valley has 84,000 vacant housing units, including 40,000 single-family homes, according to UNLV's Center for Business and Economic Research. Banks turned off the foreclosure spigot while they study potential effects of new state default laws, creating a shadow inventory that will eventually be for sale.
Into this market, the partners want to release 9,000 new homes, or about a third more homes than the local market is on track to build in all of 2013.
"There are so many unanswered questions. The bottom line is, it's a risk to develop that property right now," said Dennis Smith, president and CEO of Home Builders Research in Las Vegas.
But Goett said interest in new homes and buildable lots will boost the new community, which hasn't been named or priced. Builders pulled 509 permits in July, more than double the 200 they pulled monthly in late 2011, according to Home Builders Research. And July's 651 closings were up 41 percent from 462 sales a year ago.
"That strong demand for new homes will likely increase in coming years," Goett said. "We think there is a real need for an additional master-planned community in Las Vegas. We have a shortage of land, and this will help alleviate that shortage."
Goett's not new to master plans. He developed the 2,300-acre Southern Highlands in south Las Vegas. He said the Kyle Canyon property's seven- to 10-year buildout will ensure it doesn't flood the market all at once.
Brian Gordon, a principal in local housing research firm SalesTraq, agreed the time horizon could help.
"New master plans just getting under way are being designed and developed for the long run. They're less impacted by near-term market conditions," he said.
What's more, the population should grow — a 2011 city of Las Vegas report forecasts 365,000 more locals by 2020 — and expand housing demand, Gordon said.
More important, said Goett, the project is "extremely well-financed." The price tag on infrastructure and public spaces could reach $200 million, and the partners will pay the tab mostly in cash, with "virtually no debt," he said.
That's a different approach than Focus took when it bought the land from the U.S. Bureau of Land Management in 2005. It borrowed heavily to foot the $510 million bill; when Wachovia foreclosed in 2008, it said it needed to recoup more than $350 million in loans.
Financing isn't the only difference. The community's 9,000 homes would be about half of the 16,000 homes the city of Las Vegas approved at the site in 2007. During the planning and approval process, nearby residents said such a large development near Mount Charleston would tax the area with a surge in visitors.
So far, no builders have committed to buying land, though Goett said the partners are working with builders "very closely, and we expect to have a strong following of builders now that they know we will be developing the project."
Builders that partnered with Focus in 2005 included KB Home, Pulte Homes, Toll Bros., Ryland and Lennar.
The partners shouldn't have trouble reeling big names back in, said Curt Allsop, director of the land group for commercial broker Newmark Grubb Knight Frank.
"Throughout the valley, there are not a lot of developable pieces of land larger than 10 acres. But home builders prefer 30 to 50 acres at a time," Allsop said. "If the master developer is selling off bigger parcels, builders will very much salivate over that property."
Nor is the shadow inventory of pending foreclosures a big threat, Allsop said. There'll always be a market for new homes, because it's tough for locals to compete with cash investors for foreclosures and short sales, he said.
Finally, don't discount the ability of a new master plan to be the rising tide that lifts other boats, Smith said. Anytime a big development opens, it draws additional traffic — sometimes 10 times the normal rate — as locals check out the latest offering, and some of those tire-kickers will become buyers, he said.
"People are curious. They'll want to see what the new community has," he said.
On top of economic issues, the master plan is coming online amid environmental concerns: The U.S. Bureau of Reclamation said this month that it would cut water releases to Lake Mead to the lowest level ever, the result of severe drought. But J.C. Davis, a spokesman with the Las Vegas Valley Water District, said a restriction on grass in new-home yards means the development would have little effect on water supply.
Contact reporter Jennifer Robison at jrobison@reviewjournal.com or 702-380-4512. Follow @J_Robison1 on Twitter.