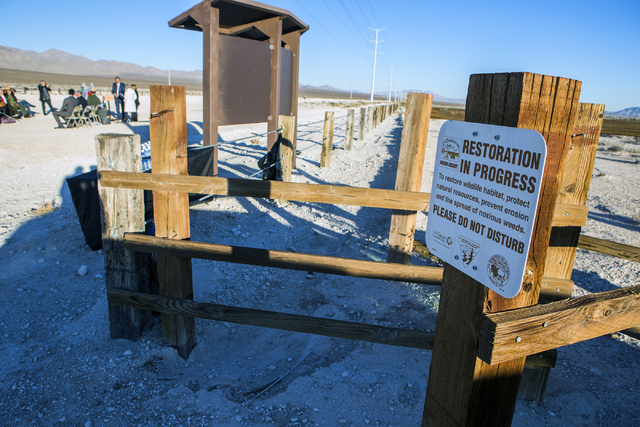 A sprawling North Las Vegas community with a backstory of bankruptcies and investor gridlock is set to get its first houses.
Builders Pardee Homes and KB Home last week bought roughly 100 acres of land in the Villages at Tule Springs for $20.3 million combined, property records show.
The sales, by Southern California investment firm KBS, closed May 1.
The deals cover a fraction of the 2,000-acre Villages. But it's a sign of life in a project that was part of the larger Park Highlands community, which collapsed with the economy last decade and was split in two, creating projects that have remained empty despite a valleywide rebound in construction.
Builders sold almost 8,000 homes in Clark County last year, up 17 percent from 2015 and more than double the market's low point in 2011. North Las Vegas accounted for 761 sales last year, the fourth-best selling submarket in the county, according to Home Builders Research.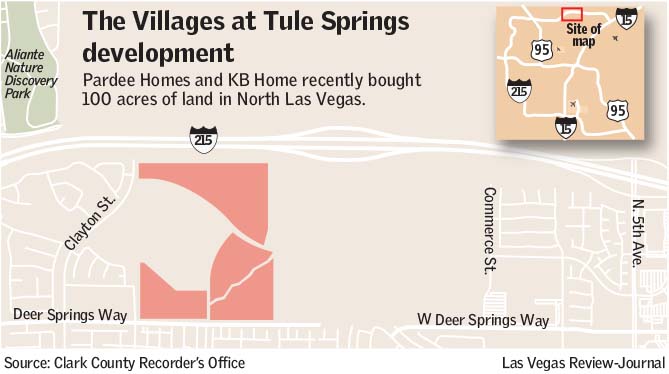 Pardee and KB are the first builders to buy land in the Villages since Park Highlands was split up in 2014. The builders coordinated their purchases, said Klif Andrews, Pardee's Las Vegas division president.
Pardee, KB and CalAtlantic Homes, which owns around 60 acres of adjacent land, are planning to build more than 900 homes combined, Andrews said. The trio's holdings are just south of the 215 Beltway, roughly 1½ miles east of Aliante casino.
Andrews, who expects construction of model homes to start around January, said his company liked the location because it's next to the Beltway and is adjacent to Pardee's Eldorado community.
He also said the company plans to buy land and build houses north of the Beltway in the Villages as well, but not anytime soon.
CalAtlantic confirmed it's building in the Villages. KB's Las Vegas division president, Brian Kunec, said there are "a lot of positive things" happening in North Las Vegas, including development in the isolated Apex Industrial Park, and that more homes are needed in the city.
Kunec said he does not think the Villages' volatile history has scared builders from buying land there. But he added the property needed to get "out from underneath the cloud."
Park Highlands started taking shape in 2005, when Las Vegas developer Olympia Cos. led a group that acquired the site at a federal Bureau of Land Management auction for $639 million. Plans called for 15,750 homes, but Park Highlands went bankrupt in 2009 and again in 2011 before a single house was built.
KBS, which did not respond to requests for comment, acquired 1,375 acres, or half of the Park Highlands site, with partners at a bankruptcy auction for just $21 million in late 2011.
Project delays mounted due to the recession and, with no one appointed to oversee the project, its many landowners could each block development plans, investors have said.
After the North Las Vegas City Council approved splitting Park Highlands, one side became known as the Villages at Tule Springs, the other Park Highlands West. That 600-acre project has since been renamed Valley Vista, whose development is being led by Irvine, California-based SunCal.
Homebuilders have not bought any land in Valley Vista since Park Highlands was split up, said Delen Goldberg, North Las Vegas government spokeswoman.
SunCal spokesman Joe Aguirre told the Review-Journal in January that project plans called for 4,100 homes, parks, trails and retail, and that a groundbreaking was estimated for the second half of 2017.
He said this week that he had no further updates.
Contact Eli Segall at esegall@reviewjournal.com or 702-383-0342. Follow @eli_segall on Twitter.
The Villages at Tule Springs
— 2,000 acres
— Planned for 8,600 homes
— Plans have called for schools, a police substation, a fire station and commercial space